Lifestyle
National Paralympic Day: did you celebrate?
From sporting events, like Boccia, wheelchair basketball and sitting volleyball, to performances from singers and dancers, Saturday the 7th September saw the Mayor of London join Paralympic athletes to mark a year since the Paralympics Games in London. Our roaming reporter Zubee went along to the event…
I was really excited when I was offered the opportunity to attend the National Paralympic Day event at the Queen Elizabeth Olympic Park, especially since I hadn't been able to attend anything during the Paralympic Games.
I contacted Transport for London a few days before to ask what the best step free access route to Stratford is as I would be in my wheelchair. They advised me to travel from a Hammersmith and City line station to West Ham and then change for the Jubilee line to Stratford.
The day had arrived! I met with Jacob, a good friend from Attitude is Everything, at 9.00am. A ramp was put onto the train with no fuss, and we arrived at West Ham station at 10.15 where there was a station guard waiting for us with another ramp so I could get off. Is transport getting better for disabled people do you think, or as this a one off because of the day?
The last bit of transport was a free shuttle bus to the Queen Elizabeth Olympic Park, which was about 5 minutes away. If you're travelling anywhere in London it's worth taking a look at the Transport for London accessibility guides.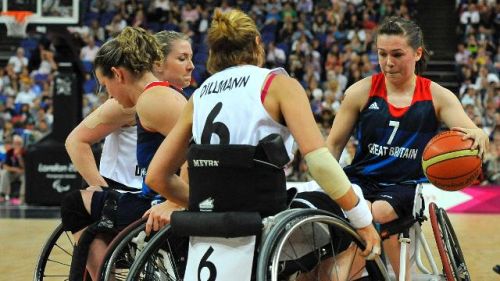 The atmosphere was great and people seemed to be enjoying themselves through out the day. I saw a little bit of Boccia and sitting volleyball, but there was also a lot else to see besides sport. There was a real cultural element, delivered by Liberty Festival, which brings together deaf and disabled artists. Anything from dance by Candoco Dance Company, to an impressive light sculpture by Architects of the Air.
There were also many different organisations promoting the work they do for deaf and disabled people in the North and East London boroughs. Jacob in fact had a stall there for Attitudes for Everything.
Highlights from the day
Seeing British equestrian rider Sophie Christiansen on stage speaking about what it was like to win gold at the Paralympics and what it felt like being back at the Queen Elizabeth Olympic Park.
Watching the winner the Voice, Andrea Bagley, perform a few tracks from her new album on stage – she was brilliant.
Watching a funk, pop and hip hop band perform on stage called Fish Police. I found their lyrics quite funny.
Getting to experience Miracoco, the Architects of the Air sculpture, where you can enter to see radiant light and colour. It featured winding passages of small domes inspired by repetitious forms found in the bazaars of Iran. The light and colour inside Miracoco is created purely by natural light shinning through coloured plastic. All the individual pieces had been cut and glued together by hand to make this sculpture, which look liked a bouncy castle from the outside, but once inside it was amazing.
Accessibility features
British sign language interpreters interpreting music.
Captioning been shown on large screens with close up views of speakers and performers on stage.
Viewing areas for wheelchair users close to the stage.
Whether the Queen Elizabeth Olympic Park always has these accessibility features, I don't know. But if you're thinking of attending for another event, I suggest visiting the accessibility page for the park.
I really enjoyed my time at the event and thought it was very well organised. I would love to go again sometime for another event in future – I'll be checking back to the Queen Elizabeth Olympic Park's events page.
I wonder though, will we have another National Paralympic Day? I do feel that this yearly event is a demonstration of how attitudes have changed in some way. But I still feel there is still a long way to go. At least having events like this, helps to raise awareness and gain better understanding about disability.
By Zubee
Check out…
Get in touch by emailing us at editor@disabilityhorizons.com, tweeting us at @DHorizons or messaging us on Facebook.