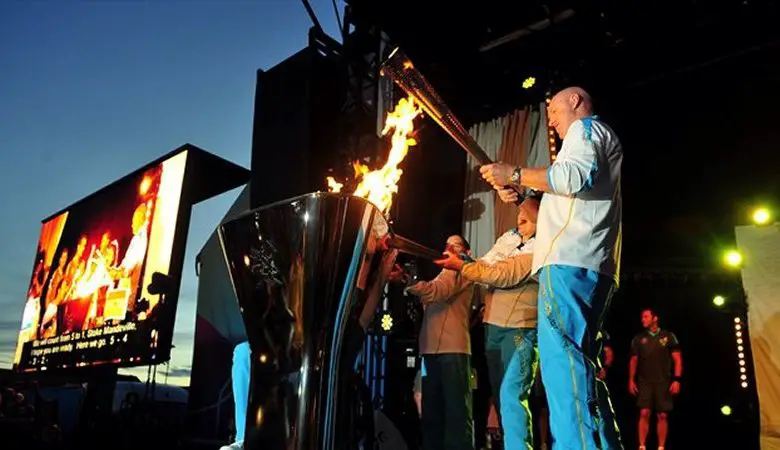 Can you believe it's been a year since the Paralympic Games? Well believe it or not, this Saturday was National Paralympic Day. So, to mark this date in history, we wanted to bring you a round-up the DH bloggers' highlights from those 11 days of brilliant disability sport.
Day 1 – getting our voice heard
My highlight of the day was being asked to speak on BBC radio about Disability Horizons' thoughts on the Paralympics and the 'super human' adverts. Not only does this mean that disability issues are making a great impact and getting people talking, but it also showed the progress Disability Horizons is making in getting into mainstream media; and it's all thanks to you, our readers. Thank you for your kind feedback on how it went too; *I'm blushing*!
The London 2012 Paralympic Games are playing such a proactive and amplifying role in showing disability sport worldwide. To see the voice it is giving disabled people on everyday life issues, and the education it is giving some non-disabled viewers is truly social change in action – Martyn Sibley.
Day 2 – elegant Equestrian
As my first 'dip' into the Paralympic pool, watching the Equestrian Dressage was perfect. Marvelling at the skill and strength required from each athlete was phenomenal, and it was particularly great to see a sea of Union Jack flags when Team GB, Sophie Wells, competed. Such as shame that there were a lot of empty seats, despite tickets not being available on the London 2012 website. I hope there isn't another Olympic-empty-seat-style scandal emerging – Liz Ransome.
Day 3 – a feat of endurance
Hassan Omar Hassan, representing Djibouti in its first ever Paralympic Games, was two laps behind the frontrunner and ended up completing the race at a snail's pace of around 11 minutes (7 minutes behind the winner) due to an injury in his foot. But what really made this moment was the full support of the 80,000-strong crowd at his determination to finish the race. I think folks like Hassan represent the true spirit of the Games and his participation will undoubtedly have a positive impact in his home country – Srin Madipalli.
Day 4 – the Weir Wolf
Oscar Pistorius , the 'poster boy' for the Paralympic Games shocked us all [certainly more this year than last year!] by coming second in the men's 200m T44 with Alan Oliveira from Brazil taking gold. Further surprise came from his interview straight after where he claimed Alan had an unfair advantage thanks to his blades being four inches taller, something he had apparently complained to the International Paralympic Committee about. The world, including Twitter, has been alight with mixed reactions to his uncharacteristic anger – Mark Phillips.
Day 5 – Ellie Simmonds does it again
Ellie Simmonds smashed her own world record of 3:06.97 in a spectacular performance in the women's iM SM6 200m. It was incredible to watch, especially her surprise and humility when she realised she had bettered herself. What a champion! – Zubee
Day 6 – David Weir winning gold
This probably goes without saying, but I have lost my voice from screaming at the TV urging David Weir on. In exciting race, David, who has been nicknamed the 'Weir wolf', stormed to victory to win gold in the mens T54 1500m – Srin Madipalli.
Day 7 – super Sarah
In the C5 Road Cycling time trial, Sarah Storey produced a superb performance and clinched yet another gold medal for Paralympics GB – her third from this year's games. She set the pace finishing a staggering 94 seconds ahead of the rest of the pack. Having previously won five gold medals for swimming, it left me wondering, is there anything she can't do?! – Mark Phillips.
Day 8 – battle of the titans
The men's T43/44 100m final was a highly anticipated race. Everyone wondered whether the young pretender Brit Jonnie Peacock would topple the king, South African Oscar Pistorius?
Jonnie hadn't even started running seriously when Pistorius won the title in Beijing. After a false start – goodness, the tension mounted – the whole stadium chanted Jonnie's name! The atmosphere was electric. Peacock led from the start and came home in a new Paralympic record to take gold. Alan Oliveira and Oscar were nowhere to be seen – Margo Milne.
Day 9 – Irish cream of the crop
Jason Smyth is officially the fastest Paralympian runner of all time and today he stormed it again. Next to Pistorius, he's another athlete who crosses the boundary between Paralympic and Olympic sport, having only just missed out on qualifying for the Olympics.
His time tonight of 21:05 in the men's 200m T13 broke the world record, although it would get him nowhere near Bolt. But Smyth is a man we could well be seeing more of on the able bodied scene in the future – Simon Webb.
Day 10 – what we've all been waiting for
Yet another highly anticipated race, the men's T44 400m, wowed us all tonight. Everyone was on tenterhooks to see if Alan Oliveira would, once again, beat Oscar Pistorius in what has been Oscar's strongest event. But, of course not! Oscar stormed ahead of all the competition leaving us with no doubt from very early on that he would be the winner  – Liz Ransome.
Day 11 – the closing ceremony
Whilst we were sad to see the Games end, I thoroughly enjoyed the celebration of the most successful Paralympic Games ever! The music, the smiles and the fireworks. Well done everyone involved and especially Channel 4 for bringing this spectacle to millions of peoples' lives. – Martyn Sibley.
Top tweets from you during the Paralympic Games 2012
Julie Cover – @x_JulieC_x
"Haven't even bothered to watch #Xfactor this year, #olympics / #paralympics are much more inspirin !!"
Ben Goddard – @bgoddard19
"Got to say #thelastleg is such a good take on the paralympics great highlights and the funny clips are hilarious in great spirit #ch4″
EFDS – @Eng_Dis_Sport
"@DHorizons We hope media carry on covering success of all disabled people in sport as it continues after the Paralympics #passthebaton."
Diane Morris – @titchtkd
"Already not looking forward to #Olympic + #paralympics hangover+withdrawals which r sure to kick in Mon #c4paralympics."
Angela Kinder – @angekinder
"Really looking forward to watching @Paraorchestra later – first became aware of them and @charliehazelwoo thanks to an article @DHorizons"
Lizzy Ferret – @WheelyMedic
"@C4Paralympics as a wheelchair user, I'm noticing that even the "stares" are different! Hopefully attitudes will continue to improve – Lizzy Ferret"
By Team DH and you!
Check out…
The Paralympic Games may be well and truly over, but we'd love to hear about the disability sports you're involved in. Let us know more about Paralympic sports you are involved in – email us at editor@disabilityhorizons.com, tweet us @DHorizons or send us a message on Facebook.