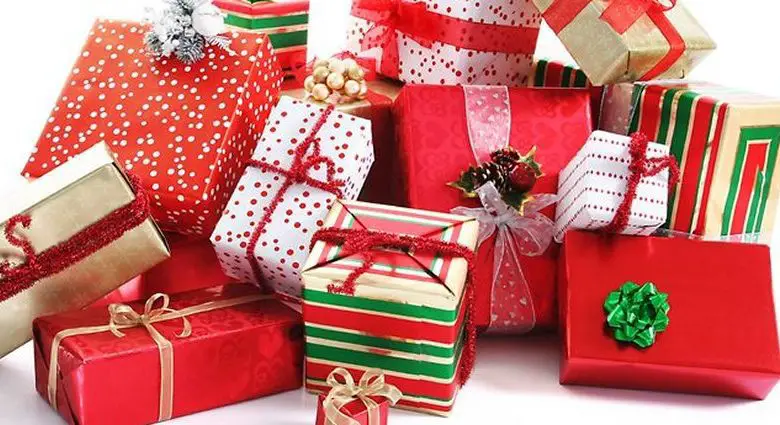 Lifestyle
Accessible Christmas gifts: bring on the sparkle!
Looking for some last minute Christmas gift ideas? Margo Milne rounds up 12 accessible gifts – all as stylish and desirable as each other – perfect for your loved one's stocking. I hope you sing this as you read…

On the 12th day of Christmas, my significant other gave to me…
…12 keyring cards 
Ever heard of Stickman Communications? The 'home of differently normal', as its tag line reads, offers aids to help make communication about disability less dull. To me, everything in the shop is great, but I particularly like the keyring cards.
You can show them as quick, friendly explanations if you don't have speech or a situation has left you temporarily lost for words. Some explain the symptoms of particular conditions, while others are more general: for instance; "My speech has gone weird. This is normal. I don't need medical assistance. It will sort itself out soon."
…11 walking sticks and crutches
Why not match your mobility aid to your outfit? Switch Sticks make hiking poles, crutches, seat sticks, and folding walking sticks in a range of stylish designs. They are adjustable and come in petite and tall sizes as well as standard.
Chic Aid Crutches can be customised in different solid colours, and for that special night out, try GlamSticks' sparkly, stone-embellished sticks and crutches.
…10 spoke guards
There's no quicker or easier way of individualising your wheelchair than putting on a pair of spoke guards. If you want your own design, you should head for Spokz.
…9 packs of Sugru
Sugru is a self-setting rubber substance with almost unlimited uses. It can be used for repairs, to make sturdy wall hooks, as bumpers on things that could be dropped, or to build up hand grips to make them easier to grasp. Their disability hacks page gives some great ideas for uses!
…8 wheelchair control knobz
Knobz are funky control knobs for your power wheelchair. They come in designs ranging from hearts to skulls to grenades, or you can order a custom design. I want them all!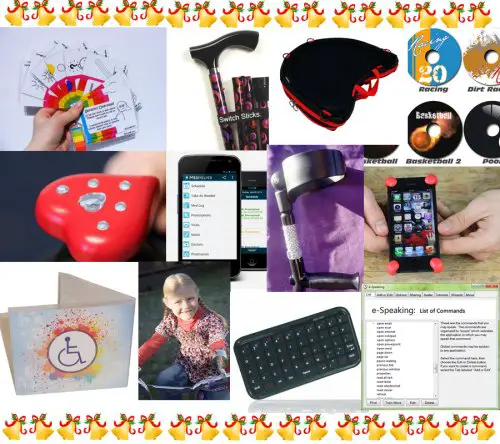 …7 pieces of personalised equipment
There are various charities which will design and make one-off pieces of equipment designed around your specific needs, whether it's a
baby carrier for a wheelchair, a perching stool on wheels, or an embroidery ring clamp for someone who can only use one hand. Remap and Demand are good places to start.
…6 mini bluetooth keyboards
We all love our phones and tablets. But if you have a visual impairment, using a touchscreen can be difficult. A mini Bluetooth keyboard can help solve the problem. Make sure you get one that's compatible with your phone's operating system.
…FIVE GOLD RINGS
Hey come on, it's not all disability stuff round ours you know!
…4 Blue Badge holders
Blue Badges. Essential for so many of us, but such a nuisance to cart around. And they can easily get damaged in our bags and pockets. Blue Badge Holders are the perfect solution. Sturdy and hardwearing, they have two pockets, one for the badge and one for the time clock, and come in a selection of designs to suit any taste. An ideal stocking filler.
…3 medication manager apps
If you're as disorganised as me, and forever forgetting whether you've taken your medications and running out of things, MedHelper is your friend. It keeps track of what you've taken and tells you when to reorder, and is simple to use.
…2 laptray bags
So you've got a laptray. Nice and flat on one side, beanbag on the other. Great. And you also have a bag of stuff. Oh hang on, you're going to need another bag to carry the laptray around in!
The geniuses at Trabasack have come up with the solution: a laptray which is also a bag, and comes with straps to fit it round your waist or to a wheelchair. In a variety of sizes and colours. It's both practical and stylish.
…And some speech activated software in a pear tree!
Speech activated software can be invaluable, but can also be prohibitively expensive. Definitely worth considering on price grounds alone is e-speaking. You can download a free version, and the licence that allows you to edit commands is only $14. Got to be worth a go.
Whatever you get for Christmas, I hope you have a wonderful time!
By Margo Milne
• Sweet Taboo: theatre breaking down barriers
• Q&A with Rick Edwards: the Paralympics and beyond
• The wonders of technology and accessibility