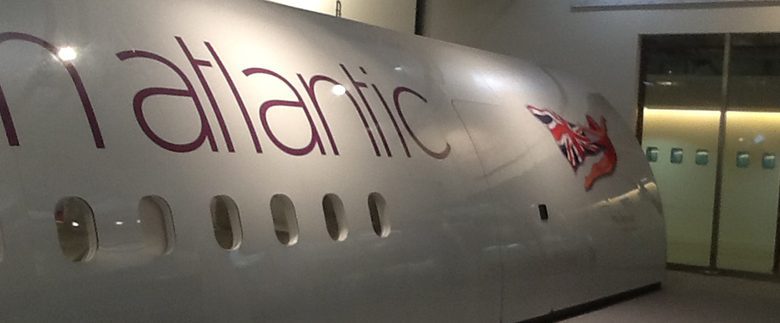 Travel & Holidays
Q&A with Geraldine Lundy of Virgin Atlantic: disability and accessiblilty
If you have a disability, flying can take a lot of planning, so having accessible initiatives and procedures can be a great help. With that in mind, we recently put some of your questions and concerns to Geraldine Lundy, head of accessibility at Virgin Atlantic.
If a disabled passenger's equipment is damaged or broken before, during or after a flight, what procedures are in place?
In the UK we have a contract with a repair and supply company who will repair or replace the damaged equipment. Occasionally an identical replacement is impossible. This is because some wheelchairs from overseas do not meet UK/European safety standards and this company are unable to import them. In this case, the nearest equivalent will be offered. We and the company try and replace or repair as soon as possible, but for some models there will be a few days delay.
Overseas we can ship out repair parts or replacements. We also have repair contacts in different countries. We are currently evaluating this process as, if possible, we would like to have one supplier worldwide. This would aid consistency and would improve the customer service.
I'm afraid I don't know the specifics of what other airlines do. However, several UK carriers use the same repair and supply company as us in the UK.
What steps/policies does Virgin have in place with regards to the safe handling of wheelchairs and mobility equipment?
We work with our ground handling agents at every airport to ensure they load wheelchairs safely and accurately. This work has been reinforced recently due to the safety requirements issued by the CAA – see attached. Like every UK carrier, we follow these regulations and have been audited against them by the CAA. By loading the mobility aids on spreader boards/pallets in a bin, securing them down and protecting them from other hold items has increased the safe handling.
Does Virgin ever foresee a day when wheelchair users could bring their own wheelchairs onto planes (like how it is done on trains) should certain safety criteria be met? For example, this could involve seats being removed and wheelchairs being clamped into place, as is the case on trains and coaches. This is an issue being campaigned for by many disabled people and charities.

Virgin is aware of the great amount of work and campaigning in this area by various groups, such as Trailblazers. On a personal level, I totally support this idea. However, there are several hurdles that need to be overcome before this can become a reality. Firstly aircraft need to be built that could accommodate this so manufacturers such as Boeing and Airbus need to be onboard.
Even if the aircraft were available (and they currently aren't), the safety regulators such as FAA and CAA would have to approve the processes and equipment involved. Currently any aircraft seat installed on an aircraft has to go through a raft of safety testing. Similar testing would need to be considered for wheelchairs as the safety of the wheelchair user and all the other passengers must be considered. A process would also need to be assessed as to how wheelchairs could be checked that they were still safe for flight. I hope to see this become a reality before I retire.
Apparently Virgin Atlantic has wheelchair accessible toilets onboard aircrafts. Can you tell us if you have plans to increase the numbers and how you can help to make sure disabled people know these facilities are available? Some of our readers have told us of embarrassing situations on a number of airlines where doors have had to remain open because small toilets have been unable to accommodate both a disabled person and their assistant. We totally understand that some planes are very small and there is little that can be done, but on larger and newer aircraft such as the A380 or the new Boeing 787, we presume that there are more options available.
We have wheelchair accessible toilets on all our longhaul routes. Unfortunately we don't have wheelchair accessible toilets on our smaller domestic aircraft. All the information about our accessible lavatories is held and updated on our Virgin Atlantic website.
If you want to see the location of them, they can be viewed on the aircraft diagrams. However, looking at these diagrams I've just realised that not all of them show the wheelchair symbol where there should be on. Until we've rectified this the wheelchair accessible ones are the ones that have the larger area.
I can confirm that both Boeing and Airbus have worked with the disabled community to design more accessible onboard toilets. These versions are available in their brochures for airlines to select when they purchase an aircraft. I can also confirm that Virgin Atlantic always chooses the most accessible lavatory available for the new aircraft we purchase.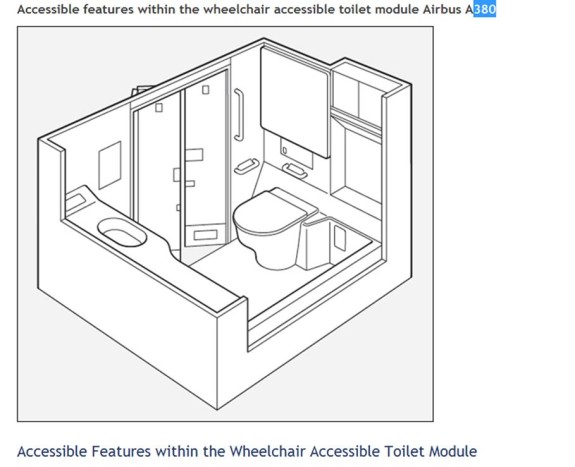 What are you doing to ensure that disabled passengers will be able to fly long distances with greater ease and in more comfort?
Enabling our customers with disabilities to fly safely, comfortably and as easily as possible is a key part of my role. I work with a team of colleagues who help me facilitate this. The work we do encompasses every touchpoint of the customer experience :
Design of aircraft, seats, onboard transfer equipment, website
Booking
Special Assistance
Staff training
Customer experience
Customer Relations
Liaising with third parties who assist passengers through airports and load / unload their valuable equipment such as wheelchairs.
For customers who have very specific needs we also offer rig visits. We have facilities at our offices near Gatwick airport where we have mock up aircraft and a selection of aircraft seats. We also stock all our postural supports that we can supply. Customers can book a rig visit and spend some time with us evaluating how they can travel as safely and comfortably as possible. They can try all our seats and supports and try out their own supports in privacy. This enables them to make an informed decision about the best way for them to travel.
A design company called Priestmangoode have recently come up with a new design for a wheelchair removable seat for aisle seats on aircraft. Have Virgin Atlantic come across this concept and would they be interested in investigating the concept further?
Yes we are aware of it. Yet again it's an idea that I like very much, although I'm a little concerned that the back of the chair is very low when it's in the mobile mode. I can see this could cause problems for some PRMs. Yes I would be really interested in exploring this idea further when it gets regulatory approval.
Some of our contributors told us that some airlines board disabled passengers last, which can cause embarrassment and humiliation for the passenger. Does Virgin have a policy on boarding disabled passengers and would it be possible to ensure that disabled people always have the option to board first?
We always offer pre-boarding for customers who need an extra bit of time and this announcement is made before every flight. However, for us and other airlines, sometimes the passengers don't arrive to the gate in time to take up any offer of pre-boarding. This could be because they are running late due to traffic or security queues. Alternatively they may have been reliant on the service providers at the airport and for some reason these service providers have not been able to get them to the gate in time for pre-boarding.
What training do staff receive so they can best support disabled passengers before, during and after a flight? Could this training be improved and if so, how?
We offer a variety of training which is role specific. For example, staff who are office based and only contact customers by telephone/email will have a different level and type of training to staff who are customer facing. Dependant on job role our training is a blend of e-learning, classroom based, rig based, practical, theory and video training. Throughout the training the customer service aspects are embedded to ensure we treat any customer as an individual and with respect.
Yes any training and performance can always be improved. We have a continual cycle of review, change, and enhancements. We analyse the training needs and develop our programmes by reviewing information gathered from crew reports, customer comments/complaints, etc.
Are there any initiatives or policies that Virgin Atlantic would like to tell our readers about?
The personalised bespoke rig visits already discussed under question 5.
We have a dedicated Special Assistance team who between them have years of training and experience with assisting our customers with disabilities. They can offer suggestions to make a journey as comfortable as possible that often a customer hasn't considered. Special Assistance will also input any appropriate special requests such as seating (near a toilet, at a bulkhead), into the passenger's booking.
Within their publication CAP 789 the CAA outline a process, which if followed, allows an airline to fly a customer in an aircraft seat using their own postural support. We support this process and it's enabled many customers to travel in greater comfort.
For our deaf customers we can book onboard signers if we receive sufficient notice.
By Srin Madipalli
Check out…
• Mexico: accessible or not?
• A tale of two airlines…
• Greetings from Sydney: I have my wheels back!
Get in touch by messaging us on Facebook, tweeting us @DHorizons, emailing us at editor@disabilityhorizons.com or leaving your comments below.