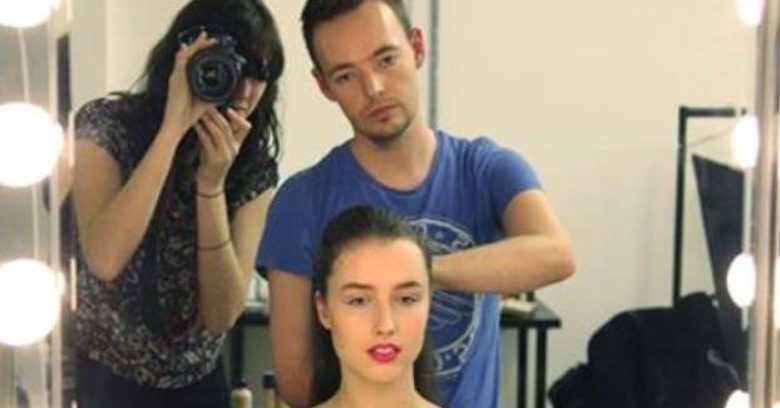 Lifestyle
Q&A with Ashley Thomson: one-handed hairdresser
When you have a disability, such as only having one hand, there are certain jobs some might imagine you can't do. But that's where people are wrong, as proven by Ashley, a one-handed hairdresser.
Please can you tell Disability Horizons readers a bit about yourself and how you got started in your career as a hairdresser?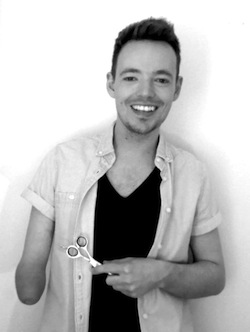 I always wanted to be a hairdresser; since I was little there was nothing else I wanted to do. I started taking an interest in hair when I was about 6 years old and since then I've been obsessed with it.
My Nan bought me a Vidal Sassoon step-by-step cutting book from a car boot sale when I was in secondary school. From then on I started to practice on my friends at weekends, jumping straight in at the deep end and doing their desired cut, which were often far from basic.
I had no fear of anything going wrong and they totally trusted me (obviously had some great friends). I started freestyle cutting when I was about 13 and probably started experimenting with colour around the same time, not really knowing much and taking some risks!
I worked in a salon at the weekends in Leister Square when I was 16 and learnt quite a lot by watching the stylists. I'd watch very closely and try to figure out ways to create the same hairstyle, blow dries, colour techniques, but only using one hand and an elbow.
I actually had no qualifications in hair until last year, so everything I knew was self-taught. I got sponsored by the awarding body VTCT to study hair colouring at a London college, and also learnt the art of hair extensions, which was a fantastic opportunity.
How long did it take for you to learn the different hair styling techniques and to adapt them to do one handed?
I learnt the basics of using tools from quite a young age – putting rollers in, using curling tongs and braiding hair, practising everything on my girlfriends and sister.
When I then started cutting hair, I did it with a comb attached to my arm by a peace of elastic – I looked a bit like Edward scissors hand, but it did the job!
Although I have now adapted to not only using tools, but a range of techniques one handed, I'm still learning every day.
When you first started out, how did you feel the industry and clients reacted towards your disability?
When I used to tell people that I'm a hairdresser I used to get a bit embarrassed and think they didn't believe me. People are always going to have preconceptions about what I can and can't do – which is understandable, I have one hand!
But now I've learnt that it doesn't matter what they think – I know what I can do and so do my clients.
What has been the hardest and most challenging thing you've had to overcome?
I think getting into the industry and being taken seriously has been the hardest – I'm still not where I want to be. My dream is to work in TV – I love programmes like Strictly Come Dancing the hair always looks amazing.
Also, building a regular clientele in London has been hard. I've lived in London for two and half years and I pretty much started from scratch, so finding new clients that trusted me has been a big challenge.
What is your proudest achievement?
Getting my qualification was a massive achievement. I've taught myself how to style, colour and freestyle cut, but I've always still really wanted the qualification. Now I have the certificate I feel more confident, even though I've been doing it for years and know I can, it was great seeing it written on paper.
What are your goals and aspirations for the future?
I would love to assist an amazing hairdresser to learn some new skills. I'm constantly practicing, doing photo shoots and taking part in everything I can. Hair will continue to amaze me, the happiness a hairstyle can make to a person makes me feel great. I'm going to carry on creating styles and pushing boundaries, and hopefully end up styling some amazing hair on the TV.
What advice would you give other disabled people who want to get into hairdressing?
Go for it! It may take slightly longer for someone with a disability to learn the skill of hairdressing, but I knew everything was possible, I just had to find ways that suited me. I'd also say practice, practice and practice some more. Take part in every opportunity you get, you never know where it will take you and never give up!
Take a look at Ashley's video of him at work…
And we couldn't let you go without asking some questions about how to keep your hair in tip top condition… 
What are your favourite must-have hair products?
I absolutely love Fudge hair products. Fudge Skyscaper hairspray is fantastic – great hold, supper easy to brush out and smells fab. Also, the Fudge salt spray gives life to dull hair and adds texture and amazing volume – you need these in your life!
What are your top 5 top tips for keeping hair looking good and healthy?
Regular hair treatments, leave in condoners/hair masks.
Go easy on the heated tongs and always use heat protection.
Keep hair neat and tidy by having regular trims.
Try not to wash your every day, use dry shampoo or create an up do.
Give your hair a cold rinse – it will close the cuticles and leave hair looking shiny and healthy.
If you'd like to get your hair cut or styled by Ashley, contact him on Facebook, Twitter or email ashlee_hm@hotmail.co.uk.
By Zubee
Check out…
• Guide to accessible holidays in Malaga
• Models of Diversity: could you be the next hot disabled model
• Work and disability: top tips for job hunting
Get in touch by messaging us on Facebook, tweeting us @DHorizons, emailing us at editor@disabilityhorizons.com or leaving your comments below.