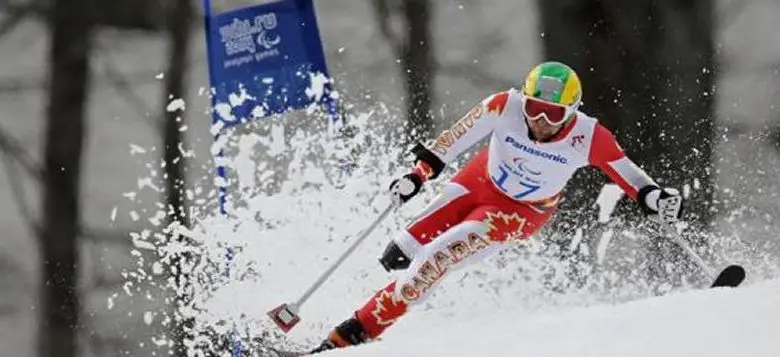 Back in 2012 the world was griped by the London Paralympic Games, and Team GB didn't disappoint us Brits. But how are our paralympians doing in the Winter Paralympics? And have we been glued to the TV watching it unfold? Todd Akerman gives us the low down on what's happened so far.
Saturday the 8th March, the first time I'd been up before 6.00am in a long while. And why was I up so early? To catch the first glimpse of the paralympians competing in the Winter Paralympics in Sochi. But all I was thinking at that time in the morning was that the Great Britain's skiers had better make it worth my while – and boy did they!
Jade Etherington won Great Britain our first medal by crossing the finished line in second place in the women's visually impaired downhill ski – job done. Well almost, as she crashed into barriers at the end after her guide (who uses microphones and bright vests to help their athlete through the courses) Caroline Powell, forgot to tell her to stop. A bit like parking your car but not putting the breaks on.
Kelly Gallagher finished just outside of the medals in the same event, but came back strongly on day three to win Britain's first ever Winter Paralympics gold medal, which was in the Super-G (super giant slalom), a competition that has more turns than the Downhill ski evenht, which is the longest of the alpine skiing events with the fewest gates.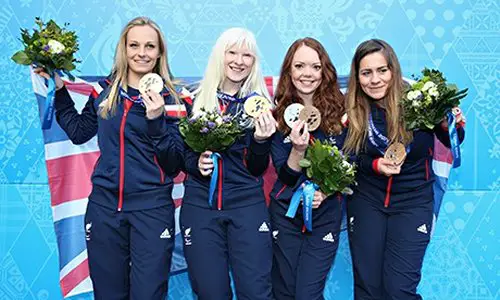 Super-G really should stand for Super-Gallagher I'd say. There was certainly pressure on these two women to perform after winning medals before, including a couple of gold's each at the World Cup in January. If only they had as much of a following as our hopeless footballers.
On day four, despite the fog delaying proceedings, Etherington and Gallagher again competed in the first event of the Super Combined events, which requires the competitors to ski between poles. Before I go on, if you want a rundown of how all the alpine ski events work, check out the information on the Channel 4 Winter Paralympics website.
The Super Combined event is probably the trickiest in alpine skiing., I have tried this on the Nintendo Wii and that was hard enough – I would have no hope on real snow. I had a go at skiing on a dry slope once, and it wasn't pretty. I may have cerebral palsy, but I do have two legs, but it was still a shambles, so I find it even more inspiring that the one legged skiers can do it.
Back to Etherington and Gallagher on day four. It seemed Etherington was going to be placed in fourth position going into the Super-G with Gallagher sadly crashing. However, later after a few disqualifications, Etherington was promoted to second place with only three competitors not being disqualified. What a result! So all Etherington has to do now is finish the Super-G on Friday 10.00am to gain another medal. The heaviest medals ever of any games, she's going to have fun carrying them around the wee beauty! Let's hope it's gold though.
On day five Britain were great again as Etherington gained silver in the slalom (separate from the Super Combined) missing out on gold by just over half a second. God I wanted to cry alongside her through the realisation of how close to reaching a gold medal it can get.
Kelly Gallagher unfortunately crashed on the first of two runs, missing out on another medal.
Day four also saw the first appearance of Britain's flag bearer, fifteen-year-old Millie Knight, who aimed and gained the fifth place she was looking for, meaning that her coach had to shave of his beard after they had made a bet.
Meanwhile British Mick Brennan, an ex solider who was wounded in Iraq, and Anna Turney, who broke her back snowboard racing, have been sadly missing out on the medals in their sit ski events. But they both must be applauded for their efforts for even reaching the games though. They do however have outside chances of getting medals in the Super Combined event – let's all cross our fingers for them.
In another event, wheelchair curling, Britain are producing a mixed bag of results in the group stage. They will probably have to win their remaining games in order to qualify automatically for the semi-finals to go for a medal.
Described as chess on ice or even bowls on ice, these wheelchair players definitely have to be more accurate compared to the able-bodied curlers as there is no sweeping to help the trajectory of the stone. However, if they all had Aileen Nelson's 92% shot accuracy, which helped thrash Slovakia, then they would put the Olympic curlers out of a job.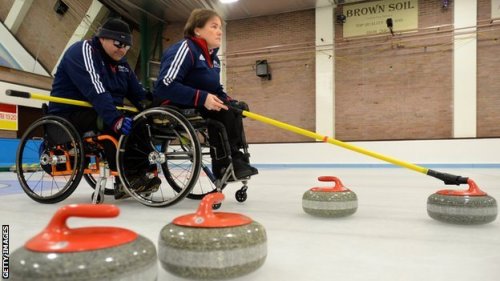 Other events at the Winter Paralympics where Britain do not have any competitors include biathlon, cross-country skiing and, probably the most popular sport, sledge hockey. For those who love wheelchair rugby, sledge hockey is like that but on ice with a few more fists thrown in. It certainly has nothing to do with cricket, but after the disappointment in the Ashes, our players should certainly take a look into it.
For those who haven't seen it yet, here is how fun it can get:
)
But Team GB could still reach our maximum medal target of six – set by Sports UK, who have supplied a lot of funding – despite our Paralympians only receiving £800,000 for Sochi, compared to the 13.4m pot the Olympians got, which may be considered unfair. Should our disabled sports stars be grateful we get any funding at all or that the Winter Paralympics are even shown on TV despite being interrupted by a load of adverts?
If you haven't already, I recommend you tune in to see how the rest of the games pan out. With youngsters Ben Sneesby (19) and James Whitley (16) set to appear for Team GB, and having won medals at previous world championship events, I have high hopes.
With any luck Great Britain will start firing in their remaining matches in the curling to win gold, they know they can beat any opposition on their day, they've done it before. So with me, please do wish them good luck!
You can catch up on any of the Winter Paralympic news by visiting the Channel 4 website, which includes a wealth of pictures, videos, athlete profiles and explanations of the sports.
By Todd Akerman
Check out…
What do you think about the Winter Paralympics in Sochi? Have you been watching? Are you as inspired as many were in 2012? Get in touch by emailing us at editor@disabilityhorizons.com, messaging us on Facebook, tweeting us @DHorizons or leaving your comments below.