News
Speak Out 4 Care: get your voice heard
Disability Horizons supports Alana Inness's petition to stop more disabled and older people falling out of the care system, like her brother James nearly did.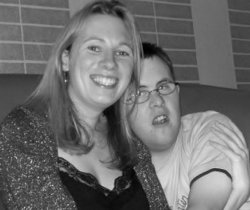 In October of this year Alana Inness set up a petition for her brother James, who has Down's Syndrome. Threatened with eviction due to cuts in local care budgets, Alana turned to Change.org to try and gather support for his cause.
Expecting to present James's local MP, who just happens to be David Cameron, with a petition of around a 1,000 signatures, she was bowled over by public support and ended up with a staggering 144,000 names.
With such as impressive petition behind her, the Prime Minister offered his help, and the family have begun working with James's local council to secure his care needs for the future.
Thanks to his sister's support, and the backing of thousands of online well-wishers, James faces a more certain future. But for many others, who may have no one to fight for them, the future is looking much less certain.
With this in mind, Alana has set up a new petition on change.org, Speak Out 4 Care. Aiming to put a stop to people falling out of the care system. The petition asks all party leaders to pledge to provide support for every disabled and older person who needs it.
Without 24 hour support, James would be unable to live the independent life he wants, and Alana is now calling on Parliament to make sure others do not have to face the same stressful situation that James had to.
Alana's petition currently has nearly 40,000 signatures, and with the hashtag #SpeakOut4Care getting online support from the likes of Stephen Fry, this number is set to reach far greater heights.
As MPs debate the Care Bill in Parliament at the moment, there's no better time to show your support for independent living by signing this petition, so visit Change.org to pledge your support.
By Nichola Daunton
Check out…
• Sex tips from a sexy 'crip'
• Is disability a political issue?
• Accessibility in Tokyo: the good, the bad and the annoying
Do you have a story to tell? Get in touch by messaging us on Facebook, tweeting us @DHorizons, emailing us at editor@disabilityhorizons.com or leaving your comments below.