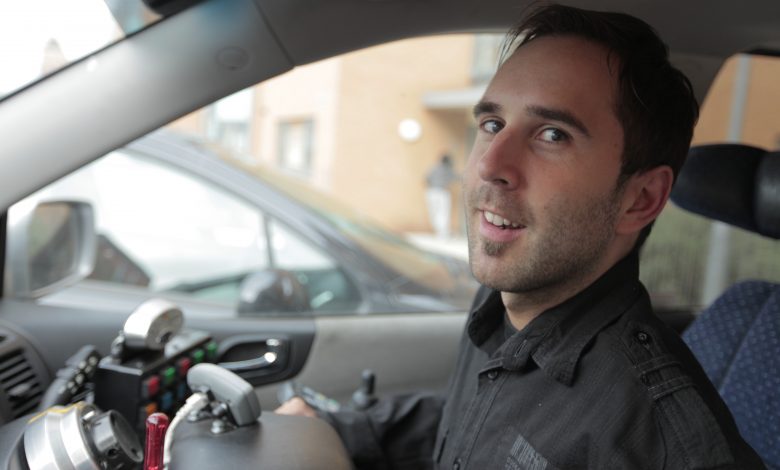 Lifestyle
Driving dreams: my journey to driving and freedom
For many people, disabled or not, driving means independence. It means freedom and endless possibilities. But the prospect of driving can be a daunting one if you have disability. Here, Co-Editor Martyn Sibley explains his journey to not only being able to drive, but also getting the best car for him.
When I was a teenager I had youthful exuberance and disability demons in abundance. Quite a weird combination. So much of me wanted to see the world and change it at the same time. However, having Spinal Muscular Atrophy, how was this going to be possible for poor little me.
Being able to drive is an important part of life for most people. From shopping to socialising, and employment to exploring – having wheels is cool. But how on earth could someone with no leg movement, weak arms and bad balance dream of driving?
Fortunately my family and friends always encouraged the positives and found solutions. I was pushed into contacting Motability, attended their assessment centre and even test drove a car. I struggled with the type of controls on the day, but was promised that with the right adaptions I would be perfectly able to drive. Amazing!
I was scared, excited and surprised all in one go. The apprehension of driving past by quickly, but I was more scared of what such a contraption would cost – it was very hi-tech! This was 13 years ago, and funding support was more difficult to obtain than it is today through the Motability Charity. Again, my closest people pulled through for me and arranged fundraising events in our local community.
Two years later, aged 19, we did it. I had the money and was ready to get independent… After another year of reassessments, fittings and tweaks, my car was ready. January 2004, my second year in university, and the dream had come true.
My first adapted car
I had a green Mercedes Sprinter. A bit larger than I'd anticipated, but necessary for my needs. I used a remote control for a rear-access lift, drove my wheelchair inside, clamped it in automatically, and drove using all sorts of hand controls. Simply put, I steer with a computerised handle bar, accelerate/brake with my thumbs, have a beeper switch with nine functions (such as indicators, wipers and horn) and various other modifications for windows, heating and the radio.
Learning to drive had its own stories, especially involving the slightly strange instructor. Then on taking my test the examiner was more frightened than I was when he saw the vehicle setup. But I calmed him down, we circled Coventry ring road and football stadium successfully and I passed with only two minor faults.
It was life changing. I had a driving licence, independence and freedom , all in one moment.
Since then I've driven thousands of miles. I've repaid my parents with lifts, visited friends at the cinema and in restaurants, done the family shop, commuted to work lots of times, attended a festival in Scotland, a holiday in Wales and, in my biggest challenge, driven around Europe.
I'm not going to try and curse myself, but I'd say I've executed my journeys safely. But it's not without its downsides. I've received a couple of speeding tickets and been stung too many times by parking attendants. Evilness.
In addition, the technology itself has been unreliable and problematic at times. Thankfully Motability cover all insurance, servicing and breakdown, therefore it's not hit me financially. However, I've met the RAC a few too many times. Plus, the companies adapting the cars, similar to those in the wheelchair market, aren't always so 'customer focused', especially after sales.
Luckily I also have a good contact with a mechanic based in Cambridge, Andy Kent from Andys Kars. He bailed me out when I broke down on Christmas Eve when the usual suspects couldn't help. He's an expert with adaptions and cars in general – I'd recommend contacting him if you're unsure of anything about adaptions.
My current car is a Kia Sedona. It has a side entrance, is easier to park but hard to manoeuvre my wheelchair inside. Here's a little video to see how it's all laid out:
I'm going through the process of getting a new vehicle now because it's enforced every 5 years by Motability. Stay tuned for my new blue VW Transporter.
I don't have to spell out any more clearly how possible, powerful and important driving is for me. If you're disabled and interested in driving too, just do it. There's a whole world out there. You'll never look back, I promise.
By Martyn Sibley
You can find out more about Motability on the website.
Check out…
• Spinal muscular atrophy adventure: travelling to conquer Europe
• Designer limbs: top pimped up prosthetics
• Accessibility in Tokyo: the good, the bad and the annoying
What are your experiences of driving or getting an adapted car? We'd love to hear from you so get in touch by leaving a comment below, messaging us on Facebook, tweeting us @DHorizons or emailing us at editor@disabilityhorizons.com.