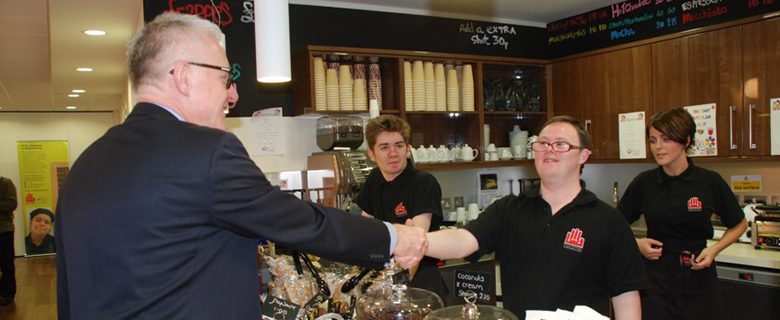 Lifestyle
The Phoenix Blend cafe: helping transform people's lives
Gaining skills and experience is invaluable, particularly if you are disabled and want to maintain or gain your independence. Well that's the aim of the Phoenix Blend cafe, to equip disabled people with the life skills they need, and it recently won a Sainsbury's Charity of the Year award for it, as well as sponsorship from Sainsbury's. Find out more from one of its service users…
The Phoenix Blend cafe isn't just a place for a good cup of coffee and a chat. It's a place where local people with any disability can gain valuable work experience that helps them to live fulfilling independent lives. My name is Sandra McDonald and I have been a service user within Phoenix group, who runs the Phoenix Blend cafe, for thirty years.
The Phoenix Blend cafe story began in 2003 when the charity Vibrance took over the old centre where we were based. After a reshuffle, we decided to come up with a new name to reflect on our feeling of being reborn, so we chose 'Phoenix' with the slogan; 'we all smile in the same language'.
Rewind to 2010 and things got really exciting when we found out about the charity's plans to give us a new building within the local community. A building was identified by Vibrance so we paid it a visit – without any hesitation this became the new Phoenix Blend Café!
In April 2012 we moved into our new venue in London, and the doors were opened for the public to come and enjoy a cuppa! Shortly after the opening, the Olympics came to town and we saw the Phoenix Blend cafe thrive with visitors from all nationalities.
There have been plenty of success stories at Phoenix Blend – all of us in one way or another have been able to gain skills that help us lead our lives as we wish, without any barriers challenging our individual choice.
Over the years the Phoenix group has helped me enormously, allowing me to gain confidence and independence. I have recently moved into my own flat, which I couldn't have done without all the help over the years from the people at Phoenix.
Tom, one of my friends from the cafe, has become more confident in using the self-check out tills at the local Sainsbury's store, and as a result now buys his own stationary without assistance from anyone.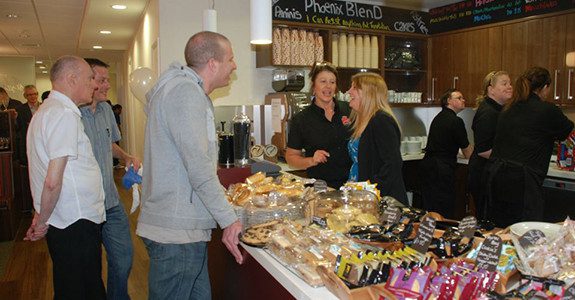 Pawel Gawronski, one of our Key Workers at Phoenix Blend, runs an IT group aimed at encouraging us to be more confident and independent with technology, and it's helped a huge number of us. Take my friend Lora for example, who has made outstanding progress. Lora's disability makes it very hard for her to remember key information, such as her email and passwords, which means she lacks confidence using the internet and social media.
In early January, Lora told Pawel that she wanted her own personal Facebook account, in order to talk to and share pictures with friends and family. Two months later Lora was fully up and running with an account, giving her the ability to share her day-to-day memories with her friends and family. It's been great for her confidence, making friends and family realise just how smart and independent Lora has become.
At Phoenix Blend we are very keen to build links and partnerships in the community, and are over the moon to have been awarded Sainsbury's Charity of the Year. We are also very excited at the prospect of working with our local Sainsbury's store at Bell Lane on many community projects in the future.
Here at Phoenix Blend cafe we also support Cafe Art, a community scheme that supports people affected by homelessness. We do do by exhibiting the wonderful art work drawn by them in the cafe. We also recently hosted The Challenge Network and Café Art event that involved young adults learning more about homelessness and how art work is valuable in their lives, as well as undertaking an Apprentice-style challenge to get customers into the café to buy a coffee and admire their work.
At Phoenix Blend cafe we recognise the valuable benefits of working together to support each other. So if you're interested in getting involved with our exciting projects at Phoenix Blend, please don't hesitate to come down for a cuppa, at 29 Bell Lane, London between 8am – 4pm Monday to Friday.
For more information you can also call us on 020 8477 1800,or email us on info@vibrance.org.uk
By Sandra McDonald
Check out…

• BBC: new disabled talent wanted
• Want to be a radio presenter?
• Oyster Project – Disability charity with an ethos that 'the world is your oyster'
Get in touch by messaging us on Facebook, tweeting us @DHorizons, emailing us at editor@disabilityhorizons.com or leaving your comments below.