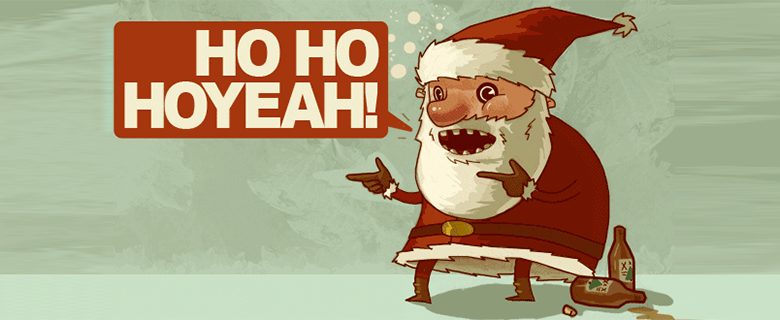 Lifestyle
Disability and Christmas parties: bring on the many misadventures
Christmas is a fun time of year, a great excuse to attend numerous parties. The downside though, if you have a disability, can be the many, sometime inevitable, mishaps – calamitous but amusing none the less! Hannah, who has cerebral palsy, relives her Christmas misadventures.
I remember the mistletoe being surprisingly sharp, but beautiful – very picturesque in the snow we get up here in Scotland. The hostess had used substantial amounts of it as a decoration. She'd smothered everything but a cowering speck of white, all so that she could shuffle unsuspecting members of her mostly single friendship group underneath it to then shriek; "oh look, mistletoe." Her shuffling had become a little too persistent though, and my chosen mistletoe-mate had had a little too drunk.
One push too far and I lost my balance, which hasn't ever really been there in the first place.
My heightened reflexes reacted as overexcitedly as the Black Friday queue at a Southside Tesco. My hand latched onto the spiky foliage like it was the last budget telly in Coatbridge. Tearing a severe gouge down the centre of her wallpaper, we dragged festive bouquets, complete with its once selotaped fixation, right to the ground with us.
Just like the realisation that we had forced the entirely violent Black Friday custom upon ourselves – created by the American corporate superpowers so that they could use our own mob mentality and consumerist greed against us – we sank, ashamed and,  just like those in Glasgow, black-eyed and bloodied.
I was left in the bathroom with her extremely attractive medical student flat mate as he tried to extract the holly leaves stuck in my palm. There was a pause as he freed a surviving mistletoe berry. I looked at it – slightly squished but berry-bright all the same. As I stared, he raised it above our heads.
I can't say it was the most conventional mistletoe kiss. What is in a life with beautiful disability?
Christmas is our most dangerous holiday. Whether it is the icy oblivion of trying to walk on any bit of frozen ground, the craving for hot drinks that end up spilling like a lava of mulled wine down your front, the endless parties that means a leg-burning obligation to stand for hours and mingle, the endless epileptic Christmas lights, or the dreaded extended family interrogation about relationships. There's always something to bring us to our knees or make us cringe, and laugh.
Mum is always determined to find me someone at Christmas. Strong enough to lift me through dance, she aims me this way and that in the path of various potential suitors – embarrassing is an understatement. We get pulled along by a vibrant current of trickling fiddles and crashing bhodrans and misremembered ceilidh manoeuvres, until exhaustion brings everyone to a breathless and laughing stop.
If it's not mum, it's the university club insisting on a theme of Smurfin' Around the Christmas tree, choosing me to be the tree so I can stay central and not dance. Just imagine it, everyone whirling around you in a blue protective circle, keeping me stable in the swaying nightclub – surreal but fun.
I, and you, always seem to be the star of the show, literally on one occasion when an LED star was places flashing on top of my head – a decision that you now have absolutely no regret for.
And bouncers can never tell if you are too drunk or just have cerebral palsy, so let you in anyway to avoid a discrimination dispute.
But the best parties are at home when you're gathered around with your oldest friends, cosy on sofas that nobody will move from. The heating steaming up your windows, as you chatter through the night sharing woeful term-time tales and accepting each other as the deplorable university students we are.
You love your disability and the way it lets you wrap tinsel round your leg braces, and so do your friends. I think it's the love that keeps us going at Christmas.
Partying at this time of year will be full of accidents, so let the people you love share the successes and cringe with you through the failures and get drunk on that Christmas spirit!
By Hannah
Check out…
Get in touch by messaging us on Facebook, tweeting us @DHorizons, emailing us at editor@disabilityhorizons.com or leaving your comments below.