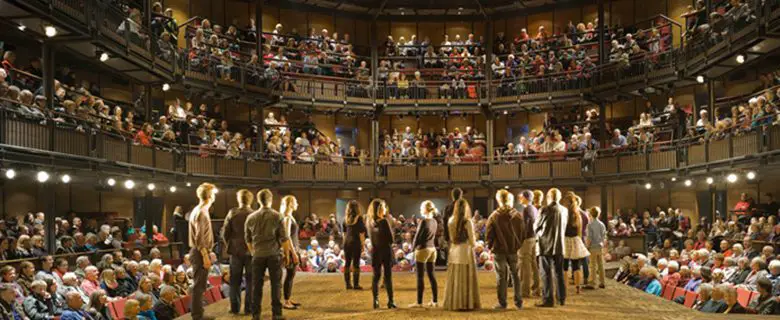 Lifestyle
Royal Shakespeare Theatre: how accessible is it?
Last weekend I was invited by the Royal Shakespeare Company to go and see their new production of Love's Labour's Won – usually known as Much Ado About Nothing – at the Royal Shakespeare Theatre. Not only was this my first time at the Royal Shakespeare Theatre in Stratford-Upon-Avon, it was also my first Shakespeare experience and the perfect opportunity to check out the RSC's accessibility.
After gaining access to the building via an easily accessible ramp, I sat through an amazing production of this classic play, which had been updated to the 20th century and set during the First World War. Not only was it a brilliant production, I also had a great seat, with a fantastic view, next to another wheelchair user. There was also an accessible toilet and the building was easy to get in and out of via the ramp.
In terms of the show itself, as a Shakespeare novice it took me a while to get into the flow of it and get used to the language, but once I did, I really enjoyed the whole experience and thought the atmosphere in there was fantastic. The actors were very powerful and the set and the props were really impressive. So, if you fancy a bit of culture and a bit of Shakespeare, whether it's your first time or your thirtieth, I can highly recommend a trip to Stratford-Upon-Avon. You can find out more the RSC's accessibility policy here.
For those of you who would like to see a video about the experience, here it is!
By Martyn Sibley
Tweets @martynsibley
World Changer @ www.martynsibley.com
Co Founder @ www.97c.026.myftpupload.com
Social Media Man @ sma.sunnierdays.co.uk
Healthy Goodness @ www.todaherbal.co.uk
 Check out…
• Queen Elizabeth Olympic Park: accessibility and Paralympians
• Accessibility in Dubai: the great, the good, the bad and the annoying
• Accessibility in Tokyo: the great, the good, the bad and the annoying

Get in touch by messaging us on Facebook, tweeting us @DHorizons, emailing us at editor@disabilityhorizons.com or leaving your comments below.