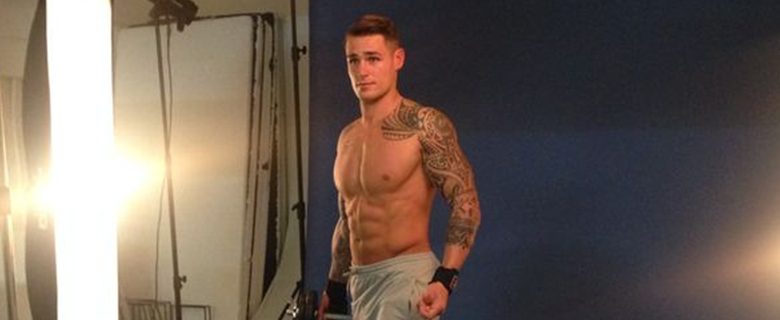 This week we speak to James Sutliff, a fitness enthusiast currently working in the construction industry on his burgeoning career as a fitness model and his aspirations to help more disabled people to enter the world of fitness training.
Please could you tell DH readers a bit about yourself and how you started your career in fitness and modelling?
I am James Sutliff, I'm 30 years old and currently work as a builder for a local construction company. I live at my home in Leicestershire with my wife, Sam and my two dogs. I am a fitness enthusiast and attend the gym 7 days a week, and I have Dystonia. I used to be a keen rugby player, playing in the first team at South Leicester RFC but since the deterioration of my hands due to Dystonia I have had to give this up, which is a shame. Fitness is a huge part of my day to day life, as well as eating well and keeping in good physical and mental shape. I have just started my career in fitness modelling and I am hoping to build on this. It first started with a feature in Men's Fitness magazine.
What has been the highlight of your career so far?
Definitely my feature in Men's Fitness in November 2014! This was such a big highlight because it was my first ever article on me personally about my disability and how I keep fit and looking good. It was such an honour to be asked to be part of the feature. I always wanted to show that you can keep fit and look good with or without a disability.
What daily challenges did you face when you were diagnosed with Dystonia?
At first I had no idea how to cope with my condition and the changes it had bought to my life. I fell into bad habits and it took some strength to get out of them, but no way was I going to let Dystonia defeat me. I have always been a fitness enthusiast and being focused on keeping fit has been my saviour. It has helped me to stay positive, focused, gain confidence and self-esteem and most of all raise awareness for Dystonia and also for people who may have other disabilities or obstructions that make life a little more challenging than what we would perhaps want to it to be. Life can be challenging for everyone and I feel fitness is a great way of relieving stresses from day to day life and obstacles that we may have to overcome.
In your opinion, what attributes does a successful fitness model need to have?
A successful fitness model needs to be in tip-top physical shape, dedicated to their craft, have good knowledge of nutrition, and be able to give sound advice on how to keep in shape.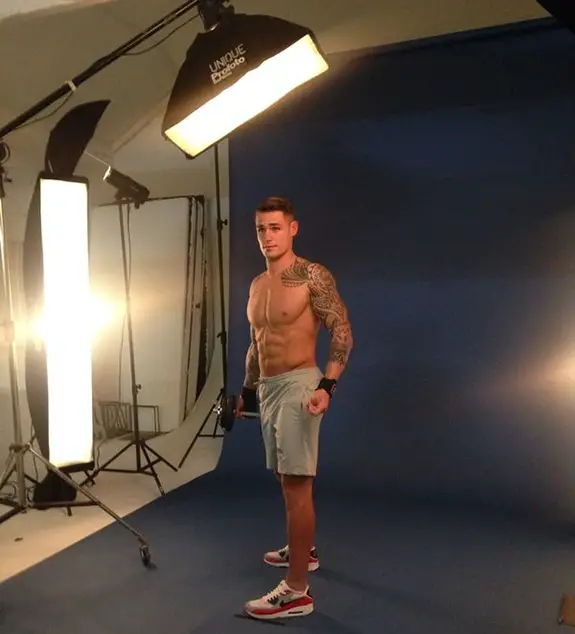 What does your daily exercise regime involve?
Constant healthy eating
Keeping well hydrated
Attending the gym for around 2 hours (six days a week)
Training is broken down into 4 different stages:
Compound training
Super sets
High repetitions
A day of rest a week.
What advice do you have for disabled people who wish to be fit and healthy, but don't know where to go or where to start?
Everyone will have individual goals and abilities so make sure that you know what your body is capable of. Keep focused and stay positive. It will be very challenging at times and you will most certainly have periods of wanting to give up. Keep fighting through because the rewards are worth it, both physically and mentally. Life is about challenges, so challenge yourself in a good way. Make fitness a part of your lifestyle, like taking a shower. Remember anything is truly possible if you put your mind to it. In the grand scheme of things, I see Dystonia as a small part of life; it does not control me nor defy me.
What advice would you give disabled people who wish to peruse a career in fitness modelling?
Stay focused and persistent, know what your personal goals are and work towards them.
What do you like to do in your spare time?
With the spare time I do have I like to spend time with my wife, family and dogs, see my friends, watch a good Rugby match and go on holiday.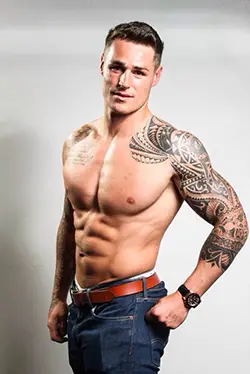 You did some modelling for Men's Fitness magazine; can you tell us how that came about?
I was basically working hard towards the annual Men's Health competition when I found out part way through my training that they had decided not to run the competition this year. I was very disappointed as this had been my focus for so long and I had put a lot of dedication and worked hard in preparation for the competition. After making my disappointment known on Facebook, a mutual friend messaged me and said that they felt my story had potential, and that having worked in the media business had some contacts at other publications. She had contacted a few people and Men's Fitness had come back with keen interest to run a story on myself and two other men who also had used fitness to help fight their disabilities. This was an amazing opportunity to say the least and really started to make my presence known.
You are campaigning to raise awareness of Dystonia, can you tell us what you're doing at the moment to raise awareness of the condition?
I am in the very early stages of trying to get awareness of Dystonia on a larger scale. I have always campaigned on Facebook and my blog and have done publications in local media. I'm aiming to set up a charity and I'm looking to do a fundraising event in the spring.
When you train at the gym do you use any specialist training equipment to assist with your workouts?
Yes, I use specialist hand grips and support hooks to help me to grip pieces of equipment. I always train with a friend who can support me.
What are your aspirations for the future?
My main aim is to keep getting the message it out there; an opportunity to get it televised would be the ultimate goal. I'm keeping active with photo shoots, articles and interviews. I would also like to set up a charity to support people with disabilities in fitness, and potentially open my own gym that provides specialist training equipment for people with disabilities.
What is your favourite workout routine?
I really enjoy training high reps, as I feel I get a really good pump. My favourite body part to train is my chest.
One of my high rep chest workouts:
Bench press: 4 sets, 15 reps @ 50kg weight.
Incline bench press: 4 sets, 15 reps @40g weight
Flyes: 4 sets, 15 reps @ 20kg dumbbells.
Incline bench flyes: 4 sets, 15 reps @15kg dumbbells.
What are your top five tips on keeping fit and healthy?
Diet is a massive portion of getting in shape and keeping in shape
Don't over train
Have rest periods
Keep motivated
Make keeping fit a part of daily life/lifestyle
By Zubee
Check out…
• Q&A with Ashley Thomson: one-handed hairdresser
• Q&A with Jack Eyers
• Q&A with disabled skier Talan Skeels-Piggins
Get in touch by messaging us on Facebook, tweeting us @DHorizons, emailing us at editor@disabilityhorizons.com or leaving your comments below.