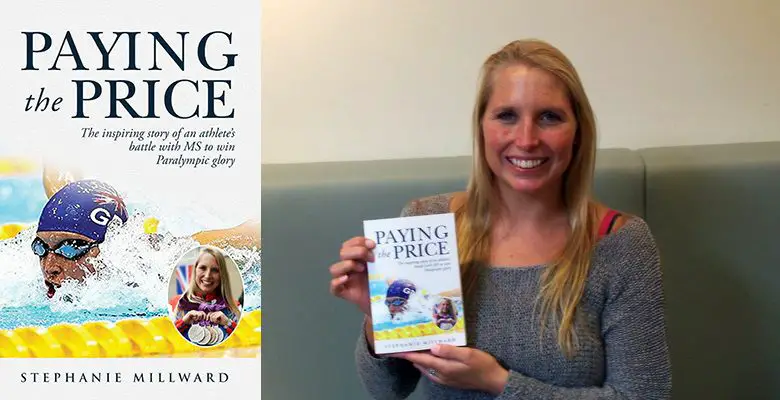 At the age of 33, Stephanie Millward launched her autobiography, or "the story of my life" as she likes to call it, on 6th November 2014. To launch an autobiography at such a young age is testament to just how much this formidable lady has already been through.
'Paying the Price' is a story of hopes, dreams, disappointment, pain, success, happiness, inspiration and love. It's about one girl's fight to see the light through the darkness of being diagnosed with a life-changing condition at a young age.
During the late 1990s, Stephanie's world came crashing down when she was diagnosed with Multiple Sclerosis. It came at a time when she had just broken the British record for her swimming category and she was on the verge of making the national squad for the 2000 Olympics. Her hopes of competing were destroyed when she went blind three times and was paralysed once. In her book she talks about her "dreams dying," as she then went on to experience a decade of being hit with almost every MS symptom under the sun. She had bowel and bladder problems, couldn't remember things, her balance went and she went blind again. She went into deep depression at a time when most people are just starting out in the adult world. She turned to alcohol, started to self harm and experienced extreme jealousy towards her sister who seemed to have "the perfect life" at a time when hers was falling apart. To top it all off, her parents also got divorced.
However, slowly she turned her life around. Whilst in her book she chats a great deal about the support and love from her dog and her Mum, the turning point really came when she met and fell in love with her now husband Adrian. He was one of her swimming students and it was his encouragement that motivated her to get back into the competitive arena. In 2008 she competed in the Beijing Paralympics, in the S9 class.
Stephanie believed that the Paralympics would be easy, considering she'd been so good pre-diagnosis. However, it wasn't. Stephanie said that the challenge actually "keeps the dreams alive" and "makes the aim and goal something to really fight for." She didn't win any medals in Beijing and this made her even more determined to do well at London 2012.
When questioned about her greatest achievements, Stephanie says that London 2012 was bittersweet for her. While she won four silver and a bronze at the Games, she felt that she'd failed because she'd not come away with gold, which was her aim. Surrounded by the "bubble" of the Paralympic Village, she said it has only been afterwards that she realised what a big impact the Games and her performance has had on inspiring people, particularly those with MS. In hindsight, and only after she became four times World Champion in Montreal in 2013, she can now say that London 2012 was actually a highlight of her career because she understands how much it meant to people. She says "through me, people feel like they can re-live that summer of 2012 and the fantastic atmosphere and achievements of GB athletes." "Plus, I've found out that the odds of winning the lottery are actually better than to win an Olympic medal so I have definitely done well!"
Stephanie is now aiming to win gold at Rio 2016, however, she does say that if she doesn't it won't be the end of the world. She talks about her life being incredible right now. She's involved in various MS and non-MS organisations, has a fantastic husband, and wants to continue swimming for as long as her brain and body say that she can! She'd also like to open up a swimming school to make swimming open and accessible for everyone. She says, "if you believe you can do something then anything is possible. Nothing stands in your way and you need to make the most of opportunities." Having read her book, I can truly say Stephanie has proved this to be true. She's a true golden girl for MS, for swimming, for the GB team, for life. Be inspired!
'Paying the Price' is available to purchase now and a portion of the profits from the sale of each book goes towards a UK-based MS charity.
By Trishna Bharadia
Get in touch by messaging us on Facebook, tweeting us @DHorizons, emailing us at editor@disabilityhorizons.com or leaving your comments below.