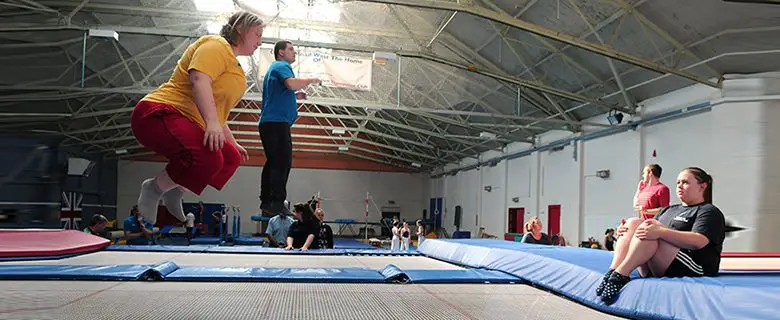 AutismAbility is a scheme funded by Sport England's Inclusive Fund, which allows adults with Autism to participate in trampolining and gymnastics. Alex Hardy tells us about his experience with the program.
Please can you tell Disability Horizons readers a bit about yourself?
My name is Alex and I am 25. I am fully autistic and have been going to day services with Wirral Autistic Society since 2010. Going to day services gives me a routine and means I get to meet new people and try new activities. I have a good sense of humour and am a chatter box. I like dogs and I have one called Shankly.
What first interested you in trampolining?
I hadn't trampolined since the age of 8 and then the AutismAbility Project came about, offering me the opportunity to get involved and have a go. AutismAbility is a scheme funded by Sport England's Inclusive Fund. 70 adults can now do trampolining and gymnastics every week at a Birkenhead sports centre.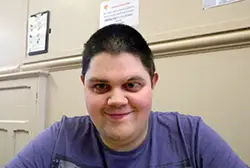 What do you enjoy most about trampolining?
Trampolining gives me some structure in my routine. Since I haven't trampolined in a long time, it's very satisfying to revisit a childhood activity. My favourite trampolining routine is the seat drop, where you bounce as if you were sitting in a seat.
How do you feel it has changed your life?
It has given more confidence to motivate myself to get up in the mornings. This helps me focus away from my depression, which I have suffered with in the past.
What other sport and outdoor activities do you enjoy apart from trampolining?
I like walking, football, badminton, swimming, darts and canal boating. I'm proud that I achieved my Helmsman's Award for canal boating. I also enjoy camping. One day, my staff helped me put up a tent on the field and I cooked spaghetti.
If you got the opportunity to perform a routine in front of your favourite celebrity, who would it be and why?
I'd definitely want to do the seat drop routine in front of Ronnie Barker, because I love watching him and he makes me laugh. He has a natural gift in comedy.
What do your training sessions involve?
The training sessions involve warm ups, stretching and fast track bouncing.
If anyone wishes to take part in the scheme, how can they get involved?
AutismAbility is run by the Wirral Autistic Society, which is an organisation that offers support services to people with autism and their families.  Besides trampolining, the centre also offers horse riding, rock climbing, swimming lessons.
To get involved in the trampolining scheme contact the Wirral Autistic Society for more details. You can also visit the Drill Grange Road West Sports Centre where the trampolining sessions are held.
What are your goals and aspirations for the future?
My goals are to carry on doing the activities I enjoy, like trampolining. I want to develop my overall fitness and well-being. I would also like to pass my Duke of Edinburgh Bronze Award and the John Muir Award. My awards make me happy; I just can't shut up about them.
For more information about the AutismAbility trampolining program on the Wirral Autistic Societies website.
Interview by Zubee and edited by Shannon Kelly
Get in touch by messaging us on Facebook, tweeting us @DHorizons, emailing us at editor@disabilityhorizons.com or leaving your comments below.