Accessible technology is playing a large part in making disabled people's lives easier. To recognise new innovations in technology for disabled people, every year AbilitNet awards the latest inventions that are making a difference. Ahead of this years awards, we look back at winners from the last few years and the technology that could help you.
Whether you love it or hate it, technology is a part of our every day lives. So much of what we do in the digital age involves interacting with technology, whether it's banking, buying travel tickets, sending email or communicating with friends and family.
Despite our frustrations with slow broadband or websites crashing, technology is generally seen as a good thing. But for disabled people technology can do even more – it can transform daily life and create new opportunities for work, communication and travel. But only if it the technology is accessible to all.
Accessible technology for good
The trouble is that not all technology is designed to be inclusive or accessible. So to celebrate those organisations and individuals that go above and beyond to design technology that has a positive impact, we at AbilityNet set up the Tech4Good Awards six years ago.
The awards recognise organisations and individuals who use digital technology to make the world a better place. They are the only awards to highlight the wealth of charities, businesses and volunteers across the UK that harness the power of technology to benefit the community.
Entry is free and open to any charity, business, individual, social enterprise, school, college, university or any other public body with a base in the UK and there are seven categories to choose from. These include Digital Skills, Digital Health and Community Impact.
The diversity of the three most recent winners from the Accessibility Award category shows the sheer variety of how technology can be used to benefit the lives of disabled people.
Accessibility Award winner 2014: SpecialEffect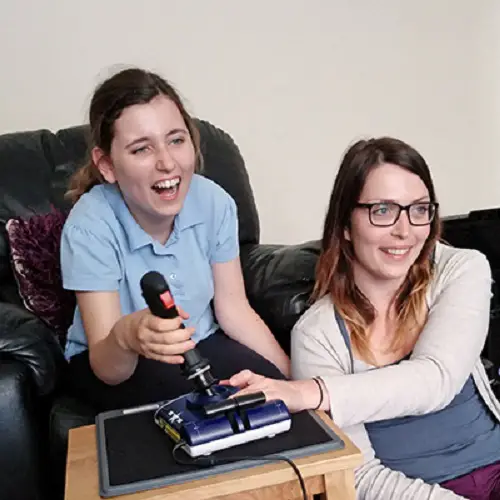 Helping everyone enjoy computer games
SpecialEffect unites numerous digital technologies to enable anyone, whatever their physical disability, to enjoy video games and leisure technology.
It does this by using a whole range of technology, from modified joypads to eye-control, to enhance the quality of life of people with all kinds of needs.
It's not all for the sake of fun, though. SpecialEffect believes that by giving people the means to participate, they're kick-starting rehabilitation, self-esteem and, most importantly, inclusion.
Visit the SpecialEffect website to find out more.
Accessibility Award winner 2015: Open Bionics
Using technology to create affordable, accessible 3D printed limbs
Open Bionics is revolutionising healthcare by using 3D scanning and 3D printing to dramatically cut the cost of fitting hand amputees with robotic prosthetics.
Bionic limbs can cost anything from £20,000 to £80,000, and can take up to three months to make. Open Bionics offer a bionic hand for £1,000, and by using 3D scanning, modelling and printing, it can be created in just five days.
A start-up of just 4 people aged 23 to 24, Open Bionics is driven by wanting to create and see social change. Working closely with hand amputees, the team have created a light, affordable, functional and stylish bionic hand – a hand amputees enjoy wearing. Not only does this use of technology change people's lives on a daily basis, it also helps them get back into work, giving them greater independence and freedom.
Visit the Open Bionics website to find out more.
Accessibility Award winner 2013: Barclays
Using technology to make banking more accessible for blind and partially sighted people
Barclays was the first UK bank to respond to the RNIB's Making Money Talk campaign, which highlighted the fact that less than 70 of the 64,000 ATMs in the UK had audio capability. That capability allows customers to respond to audio instruction using a pair of headphones plugged into a connection in the cash machine.
The bank updated over 3,500 cash machines across the UK and is issued High Visibility Cards to help customers use their card in ATMs and chip and pin devices. Their action kick-started a similar response from other banks and will bring benefits to thousands of people.
To find out more about the AbilityNet Tech4Good Awards or to enter visit the Tech4Good website. Entry closes at 6th May 2016.
By AbilityNet
Have you found some technology that's changed your lift or invented something that you want to shout about? We'd love to hear from you. Get in touch by messaging us on Facebook, tweeting us @DHorizons, emailing us at editor@disabilityhorizons.com or leaving your comments below.