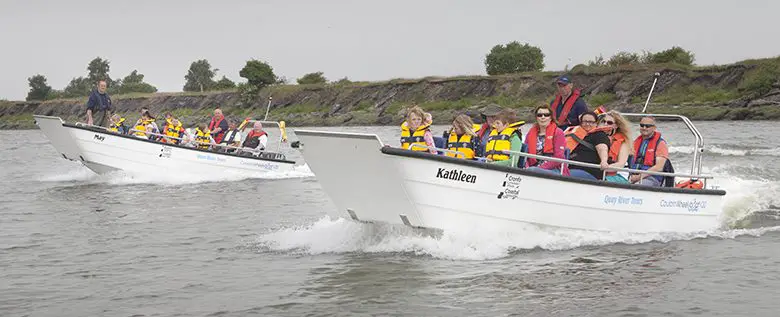 The Wheelyboat Trust is a small national charity dedicated to providing mobility impaired people of all ages with access to waterborne activities using specially designed wheelchair accessible Wheelyboats. We talked to director Andy Beadsley, who is himself a wheelchair user, to find out how it works and how you can get on board.
The Wheelyboat Trust has been operating for over 30 years and so far we have supplied 174 Wheelyboats to projects across the UK. Since the launch of our latest Wheelyboat model in 2014, the Coulam Wheelyboat V20, we have never been busier.
The Wheelyboat Trust came about as a result of farmer Bill Buchanan's spinal injury and his friend's desire for the two of them to carry on fishing together. Access on and around water for wheelchair users can be quite tricky, so when Bill became disabled, it could easily have spelled the end of his interest in fly-fishing.
But his close friend Alan Faulkner had other ideas and set out on a quest to design and build a wheelchair accessible boat. In the early 1980s Alan's idea began to take shape: with a group of people he set up The Handicapped Anglers Trust in 1984. With charities such as Action Research, Henry Smith and The Fishmongers' Company providing vital early funding support, their efforts culminated in the official launch of the 'Wheelyboat' by HRH Prince Charles in 1985.
Making boats accessible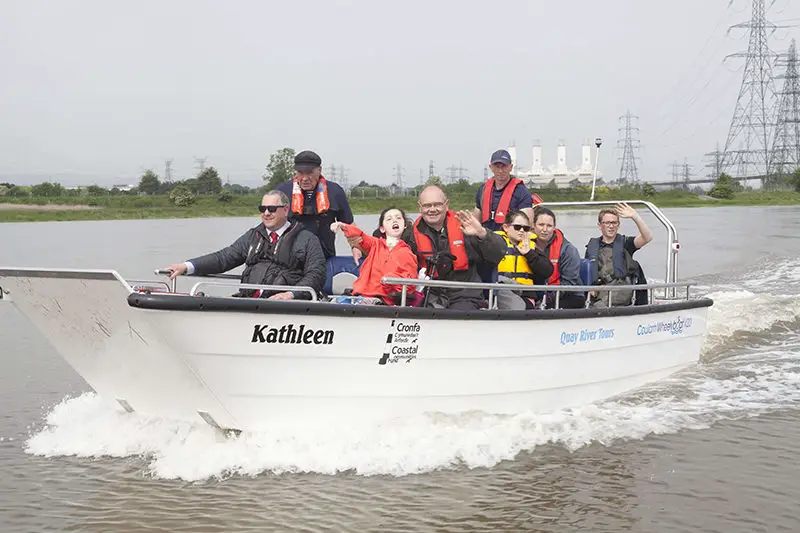 Wheelyboats are open powered day-boats, which means they're open-top boats driven by an engine. A few do have covers for protection from the elements but being mostly open boats users get to feel the wind in their hair quite literally!
Although Wheelyboats were originally designed to help disabled anglers, for the last ten years or so we have been expanding the range of models. The majority of Wheelyboat projects taking shape now are for multi-purpose use – pleasure boating, nature watching, powerboating, etc.
The two most popular Wheelyboat models, the Mk III and the new V20, have a bow door that lowers to form a ramp for roll-on, roll-off access. On board, the floor is level with access to all corners of the boat including the helm as, very importantly, all Wheelyboats can be driven from a wheelchair.
We do not operate Wheelyboats ourselves, instead our role is to design, build, supply and fund Wheelyboats. We work with groups and organisations to help them acquire a Wheelyboat, so they can provide the service to their visitors, members and beneficiaries. Most Wheelyboats are also available for the general public to use and even drive themselves (find out more below).
The two latest Wheelyboats were launched at the beginning of June by the Quay Watermen's Association (QWA) at Connah's Quay on the River Dee in Flintshire. QWA is a group of local fishermen and boating enthusiasts who aim to preserve and restore the Connah's Quay dock area and bring people, no matter what their ability, to the river to enjoy it and appreciate its past.
The group benefitted from a £192,000 grant from the Coastal Communities Fund to turn a disused building into a community centre and purchase two Coulam V20 Wheelyboats that will enable the entire community to take part in activities on the river.
A live commentary that points out the various sites of interest along the river upstream to Chester is already in place for the first passengers on the new Wheelyboats. Later in the year there will be trips downstream into the estuary where passengers can experience the tranquillity of an internationally important bird reserve and relive ancient battles as they cruise past Flint castle. To book places on a scheduled trip or arrange your own tailored trip for a group, family or individual visit QWA's website.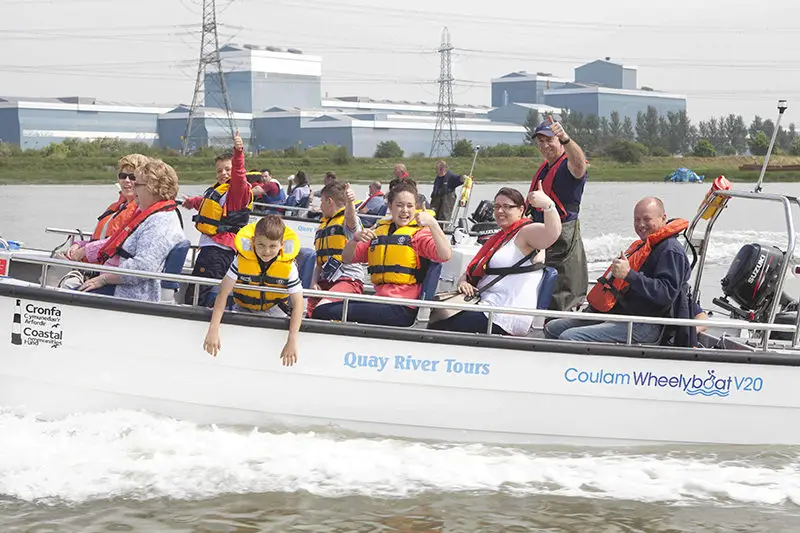 Accessible self-drive boats
The river Dee at Connah's Quay is tidal, which means the waters have very strong currents, so all QWA's Wheelyboat trips are driven by qualified powerboat operators. Most Wheelyboats in the UK, however, are available for self-drive hire. Wheelyboats are very easy to operate even for people with no boating experience and can be hired from a number of venues across the UK.
The venue will go through a checklist with you and demonstrate safe operating procedures, including driving the Wheelyboat. All Wheelyboats have outboard motors (self-contained units that include an engine, gearbox and propeller) and are either steered with a wheel or tiller, which is essentially a lever connected to the outboard engine.
The helm, where the boat is driven from, is really accessible and even people with quite severe disabilities can experience driving the boat themselves. Lifejackets will be provided, so once you have booked your trip, you just need to turn up in appropriate clothing and if in any doubt, just ask as many questions as you want!
Self-drive Wheelyboats have small motors so their maximum speed is about 10mph. Some of the venues that operate the new Coulam Wheelyboat V20 can offer more adventurous powerboating with speeds up to 30mph. You can also train and qualify as a powerboat driver. Venues that offer powerboating and powerboat training are:
Mylor Sailability in Cornwall
Wheelyboats operate all over the UK, from the north of Scotland to west Cornwall at some stunning locations, so wherever you live there should be a Wheelyboat near you.
The Trust's website, www.wheelyboats.org, lists all the Wheelyboats operating in the UK, their locations and the activities they can be used for. Website addresses and contact numbers are also provided. For enquiries and bookings, please contact the Wheelyboat venue.
By Andy Beadsley
Want to get in touch? It's easy! You can message us on Facebook, tweet us @DHorizons, email us at editor@disabilityhorizons.com or leave your comments below.