Lifestyle
Disabled toilets: how to have a successful 'comfort break'
If you have a disability, going anywhere, even for a coffee in town, let alone a proper day out, is complicated by the availability – or lack thereof – of suitable toilets. So we've asked accessible bathroom specialist Clos-o-Mat for its top tips on finding and using disabled toilets when out and about.
We all go to the loo on average 8 times a day, so the chances are that when you're away from home you'll need a 'comfort break'.  Yet practical experience tells you that too many supposedly accessible toilets – ambulant and wheelchair – aren't properly accessible, even if you can 'go' on your own. If you need help, the problem is exacerbated.
Maybe more building designers need to spend a day in a wheelchair to see what it's like trying to even get into a supposedly wheelchair-accessible loo, let alone use it!
But there is change afoot. Yes, too many public conveniences are being closed, supposedly through lack of funding. However, venues are slowly becoming more aware of their need to apply accessibility throughout a building, including in the toilets, and are investing in better and more appropriate facilities.
And they're looking at what different options there are for disabled toilets too: ambulant accessible (i.e. for those with limited mobility but able to walk), wheelchair accessible, Changing Places and Space to Changes.
Now, before I go on, let me just explain what Changing Places and Space to Change toilets are for those of you who haven't heard of them.
Changing Places toilets
Changing Places toilets are the most desirable type of disabled toilets for public places under Building Regulations and British Standards.
They should, according to the standard, be fitted in addition to conventional wheelchair-accessible toilets, be 12m2, and include an adult-sized, height adjustable changing bench, ceiling track hoist and privacy screen.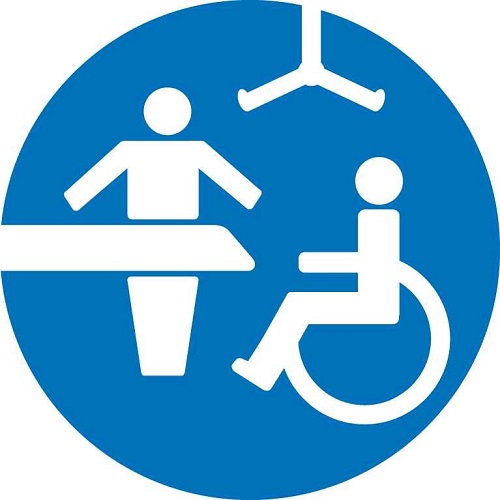 Space to Change toilets
Space to Change toilets plug the gap between conventional (Building Regulations Approved Document M 2013) wheelchair-accessible toilets, and the desirable larger and better equipped Changing Places toiles.
The concept has been developed to ensure that the personal hygiene needs of up to 3 million British children and adults who need changing and lifting facilities for their personal care are met when away from home, as much as possible. It encompasses a 7.5m2+ (3m x 2.5m minimum) wheelchair-accessible toilet that further includes an adult-sized changing bench and a hoist.
Having and advertising disabled toilets
Legally, anywhere that serves food and drink and has seating for more than 10 people has to provide toilet facilities for customers. If space is an issue, restricting provision of the 'full range' of toilets, then British Regulations say that, if nothing else, a wheelchair-accessible toilet should be provided.
Some venues promote their provision of accessible toilets, others don't. And if a venue does have one, it may also have a bench and hoist. But again, these provisions are not always something venues promote.
Leicester is probably one of the most 'switched-on' cities for accessibility: it not only has 10 Changing Places in and around the city, it is leading by example in terms of telling people. It has produced a little map available from tourist Information that details where they are.
The motorway service chains are supposedly collaborating to develop a network of strategically located Changing Places at their sites. The British Toilet Association is working on one, single, definitive 'app' that should pull together all public conveniences, and ones in tourist attractions etc, but inevitably that will take time.
So, until all locations have an accessible toilet within a stone's throw, here are some handy ways to make your time away, and trip to the loo, easier.
Tips to make your toilet break comfier
Some time spent on forward planning is essential for a successful venture out, unless you have a strong, well-trained bladder and bowel.
Go online to locate disabled toilets
If you have access to a computer, spend a few minutes checking out where you are planning to go, and what facilities are there for you to 'go'.
There are numerous resources available online that are trying to address the situation. Euan's Guide, The Great British Toilet Map, Changing Places, and our own Clos-o-Mat website all have maps and details of where there are accessible toilets. But there isn't one definitive reference source that covers all the types of disabled toilet.
Call the place you're going to visit
Often, a quick telephone call or email will give additional detail that could make all the difference. Some Marks & Spencer stores, for example, have wheelchair-accessible toilets that offer separate facilities for left and right-hand transfer, but there are no, to our knowledge, facilities there with an adult-sized changing bench or hoist.
You know what you specifically need, so use that call to ask pertinent questions: Where is it? How do I get to it? How do I access it? Those are the obvious questions.
Can you access it seems like an odd one, but we've all seen social media posts where the 'accessible' toilet is being used as a store room!
But is it a peninsular toilet you need? If yes, then ask specific questions. Is it set to the left or right? Does it have a hoist? If so, what sling does it take?
Can you make the most of what's there?
If the facilities where you want to go aren't quite what you need, can you plan ahead to take what you need to make the most of it? If you know what to expect, you can to an extent manage your trip accordingly. That simple question about toilet location for example: if it's not peninsular, can you manage to access it from the opposite side to usual?
Leave feedback!
Take a minute to let them know, either whilst you're there or when you get back home, whether the toilet was as it should be. As a nation we don't complain, equally we don't praise! If you don't tell people what you need, how can they change it for the future?
They may not realise how a pull cord is tied up out of the way impacts on your ability to safely use the loo, or if a grab rail is just out of reach. Hopefully they'll know for next time, and you can relax knowing at least one venue where you can go to the loo.
Or if they've got it right, tell them. And tell your friends. Pop a review onto Euan's Guide or social media. It's surprising what a reaction that can have. We know of instances where a simple post on Facebook about lack of suitable facilities – in this case specifically a Changing Places – has prompted a household name to promise to review its accessible toilet provision.
We've been working with Changing Places and Space to Change campaigners and produced a 'calling card' to encourage providers to do just that – provide!
The calling card contains the simple message: you would have had a wonderful time at the venue/location, but if only they'd had suitable toilets. Could they therefore please consider providing a bench and hoist, ideally a Changing Places or Space to Change system. It even has a picture on the reverse to show them what you mean! All you need to do is add your contact details and hand it in.
You can easily download it from the Clos-o-Mat website and start encouraging venues to make a change to make your comfort break better.
By Robin Tuffley, Marketing Manager at Clos-o-Mat
Check out…
Get in touch by messaging us on Facebook, tweeting us @DHorizons, emailing us at editor@disabilityhorizons.com or leaving your comments below.