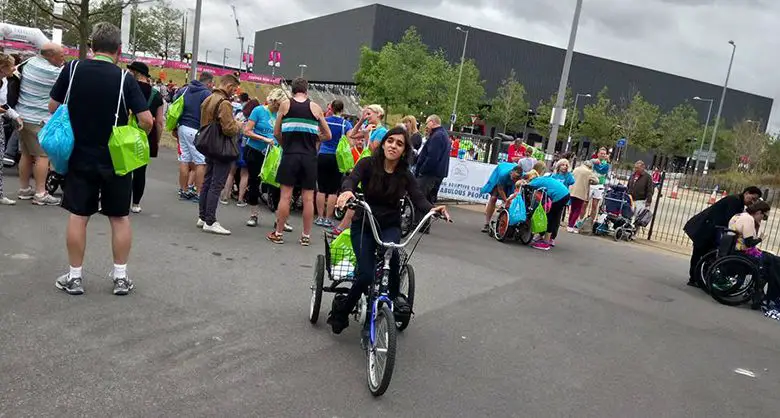 Parallel London was the UK's first fully inclusive mass participation sporting event. It was an opportunity for everybody, disabled or not, to come together at the Queen Elizabeth Olympic Park in a national celebration of inclusion and diversity. One of the Disability Horizons team, Zubee, set herself the challenge of taking part – here's how she got on…
When I first heard about Parallel London I just had to apply. There were five different push/run challenges for all ages and abilities. Participants could choose their distance – up to 10k – and set their own goal using any mobility aid of their choice, so it was a great opportunity to push myself out of my comfort zone.
But it was also about more than just that. Most importantly, I loved what the event stood for – it was about breaking down barriers and showing people that disability shouldn't hold you back.
I have cerebral palsy, which affects my mobility and balance, so I use crutches to get around. There was therefore a few options for how I could take part. I could either walk using my crutches, which would mean I could only do a fairly short distance, or wheel myself in my wheelchair, which would have allowed me to go further.
But both of these option had their downsides too – I don't have enough strength in my arms to wheel myself, and walking on crutches in a crowd of people can be a bit tricky. So I decided to think of something different. Why not attempt the 10k distance on a tricycle? 
I contacted Parallel London to ask whether I could use a tricycle and initially the response was no. The person I spoke to said it would be a health and safety risk, and that using bikes had not been considered for this year, but they were hoping to expand it with bikes next year. Not what I wanted to hear.
This answer seemed really unfair, especially as it was an inclusive event. But I wasn't giving up. I knew there must be someone I could speak to about this, so I contacted Dom Thorpe, a personal trainer who specialises in training people of all abilities. He was really impressed that such an event was being organised, but equally disappointed to hear my situation.
He very kindly offered to find out more information on my behalf and so contacted Parallel London. Thanks to Dom, Parallel London agreed to allow me to use a tricycle. Without his help I probably wouldn't have been able to attend the day.
So onto the next thing – where to get a bike from. I regularly attend an All Ability cycling club called Bikeworks (you can find one in your area on the Bikeworks website), so I decided to tell the club and ask whether I could use one of the their tricycles for the event. After a few emails back and fourth, it was agreed. It was then just a case of sorting out the logistics of getting the bike to me on the day, and getting me to the event. I was really excited and couldn't wait to take part!
Parallel London event day
The 4th September had finally arrived. I was excited yet anxious as I didn't know what to expect. I was buzzing knowing that I had a hope of achieving something for myself on such a large scale. I had to get up early as participants doing the full 10k would be staring at 10.30am, so I had to make sure I arrived in a good time.
I travelled with my grandad by train in my wheelchair, using the underground as I live in London. Just getting to the train felt like a sporting event in itself as Shepherds Bush station, which is near me, is not accessible. There are no lifts or portable ramps available, so I had to have help. Although the station staff were really helpful, I didn't feel comfortable having to get out my chair, go down steps with assistance and then have my wheelchair carried down to the platform, but I had no other choice.
Once I reached Statford station, where the event was held, it was much easier as I knew it was accessible. There were some camera crew waiting who asked me if I would be happy to be filmed. Of course, I said yes. It felt like we were all athletes going for gold at the Paralympics!
We took the accessible shuttle bus to the Olympic Park, and volunteers were on hand to provide assistance if needed. I planned to meet a staff member from Bikeworks at the park so that he could hand over the trike.
The atmosphere was buzzing. Everyone was excited. Again, it felt like we were Paralympic athletes – there were people lined up to cheer us on and many of those taking part were doing warm up exercises before the race began. Then the countdown began. 3..2…1… and we all set off.
There was a huge variety in the equipment used – manual wheelchairs, electric wheelchairs, crutches – and a wide range of disabilities. Some of the participants had buddies to help them out, either pushing them in their wheelchairs or offering support through the race. Volunteers were also on hand around the circuit if we needed help, all offering encouragement along the way.
It was a good start and all seemed to be going well, until I had to go up a big hill. I could feel myself going backwards, and so had to push hard to keep control of the bike. At this point, we were all encouraging each other to push ourselves to make it to the top of the hill – that got us all though, the team spirit of it all.
I thought it would just be one difficult section, but no, there were more on route. I wasn't expecting it to be that hard. But with the finishing line in sight, I let out a sigh of relief. What a great feeling, I had done it! My time was 1:02:10.
Challenge met, now time for some fun…
Parallel London was more than just a sporting event, there was a range of other activities to try out too. A number of organisations were there as well – Liveability, Prosthetics Limb Centre, Glamsticks – so we could try out products and talk to the staff.
I went passed a tent where they were about to start a session on wheelchair dancing, so I thought; 'why not give it a go?' The session started with everybody introducing themselves, followed by an introduction to wheelchair dance. Before we could start, we first had a warm up, moving around the room putting our arms up and down, bending about and breathing in and out.
Once we were all limbered up, we were shown a basic dance routine. We all practised it a few times before doing it to music. After that we were asked create a shape in the middle of the room using our bodies, which we then did again in groups, incorporating it into a dance. It was really fun!
After the dancing session I met with actor, David Proud. He was about to start an acting session, so I decided to try that out too. After introductions, David put us into groups and gave us phrases, such as "I hate you" and then "I love you." We had to say them very quietly while looking at each other, gradually getting louder. It was quite unnerving to do at first.
Next, David gave us each a different situation – either in an aeroplane crashing, or in a sinking ship – and characters to play. I had to pretend that my cat had passed away! If that wasn't enough, in character, we then played the game 'two truths and a lie', where David had to guess which two things were true and which was a lie. Not your average afternoon!
I had fun and really enjoyed the whole day. I really look forward to taking part in Parallel London again with new challenge next year! I hope you will too.
By Zubee Kibria
Check out…
Get in touch by emailing us at editor@disabilityhorizons.com, messaging us on Facebook, tweeting us @DHorizons or leaving your comments below.