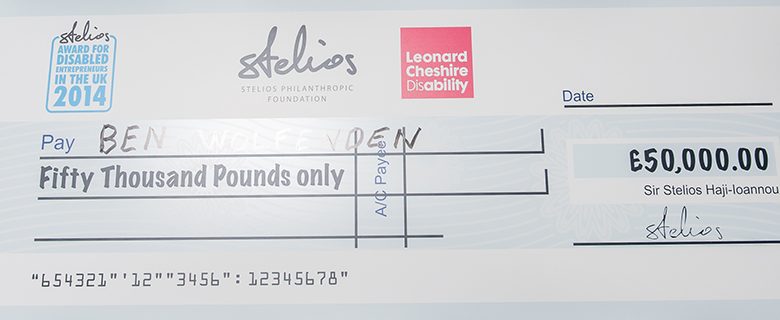 This week sees the fast approaching deadline for the Stelios Award for Disabled Entrepreneurs 2016. So we're calling all disabled entrepreneurs to enter for a chance to become this year's winner of the £30,000 prize.
The awards, which were started 10 years ago by Sir Stelios (creator of the airline Easyjet), and the charity Leonard Cheshire Disability, aim to recognise great business ideas from disabled entrepreneurs or those creating products or services for disabled people. The winner takes home £30,000 for their company, and four runners up get £10,000, all in aid of helping their company take off.
Previously, the awards were open to businesses that were somewhat established. But this year sees new criteria, which opens the awards up to far more applicants. This time Sir Stelios is looking for disabled entrepreneurs who started their companies in the UK in the last seven years (2009 or later). All forms of entrepreneurial activities are welcome, even without a registered company status.
People planning to start a business activity, even if at the moment they only have a business plan and are at the pre-revenue stage, are welcome to apply. The key part is that the applicant must be registered with a disability and own at least half the business. Past winners and or applicants are also free to reapply.
The criteria has been expanded because Sir Stelios wants to hear from even more disabled people – whether it's from a start-up or a business that has been running for years. It can even simply be a company that hires disabled people or supplies products or services for disabled people. All forms of entrepreneurship/planned business activity that are operated by disabled people or for the benefit of disabled people are eligible to apply.
To apply, all you have to do is complete a short application form. These are available on request online at the Stelios Philanthropic Foundation Facebook page, or from the Leonard Cheshire Disability website. Anyone who needs extra support in completing their application can call 0207 112 1489 Ext 1 or email steliosaward@leonardcheshire.org for assistance.
Sir Stelios said: "I am delighted that this idea I had ten years ago has matured to be an institution still supported by the leading charity in the UK in the field of disability. To celebrate our 10th anniversary I have decided to increase the cash prizes to £70,000 and make it more inclusive, so even people with a worthy business plan can apply before they have a real business. Spread the word so we can get more applicants than ever before!"
Last year's Stelios Award winner, Geoff Holt (pictured above) said: "Following the award, my business, Wetwheels, received nationwide publicity. This has led to an increase in enquiries from new clients, which is great news for all involved. I would urge anyone with a disability, whether you see yourself as an entrepreneur or not, to apply and let Stelios and his team decide."
Past winners have been drawn from the travel agency, building and IT sectors, as well as businesses specialising in disability/mobility aids and services.
Disability Horizons will report back with news on the winner in November 2016, when we will have an interview with the award winner.
Check out…
Get in touch by messaging us on Facebook, tweeting us @DHorizons, emailing us at editor@disabilityhorizons.com or leaving your comments below.