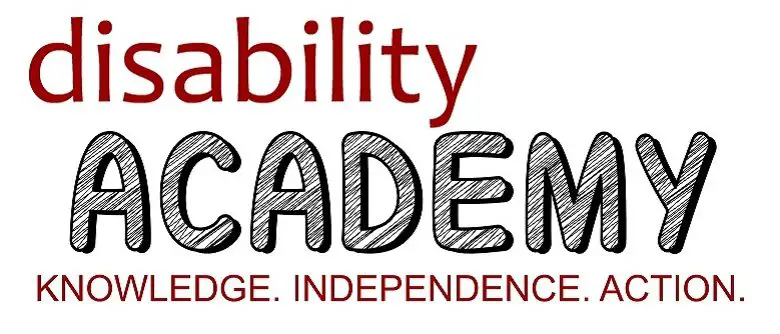 Disability Horizons CEO and Co-founder Martyn Sibley announces new online resource Disability Academy. It's your one-stop-shop for comprehensive information covering everything from travel to employment. Read on to find out what benefits it can offer you…
I'm writing today with some very exciting news! Last time I updated you like this was back in July when I announced the launch of our campaigning sister site Disability United. Following the continued success of Disability Horizons and now United, we wanted to develop even further and offer you even more!
So tomorrow we're launching Disability Academy, a new service offering in-depth advice, support and courses, all aimed at helping you live your life exactly as you want to.
At this stage, before I explain exactly what Disability Academy can offer you, I want to give a shout out to our amazing team. Since 2011, with no funding but a head full of dreams, Srin and I launched Disability Horizons. Alongside our Editor, Elizabeth Ransome, who seeks out great stories and content for Disability Horizons, we've gone to amazing places.
Our articles have reached hundreds of thousands of people. Our media, charity and business partnerships have shifted the conversations towards more accessibility and inclusion. Now, with Fleur Perry as our Disability United Editor and an increasing team of freelancers and volunteers, the sky is truly the limit.
Ever since we started creating online content, we've ensured it is engaging and valuable for you, our beloved readers. Although Horizons provides fantastic lifestyle advice and United campaigns for our basic needs, I've realised that we needed to go deeper still, to run courses with extensive advice, so you can get to where you want in life.
And so we're very proud to launch Disability Academy as the outcome of our research, conversations, and plans.
The brainchild of mine and George Baker, we trialled the idea back in April with Accessible Traveller, which brought you detailed travel guides and discounts. The response was phenomenal. We had far more subscribers and supporters than we ever dreamed of.
So we fine tuned the monthly newsletter and the partnership discounts to make them even better – keeping our members happy is priority number one. We also realised that travel isn't the only area where disabled people need more detailed support. So, priority number two is to grow the courses we can offer you.
The first course on Disability Academy will be the relaunch of the new and improved Accessible Traveller. I am very excited to say that we've teamed up with disability travel bloggers Rob and Bridget Obey of the Bimblers. They will be leading on the newsletter creation and securing even bigger and better discounts for our members.
You'll be hearing lots more from me about the Accessible Traveller launch in the coming days via email, including lots of useful offers and freebies. So if you want to keep up to date or take advantage of these offers, subscribe to our email at the bottom of this page.
Once the perfected Accessible Traveller is out there, we'll have more amazing courses on different topics to follow. They will launch first here on Disability Horizons, so stay tuned for the updates. We'll also email you directly if you subscribe to our regular email.
I want to make it clear that our plans are all about our community, about helping you improve your lives. As well as making sure our readers get what they want from Disability Academy, we want to support people who would like to be involved in the running of it too.
Our course instructors, like the Bimblers, will get a good cut of the course revenues. So we're inviting any budding entrepreneurs out there to pitch us your course ideas. We'll also use the revenues to make sure as many disabled people as possible can benefit from the courses.
Our aim is to empower disabled people to improve their own life, from accessing benefits, to independent living, to employment, to leisure and travel. Whatever you want from your life, Disability Academy will help you get it.
Understandably, not everyone can afford the courses. So we are in talks with charities and businesses to fund scholarships as well. We believe anyone who can afford the courses should invest in their future. But anyone who cannot afford the costs, shouldn't be left behind.
Don't forget, we are learning as we go. So if you spot any areas for us to improve on, or any opportunities to explore, let us know. Don't be shy, but don't be harsh! We'll listen to you and progress together. That's what communities do 🙂
If you have any thoughts on Disability Academy, please message me here or tweet me @MartynSibley.
Thank you for your ongoing support, engagement and passion. I have a very positive and optimistic feeling we can create the world we all wish for – accessible, inclusive and harmonious.
Keep up to date with Disability Academy, its discounts and offers, as well as our regular articles, by entering your email address below.
By Martyn Sibley
Get in touch by messaging us on Facebook, tweeting us @DHorizons, emailing us at editor@disabilityhorizons.com or leaving your comments below.