Lifestyle
Disability and fashion: how to sparkle this Christmas
It may not quite be December yet, but we can't help but start thinking about Christmas. And so, with the party season just around the corner, we've asked our fashion guru, the Spashionista (short for Spastic Fashionista), to recommend her top fashion buys to make you sparkle this Christmas.
The holiday season is a fun-filled time, with plenty of parties and get-togethers packed with laughter. But it can also be hectic and overwhelming, especially when you realise you've forgotten to buy a gift for Aunte Bessie or put in your order for the family-sized turkey.
So the last thing you need to stress over is what to wear. The good news is that if you've been following the fashion advice in my articles here on Disability Horizons, you already have most of the tools you need to look fabulous straight into New Year's.
So, here I'm going to help you refine your look so you can be ready for all the festive fun in plenty of time for Christmas.
Cocktail parties and formal functions
In my article seven wardrobe essentials for wheelchair-dependent ladies I introduced you to the seasonal Little Black Dress (LBD). A LBD is the perfect piece for formal functions because of it's automatic association with being chic.
The right LBD does most of the work for you, but it is by no means meant to be a uniform. In fact, basic black remains basic unless you add interest by incorporating texture, shimmer or colour to the look.
Take a look at the examples below. It shows three different outfits telling three very different stories, all using a predominantly black palette. The differences are not only in the style of the LBD, but also in the material.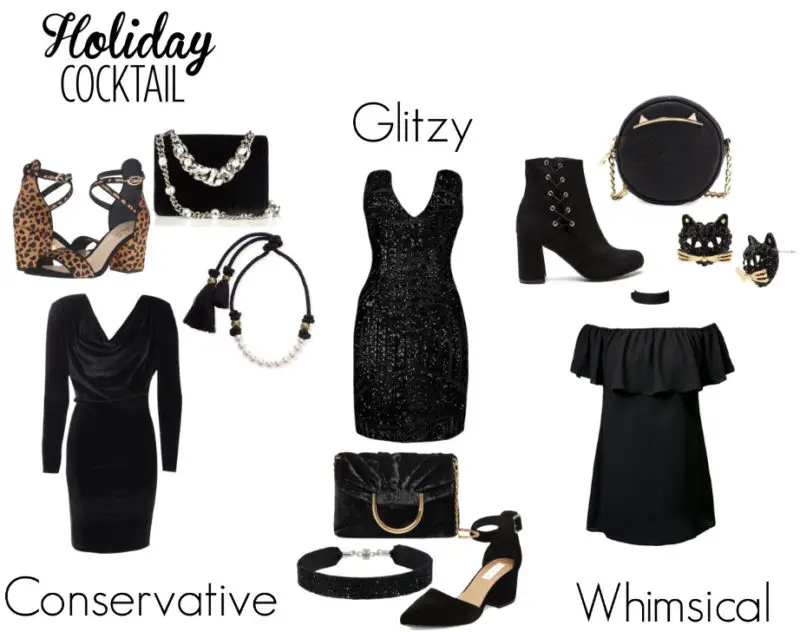 A simple, conservative cowl-neck bodycon dress becomes posh when it's made in velvet. Add something chic, like this tasseled pearl necklace and bag with a distinctive strap, and the look will take on a glamourous vibe. Finish it off with chunky-heeled pony sandals in a leopard print and you'll be able to channel your inner Audrey Hepburn at that formal event.
Prefer something a bit glitzy instead? Try a sequin v-neck in a slip or sheath style so it skims your curves without feeling too restrictive. Pair it with a sparkly bracelet – but make sure the shimmer is much smaller in scale than the sequins in the dress – and a small velvet clutch with a chain. Keep the shoes elegant and the heel modest. I'd suggest velvet, closed-toe anklets, like these. If your dress is very sexy, the rest of your outfit should be more modest, otherwise it looks costumey (or worse!).
Think wearing an LBD makes you look old? Then go for a bit of whimsy. The A-line, off the shoulder minidress, with matching choker, creates a very retro '90's look. Pair it with chunky-heeled, black suede booties and add a little fun with your accessories as well. Here, I've used one of my favorite whimsical designers, Betsey Johnson, to create a sense of fun. The quilted, circular bag has gold cat-ear detailing and the sparkly cat stud earrings come complete with golden whiskers.
Can't wear shoes at all? Go for thigh-high stay-up stockings and/or anklets as discussed in details on wheels.
Ugly jumper parties, house parties and retro holidays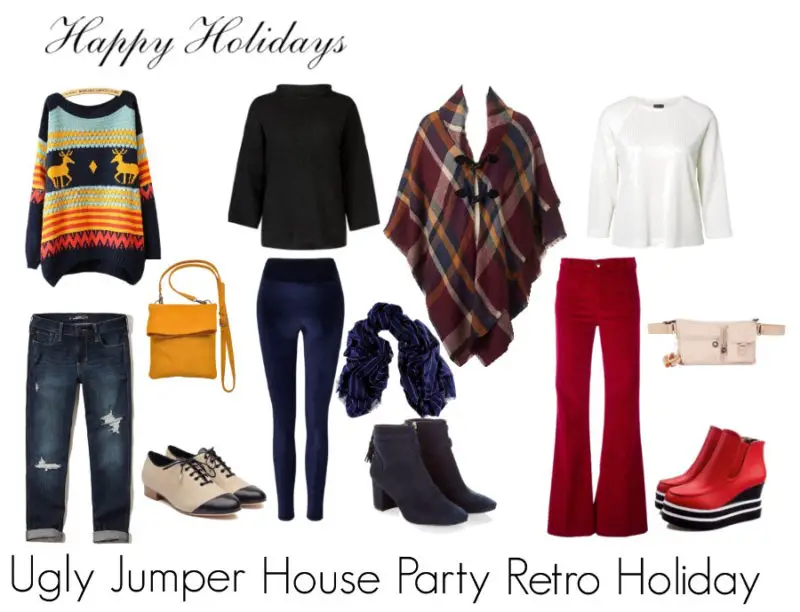 For not-so-formal gatherings it's all about separates. There are infinite ways in which to co-ordinate stylish outfits from what you have, as long as you've organized your wardrobe so that every piece is flattering and wearable. I know that winter often brings with it a fashion palette that's as dreary as the weather. So I gravitate towards alternate neutrals and saturated colors.
Going to an 'ugly jumper party? They're all the rage in the US, with partygoers donning the most hideous holiday jumper they can find to try to outdo their friends. Charity shops and jumble sales are the perfect places to acquire one. I chose one with shades of aqua, mustard and melon, for a bold, but classy feel. Oversized works well if you can cuff up the sleeves for wheeling about. A boyfriend jean is the perfect partner with these jumpers.  Two-toned brogues and a mustard bag complete the look.
If you're entertaining at home, you'll want to look polished, but be able to move about the house easily to enjoy your guests. Try a ¾ bell-sleeve cashmere pullover in charcoal and some velvet leggings in navy. Add a loosely-tied navy pinstriped scarf and navy ankle boots as your accessories. Legs look longer when your leggings match the shoes, and navy is one of my favourite winter neutrals this year.
Another one of my favourite Chistmas colours is burgundy, and here in Nashville, the 70s are very much back in vogue stylewise. Flared jeans and trousers are everywhere, and they are much easier to pull on than their straight-legged counterparts. The ones shown are corduroy flares in burgundy and are paired with a white flared jumper – great for hiding overeating at Christmas.
Platforms are back in style as well and, together with block or wedge heels, are infinitely more stable and supportive than kitten heels or stilettos. These loafers are even waterproof, so you can belt on the lap bag, throw on the plaid capelet poncho (with shorter sides for access to chair wheels), and enjoy the season in style and comfort.
Here's hoping your holidays are filled with fashionable fun!
By Alicia Searcy
Check out…
We'd love to hear your fashion tips and to see you're fashion pictures. Get in touch by messaging us on Facebook or tweeting us @DHorizons and @Spashionista.