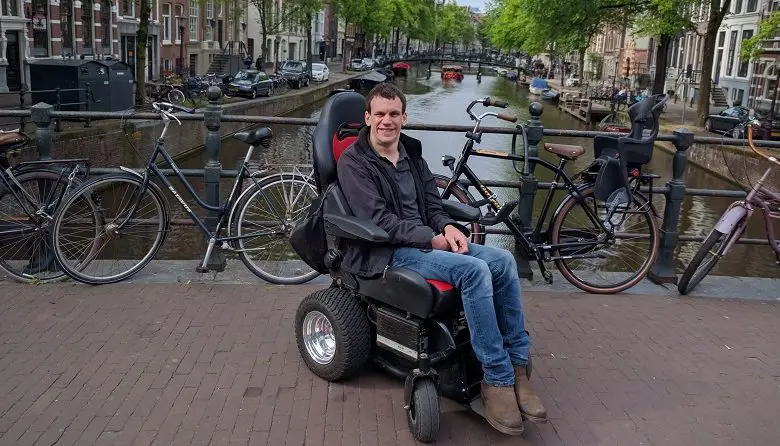 Work & Education
Power wheelchairs: one entrepreneur is revolutionising the market
Alex Papanikolaou is a disabled entrepreneur, whose business has developed a next generation power wheelchair, designed to offer a step change in reliability, performance and support in the power wheelchair market. Alex recently won the Stelios Award for Disabled Entrepreneurs 2016. Disability Horizons team member Zubee spoke to him about his disability, his business, and how life hurdles can push you to succeed.
Can you tell us a bit about your business and how you went about setting it up?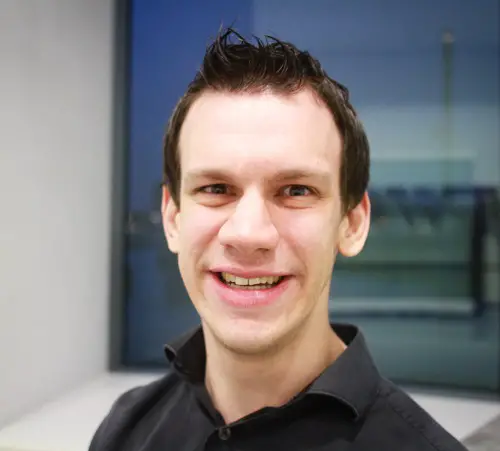 My business, Freedom One Life, was born out of challenges and frustrations I have faced throughout my personal and professional life, due to having cerebral palsy. I have used powerchairs since I was at school, which has enabled me to develop an independent work and social life. I have visited more than 200 cities independently with my chair.
This gives me significant first-hand experience of the limitations that are imposed upon people by chairs that are outdated, expensive and not fit for purpose. So I founded Freedom One Life and came up with the concept of a powerchair that would change the wheelchair market.
What motivated you to start your own business?
I have always had an entrepreneurial spirit and desire to help improve the lives of other disabled people. Before I started Freedom One Life, I worked with a company to establish a government-funded recruitment agency for disabled people in the United Arab Emirates. I've also worked with Network Rail to help improve access across the rail network. I regularly do training for companies on customer service for disabled people.
What's unique about the Freedom One wheelchair?
Battery Life – Its lithium battery typically has a seven day life and can last for 10 years. A big improvement from the average chair that has a one day lead battery life that lasts just one year.
Manoeuvrability and efficiency – Next generation motors, electronics and lighter construction materials work together to deliver optimum power, torque, speed, range and manoeuvrability.
Reliability – Our combination of next generation technology, as well as my knowledge of what can go wrong, means that we are engineering a wheelchair built for constant use with minimal maintenance requirements.
Design – Sleek, ergonomic design and the use of bold colours means that it's desirable, rather than clinical. It places value on the user.
Customer service – Our business model means we can offer direct customer service and online support, as well as off the shelf parts. This enables us to offer affordable parts for next day delivery that are simple to install. Check out our video to find out more.
Can you tell us about some of the challenges that you have had to deal when creating your business?
There are always going to be challenges when running a business, especially when you have a disability too. But I have found ways to make the business fit around me, such as creating an accessible work environment.
However, the biggest challenge wasn't to do with my disability – it was starting with just an idea of a better chair and slowly growing connections and securing seed funding to create the first prototype. It took time for this to therefore progress into a business.
What key things did you have to consider when starting your own business that others should think about too?
Be clear on what you want to do and where you want to be.
Surround yourself with the right people who share your vision and complement your skills.
Find support networks, such as your local business support service and the Prince's Trust, to help you start your business.
Find a mentor who believes in you and will help you to grow.
As a successful business owner what are the biggest lessons you have learnt?
Having a good team of people around you who share your vision and add value to the business is key. This is actually more important than the product or service itself. With the right team you can get through any challenge and celebrate the wins together.
 What was the moment like when you heard that you had won this prestigious award, including a £30,000 cash prize?
I was delighted to hear that I had won, especially amongst four fellow finalists who each have fantastic businesses that change lives.
What are you hoping to do with the £30,000 cash prize?
It is going towards the equity funding that the business is currently raising so we can take the chair to market.
What has been your proudest achievement?
Starting Freedom One Life from just an idea, with no connections or money, and now having grown it into a small team with several working prototypes. We've also raised more than £340,000 in funding.
If you were given the opportunity to interview your business idol, what  questions would you ask them?
I don't have a particular business idol. But I follow and admire people who started from scratch with an idea to create a positive social impact, and have successfully grown their business to affect a step change in the world.
Do you feel having your own business has helped you develop as a person?
Yes, being in business is challenging, on every possible level. It helps you to grow personally and professionally, usually through making mistakes!
What are your future plans for your business?
I want Freedom One Life to be the market leader in products and services that radically redefine and shift what mobility means for disabled people.
Watch Alex's video on living with cerebral palsy, the challenges he has faced, and how his determination has pushed him to succeed.
If you want to find out more about the Freedom One wheelchair, please visit the Freedom One Life website. You can also follow the company on Facebook (facebook.com/FreedomOneLifeLtd) and Twitter (@FreedomOneLife), and email contact@freedomonelife.com to get in touch.
By Zubee
Check out…
Get in touch by messaging us on Facebook, tweeting us @DHorizons, emailing us at editor@disabilityhorizons.com or leaving your comments below.