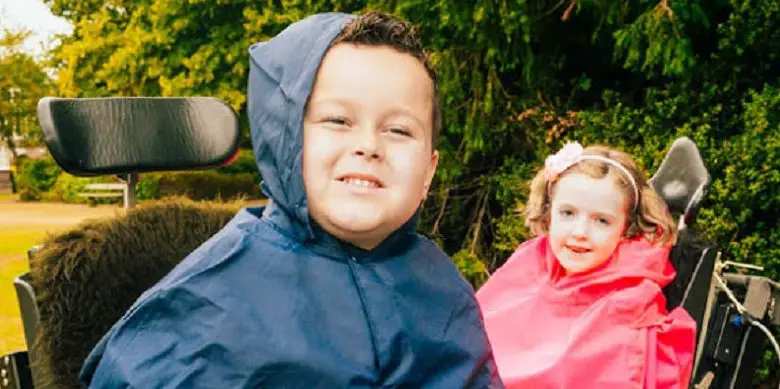 Lifestyle
Willow Bug adaptive clothing: stylish designs for disabled children and teens
After struggling to find stylish, adaptive clothing for her daughter Willow who uses a wheelchair, Jess and her brother Dom set up Willow Bug in a bid to bring style and adaptability together. Disability Horizons sat down to have a chat with Jess about what makes Willow Bug so special…
Tell us a bit about Willow Bug.
Willow Bug is a new and innovative wheelchair clothing company for kids and teens. Designed and made in the UK, all Willow Bug clothing is created with love, care and attention, in order to guarantee unrivalled quality, durability and functionality.
Our range features everyday outerwear essentials for four year olds to teens, and includes everything from waterproof ponchos to wheelchair snugs, back fastening wheelchair jackets to wheelchair capes. The Willow Bug range offers function and form without compromising on style.
When and how was Willow Bug established?
I established Willow Bug with my brother Dom in November 2016, after I was presented with the opportunity to buy the clothing company Able2Wear, which made a range of adaptive clothing for children.
I'd been frustrated for a while by the style limitations of the specialist clothing available to my daughter, who is a wheelchair user. I really wanted to do something to change things for young people like her. So, following an extensive rebrand, the invention of new product lines, and an injection of energy, colour and fun, Willow Bug was launched!
What motivated you to start your own business?
My daughter Willow is just like any other six year old; she's a style-conscious kid who likes to look good. However, getting Willow dressed is a daily challenge as it's hard to find clothes that can accommodate her disability and wheelchair. Willow Bug is on a mission to provide fun but functional clothing that's not only easy to put on, but that comes in a range of fantastic styles that kids will actually want to wear.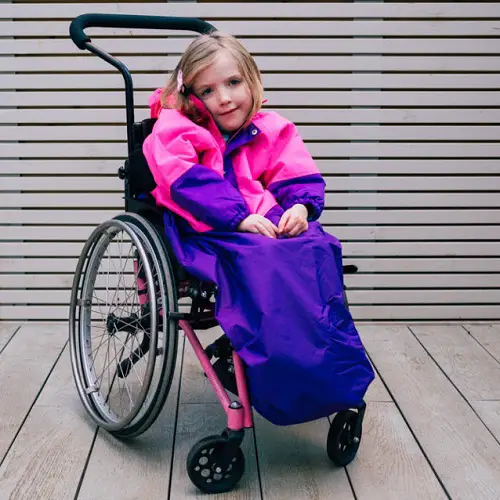 What would you say is unique about Willow Bug?
Willow Bug is the only UK-based company focused solely on designing and making clothing specifically for kids and teens who use wheelchairs.
Since starting out, what's the response been like from parents/families with disabled children?
The response has been incredible. In our first few weeks we sold out of our best sellers; the back fastening wheelchair jackets and wheelchair capes. The feedback we've had from parents and carers has been so encouraging; they tell us how refreshing it is to find specialist clothing that really works and looks fun, in colours and prints their kids want to wear.
What type of adaptive clothing products do you currently have available?
Our current range includes; back fastening wheelchair jackets, waterproof ponchos, fleece ponchos, wheelchair coveralls, wheelchair capes, wheelchair snugs, easy-on mittens and neckerchiefs. Unfortunately we don't offer tailor made clothing for disabled children at this time.
Do you have any other up and coming new products in the pipeline?
We have lots of other products in the pipeline so watch this space!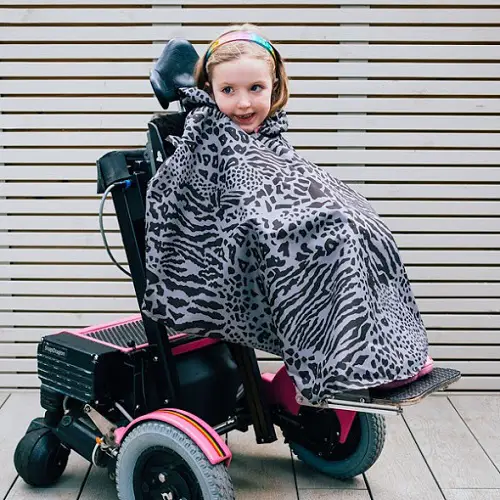 What are your plans for Willow Bug?
To continue to grow the Willow Bug collection and brand. We want every parent, grandparent, carer and health professional to not only know about Willow Bug is, but to know that they can rely on our innovative designs, quality and customer care to keep their kids comfortable and happy.
What we're doing seems to be working as we have just won a business award from Theo Paphitis, one of the entrepreneurs on Dragons' Den. We were one of his six weekly winners during his 'Small Business
Sunday
' live tweet session, an initiative set up by Theo in 2010 to support small businesses. Over 40,000 business a year enter, so to be picked by Theo is a huge accolade.
If anyone would like to find out more about your products, how can they get in touch?
People can buy directly from our website www.willowbug.co.uk. For enquiries you can reach us by emailing hello@willowbug.co.uk or calling Jess on 07720893442.
We actively welcome feedback and suggestions as well, as this is how we will keep evolving, by listening to our customers' needs.
By Zubee
Check out…
We'd love to hear your from you. Get in touch by messaging us on Facebook, tweeting us @DHorizons, emailing us at editor@disabilityhorizons.com or leaving your comments below.