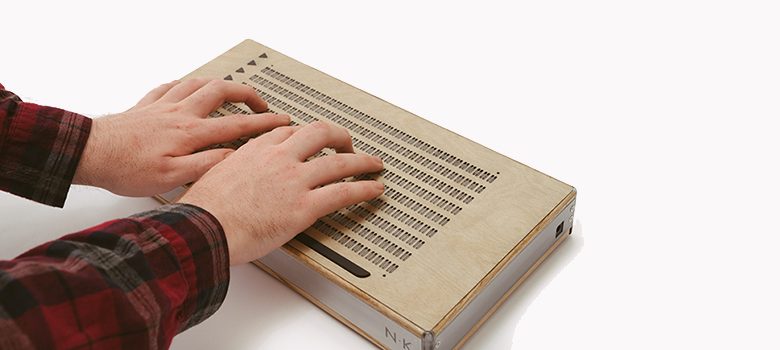 Canute is a revolutionary affordable Braille e-reader that uses specialist technology to make it easier for blind and partially sighted people to read. Disability Horizons speaks to producers of the e-reader, Bristol Braille Technology, and its founder, Ed Rogers, to find out more.
Please tell Disability Horizons readers a bit about Bristol Braille Technology and how the Canute came about?

Bristol Braille Technology is a not-for-profit company making the world's first affordable Braille e-reader called Canute. It's essentially a multiline digital Braille book (forty characters per line by nine lines) for the price of a new iPhone or Perkins Brailler – most other devices cost a lot more. It's the Kindle of the Braille world.
The project goes back to 2008 when I formed Bristol Braille Technology. We moved to the Bristol Hackspace in 2012, which is when work on the Canute began. A couple of years later we partnered with a community group of Braille enthusiasts called the Braillists Foundation.
Working for and with blind and partially sighted people, our aim is to radically reduce the cost of Braille devices. We work with a community of more than four hundred users to help develop and improve it.
Can you give us a brief overview of how Canute works?
Canute is a small box measuring about 14 x 8 x 2 inches and has 360 cells of Braille on the surface. Users can load books onto the reader by USB or SD card from a PC or phone. When you press a button to go back or forward a page, the dots move up or down to represent the new page. The buttons then more according to what is on the screen, so users can read multiple lines of the text.
We have designed an entirely new technology for the mechanism. Most other Braille displays use something called piezo-electric, which is fast and effective, but costs a fortune and can only read one line of text at a time.
Canute's technology uses off-the-shelf motors from CD drives and other technology that already exists, so is cheaper. The Braille is changed by spinning a series of discs on the outside, where all possible combinations of Braille dots are embossed.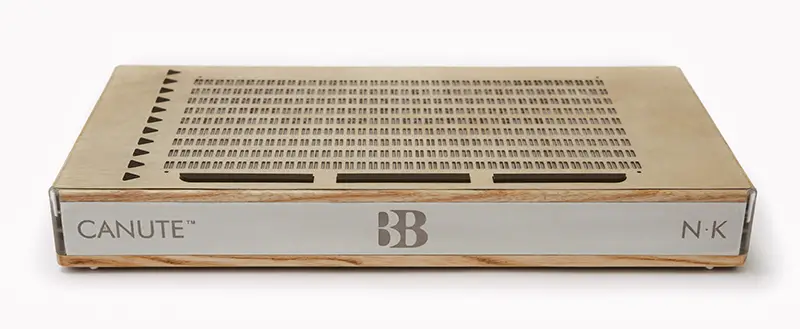 What would you say is unique about Canute compared to traditional Braille?

Canute will be a great replacement for a physical library of paper Braille volumes. These collections can take up whole floors very easily as Braille books are so bulky. Canute can hold thousands of volumes in the space of just one paper volume.
As to comparing the Canute to conventional single-line Braille displays, we consider it a new class of device. There will still be a place for fast, high-end displays. But if you want the context of being able to read multiple lines, for example, to read music or tables, Canute will be for you. Also, of course, it won't cost thousands of pounds.
You are currently still developing the product, where do you hope to see it being used?

We've been developing Canute since 2012 and are now on the 14th iteration of the prototypes. We expect to be selling the Canute either the end of this year or spring 2018.
Canutes are already been regularly used by members of the Braillists Foundation and by our partners in Child Vision, the National Council for the Blind of Ireland, the National Braille Press and the Clovernook Centre for the Blind and Visually Impaired.
You ran tests and demonstrations of the prototype across the UK, Ireland and the USA, what has the response been like from people who tested out the technology?
We've had a very good response but, more importantly, it's been very instructive. We've designed the Canute with our partners and likely users. It has enabled us to focus the technology on a product that will make the biggest impact on how blind and partially sighted people use Braille.
How did you feel when you heard that Bristol Braille Technology won an award on accessibility through AbilityNet's Tech4Good Awards?

It came just after an extraordinarily long stretch of work to finish the Canute Mk13 prototype in time for a convention in America. We certainly weren't expecting to win. I wasn't at the convention, but for the team, who'd been up until 5am the day before, to be able to get up on stage and celebrate their achievements was fantastic.
How much will it cost to buy the Canute cost?

The Canute is expected to cost somewhere between £600 and £800 to retailers and individual members of the Braillists Foundation when it is first released.
That is around £2 per cell. Existing digital Braille costs around £30 per cell. We have committed to making it as affordable as possible and will continue to reduce the price with future iterations.
What are the future plans for Bristol Braille Technology and Canute?
We want to keep finding new inventive ways to promote Braille use through technology. Braille calculators perhaps, or hand-held Braillers. Or maybe just a smaller and even cheaper version of the Canute.
Personally, I want to build a table-sized Braille display; two pages of 40 cells by 27 lines of Braille – 2,160 cells in total. But that is a long way off! For now, its all about the Canute.
If anyone is interested in finding out more about the product, how can they get in touch?

Visit our website – Bristol Braille Technology. Our email address is enquiries@bristolbraille.co.uk.
But the best way to get and stay in touch with us is through the Braillists Foundation. You can sign up to their newsletter, which is where all our news comes out through, and join the Braillisits Foundation forum.
By Zubee
Get in touch by messaging us on Facebook, tweeting us @DHorizons, emailing us at editor@disabilityhorizons.com or leaving your comments below.
https://disabilityhorizonscom.onyx-sites.io/2017/08/three-disabled-people-who-will-not-let-themselves-be-limited/
https://disabilityhorizonscom.onyx-sites.io/2016/09/top-10-apps-disabled-people/