Lifestyle
Blue Badge Style Awards: from accessible listed buildings to the best loo!
Earlier this month, Blue Badge Style awarded 10 hotels, restaurants and bars with its BLADE award to recognise stylish venues that are inclusive of people with disabilities. The awards aim to raise the profile of these shining examples and encourage good practice within the industry.
Let's face it, a bar or restaurant could be the most luxurious and welcoming place to spend the evening, but if there isn't an accessible loo that matches the style of the interior or isn't fit for purpose, you're evening is going to be ruined. That's why Blue Badge Style has developed an award for, you guessed it, the best loo!
Most stylish and accessible toilet
Last year the German Gymnasium took home the prize for its elegant loo. This year, Brook Green Pavilion in London won Best Loo for its beautiful and innovative design. The local community members behind the project were very clear that the pavilion had to be fully accessible for all. Teaming up with bathroom specialist Motionspot, they wanted to ensure that the building included beautiful and accessible toilets that matched the quality of the rest of the building.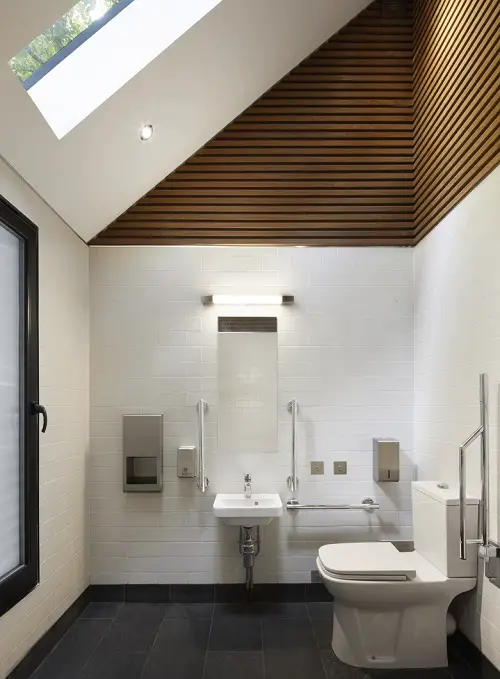 Founder of the awards, Fiona Jarvis, was impressed by how they had made such a huge effort to include a stylish, disabled loo in this public pavilion. She particularly loved how they managed to fix a problem that plagues disabled toilets. She said: "One of the enduring issues with disabled loos is that the emergency cord is often tied up, making it useless for its intended purpose. Brook Green managed to solve this with Motionspot's innovative solution."
Motionspot overcame the problem by installing its push-button emergency Spot Call Alarms. These alarms are easy to use and offer security for any person using the toilet, whilst also cutting down on the number of accidental alarms being triggered.
Founder of Motionspot, Ed Warner explains: "We believe in the importance of universal design. Facilities can be transformed into beautifully designed, accessible bathrooms that can work for everyone."
Making old buildings accessible
The Blue Badge Style awards also put paid to the argument that it's too difficult to provide good access to old and listed buildings. Winner of the Blue Badge Style Best Listed Building award is the Dorsett hotel Shepherds Bush, London. It has 27 accessible rooms, two of which have ceiling hoists, despite being a Grade II Listed Building.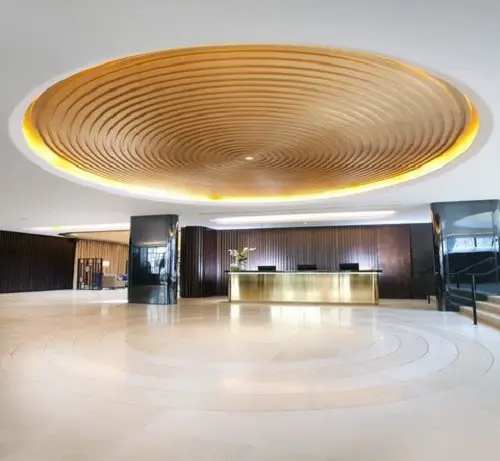 Two other vintage buildings that won awards, the Zetter Townhouse hotel in Marlyebone (Bespoke Access Best Boutique Hotel) and The Beaumont hotel (Best Upmarket Hotel), also manage to be stylish and accessible. No.10 Downing Street, which won the Above & Beyond award, has made it internal steps able to slide back to reveal a lift.
Accessible holiday locations
Other winners highly commended included Gwel an Mor resort, which won Boutique Resort award. It has a number of hoists but has avoided the clinical look of so many rooms for guests with disabilities. Also, Spanish tapas restaurant, Caminos in Kings Cross, is a small chain that has made an effort to provide good access for electric wheelchairs.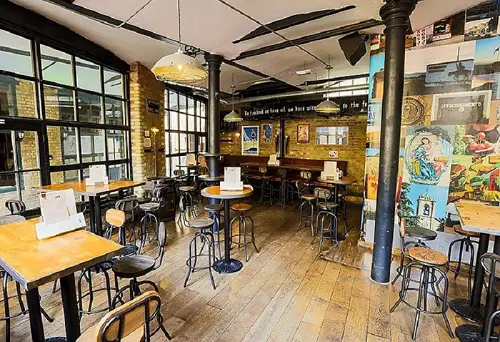 In the running for best loo included Bad Egg, a restaurant near Moorgate, which has a shared loo with beautiful tiles. Also worth a mention is The Dani Garcia (Puerta Banus, Marbella) because of its loo's quirky design – in-keeping with the Alice in Wonderland theme and including birdsong!
Too often, says Fiona, people with disabilities don't go out because they don't know what to expect when they get there. Blue Badge Style wants everyone to have an easy and elegant social life and the award winners are simply the best of a brilliant shortlist. Blue Badge Style recommends all the finalists because they combine style with accessibility and good facilities for their guests with disabilities.
Blue Badge Style DRINK
The award ceremony was also the first chance to see Blue Badge Style DRINK – an elegant glass holder for people who have their hands full. Its clever design attaches to practically anything and holds a glass of almost any shape or size.
Fiona says: "You can't circulate at a party in a wheelchair and hold your glass. DRINK means everyone can be effortlessly independent… without spilling a drop!"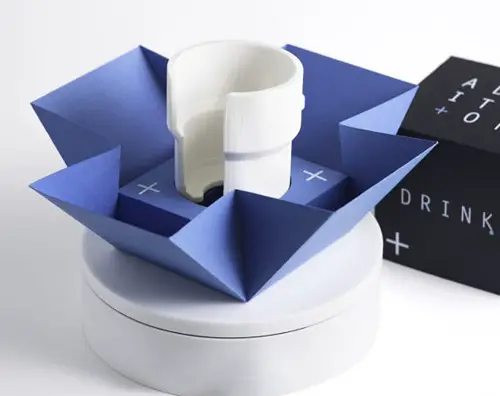 Blue Badge Style award winners
Blue Badge Style Best Loo – Brook Green Pavilion, London
Blue Badge Style Best Bar – Budget – Pergola, Paddington Central, London
Blue Badge Style Best Bar – Upmarket – Dandelyan at The Mondrian, London – pictured at the top of the page
Blue Badge Style Best Restaurant – Budget – Bryn Williams, Porth Eirias, Wales
Blue Badge Style Best Restaurant – Upmarket – M, Victoria St, London
Blue Badge Style Best Boutique Hotel/Resort – Zetter Townhouse, Marylebone, London
The Blue Badge Style & Bespoke Access Best Hotel – Upmarket – Beaumont Hotel, Mayfair, London
Blue Badge Style Best European Venue – Ritz Carlton, Wolfsburg, Germany
Blue Badge Style Best Listed Building – Dorsett, Shepherds Bush, London
Blue Badge Style Above & Beyond – No.10 Downing Street
To find a hot spot for your next evening out, visit the Blue Badge Style website to find design-lead haunts that have been reviewed and deemed accessible. 
By Blue Badge Style
Get in touch by messaging us on Facebook, tweeting us @DHorizons, emailing us at editor@disabilityhorizons.com or leaving your comments below.