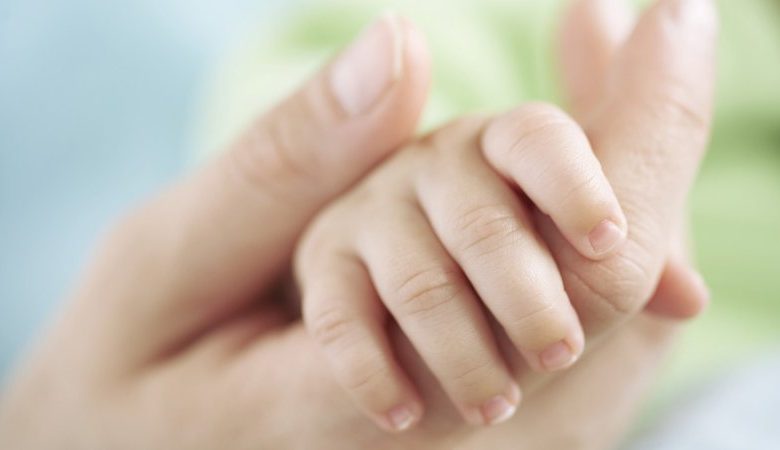 Lifestyle
Disability and parenting: making my dream of motherhood come true
Aideen Blackborough has never let her disability hold her back, and that was no different when it came to fulfilling her dream of becoming a mum. She knew there would be challenges, but being disabled is often about facing problems and finding your own, unique ways of solving them. 
My name is Aideen Blackborough, I'm 34 and I have Cerebral Palsy, which affects all my limbs as well as my speech. I use an electric wheelchair to get out and about, but am mobile indoors – just about.
Having a disability hasn't stopped me from having the same dreams and aspirations as other people, and after getting married to the love of my life, Dean, in September 2011, I set my heart on making one of those dreams come true. I wanted to be a mummy.
I knew the road ahead of me wouldn't be straight; I knew I'd face more challenges than most and also worried a lot about what others would think. But my desire for motherhood was all-consuming and I knew that whatever issues I faced, I'd overcome them, somehow. I had a loving and supportive husband, and a family who had always encouraged me to believe that nothing was beyond my capabilities.
Disability and parenting advice
Once the decision was made, I went about looking for advice. I was surprised by how little information and support was out there for disabled parents. I spent hours online looking for advice, as well as any special equipment that might be able to help me, but I drew a blank. I even emailed the Disabled Parent's Network, but didn't get a response. It felt like society simply didn't expect disabled people to have children.
When I went to my GP to have my pregnancy confirmed, he was thankfully very supportive. But when I went to reception to book my first midwife's appointment, the receptionist's response was almost one of sympathy – as she thought it was an accident. I was too overjoyed with happiness to allow her to spoil my news. But I did wonder whether it was a glimpse of the attitudes I'd encounter later down the line.
As my bump grew, so did my excitement, but also my anxieties. I began to worry about the practicalities of looking after a newborn baby. How would I change and dress a wriggling baby, eager to move on to more interesting things? What about supporting them in the bath? And how would I manage to breastfeed? All these worries consumed me to the point of panic. Thankfully, my husband became the voice of reason.
"We'll find the right way for you to do things, even if it's not the conventional way."
His belief that I would find my own way of doing things slowly but surely quashed my feelings of self-doubt.
Having my baby
As the birth approached, I found it difficult to maintain my mobility or independence. I began praying that the little one would make an early appearance. But as my due date came and went, I realised my baby was as stubborn and determined as his mummy!
Three days after my due date, the decision was made to induce me. I was being carefully monitored using a fetal heart machine, and staff had become a little concerned. I am convinced there was no need for alarm – as the CP causes me to spasm, I think this impacted on the results of the monitoring. Nonetheless, I was by now more than ready to meet our bundle of joy. So early on 27th June 2013, we headed to the maternity unit.
I'd been under the care of a consultant midwife (a specialist and more senior midwife) throughout my pregnancy. Given that the events of my own birth were weighing heavy on my mind – doctors had failed in their duty to monitor me and I'd been starved of oxygen for 25 minutes – she had reassured me I'd be looked after. Although she saw me regularly throughout my pregnancy, she was noticeably absent when I gave birth.
Given my condition and the concerns that I had raised, I was shocked by how much we were left alone. Nobody really checked on me until late that night, when my contractions were well underway. Thankfully nothing terrible happened, but it added an extra layer of stress that I didn't need.
They did, however, spot that the monitor kept raising the alarm, and so I ended up in theatre. Finally, our beautiful little boy came into the world, with a little help from the doctor.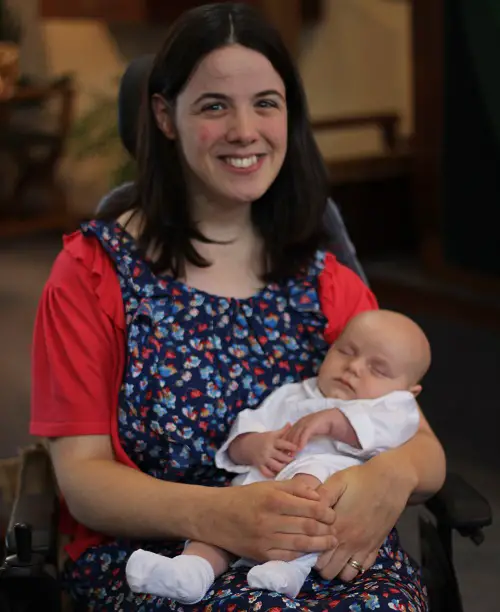 Becoming a disabled mum
I was, at last, a mummy, and more determined than ever to do as much as I possibly could to care for our son, Jack James. I was keen to breastfeed and knew it would be easier for me than preparing bottles. Thankfully, both Jack and I quickly got the hang of it, even if I did sometimes feel that it was all I ever did!
Although I was nervous and apprehensive about being at home with Jack on my own, I couldn't wait to get discharged from the hospital. I knew looking after Jack would be much easier in my own environment, where I had everything set up to cater to my needs. My husband was a huge support, giving me the time and space to figure things out, whilst always being there to support and encourage me.
It was the little things that caused me the most difficulty, like transferring him to the cot after a feed as the cot sides were too high. Doing up the poppers on his babygrows was tricky too, and feeding him when he moved on to solids as I found it hard to get the flimsy cutlery to his mouth.
It was extremely frustrating when I couldn't do things and sometimes, for a moment, I'd cry and get cross with myself. But I had a baby and so knew I just had to carry on. So we'd find things that made life easier, like babygrows with zips (genius!) and chunky cutlery, which helped me feed Jack much easier.
I just came up with my own ways of doing things. For example, if Dean was in the kitchen and I wanted to move Jack into there as well, I would lay him in his Moses basket and slowly push him to where I wanted. It worked well, so I used that method a lot of the time.
Solving little problems like that gave me more confidence in myself, even if I did wear holes in all my jeans! As he got a little older, I'd hold him tight and walk on my knees, albeit very short distances and always in the house.
I also wanted to get out and about with Jack independently, so we bought a baby carrier. Although I couldn't strap Jack into it by myself, it allowed me to take him on short trips and to visit close family and friends. They all helped out and became experts with the safety straps! It was a compromise that gave me a little bit of independence and freedom.
People's attitudes to being a disabled mum
The biggest fear I had was people's attitudes. I worried that there would be people who thought I couldn't cope. But actually, on the whole, most people have been generally very supportive, if not a little surprised. I still think society just doesn't expect disabled people to be parents.
As Jack got bigger, things slowly got easier. People marvelled at how I just got on with everything. But to me, I was just doing the same as any other mum – doing the best that I could.
To Jack, I'm just mummy. But now that he's four, he realises I'm a bit different to the other mums, and loves explaining how "mummy's knees aren't good!"
I know there will further challenges ahead, perhaps a phase when he might resent me or feel embarrassed by my disability. But I'm prepared for that because I know our bond is strong and, ultimately, my disability is irrelevant to Jack, just as it is to the rest of my family.
By Aideen Blackborough
Check out…
Get in touch by messaging us on Facebook, tweeting us @DHorizons, emailing us at editor@disabilityhorizons.com or leaving your comments below.