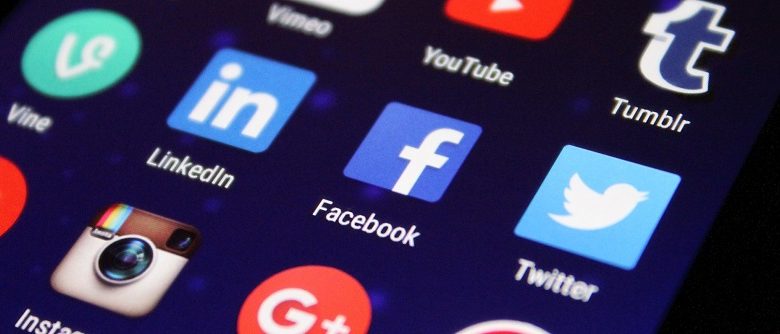 Have you recently lost your sight and want to know what technology is available to you? Or have you had a sight impairment the majority of your life and are interested in upgrading your devices? Our contributor, Emma Purcell, who is registered blind, takes us through some of the best assistive technology and apps around.
Liquid Level Indicator
The Liquid Level Indicator is a device that helps people with sight loss make drinks independently. Simply attach the indicator to the edge of a mug or cup, then pour the liquid into it until it beeps. As you fill the mug more, it will beep faster.
You can use it in any type of drink, hot or cold. It is also magnetic so you could be stuck it on your fridge for safekeeping. They are available in yellow or blue from RNIB and cost £8.99 (excluding VAT, which is the price you will pay if you're blind or partially sighted).
Talking microwave oven
The Talking microwave oven, which verbalises what it does, is a great gadget that can help blind people cook and prepare food for themselves. It speaks when the door is opened or closed, says what the function of each button is, and tells you how much cooking time is remaining at the press of a button. There is also a volume control for the speaker so you can adjust it for your needs.
This microwave has a power rating of 800 watts and has a 25 litre capacity. It can be bought from the RNIB website for £225 (ex VAT).
KNFB Reader app
The KNFB Reader is an app that reads print. Simply take a photo on your smartphone or tablet device of what you want to read and the app will read it aloud in a synthetic voice or with a connected braille display.
It can read multiple pages and uses automatic text detection, s0 it can detect whether the page is text side up in the picture. You can copy and send text, read JPEG and PDF files and export HTML pages to read on your phone, too.
It was awarded Best Assistive Technology App at the AppleVis Golden Apple Awards in 2014, 2015 and 2016.
Downloading it from the iTunes App Store will cost £99.99 and on Google Play it is free to download, but in-app purchases cost £94.99.
Tap Tap See app
Tap Tap See is an app that helps blind people identify objects around them, such as furniture, food packets, clothing and money. Just double tap your screen to take a photo of what is in front of you and speech identification will describe the item.
The voiceover ability on your phone will need to be switched on in order for this app to work. To do this, go to Settings – General – Accessibility – Voiceover and Switch on Voiceover.
It has been rated five stars on the App Store and has had numerous positive media coverage. This app is available to download for free from iTunes and Google Play.
BlindSquare app
Blindsquare is a navigation app that helps blind people when travelling. It can be used in public places, such as museums, and outdoors. It uses GPS and the phone's compass to locate where you are, and where other things are in relation to you. It can then describe places within the area using synthetic speech. For example, it can tell you where the nearest café, library or post office is. You can also ask it questions by using voice commands, but this is a premium feature that requires purchases of credits on the app.
Furthermore, you can access the contact details and social media links for those businesses around you. While in a car or public transport, the app can track your journey and suggest interesting places like stops and street names.
For places like shopping centres and museums, you will need the indoor navigation tool Blindsquare BPS. In order to work, it needs iBeacons installed in the building, so won't work everywhere.
The Blindsquare app is only available to Apple devices and costs £38.99.
Button app by Neatebox
Neatebox has created a button app to help blind and other disabled people access the pedestrian button at road crossings. The app is free to download, so all you need to do is put in your details and then, when you approach a crossing, press the button on your phone and it will activate the traffic lights.
There are currently limited locations that this app can be used in, but Neatebox is aiming to add more places. You can also request a location to be added and Neatebox will contact your local authority to get this set up.
You can find out more about the app on Neatbox's website.
The Focus Blue Braille Display
The Focus Blue Braille Display is the greatest go-anywhere Braille device. It can connect via Bluetooth or USB to your smartphone or PC, allowing you to read texts, emails and documents, and navigate around the two devises. You can also create new files with it. It combines a highly-responsive 8-dot keyboard and has an easy control layout.
There are three different versions:
Focus 14, which is portable and has 14 cell refreshable Braille – it costs £1,191 (ex VAT);
Focus 40, which has 40 cell refreshable Braille – £2,203 (ex VAT);
and the Focus 80, which has 80 cell refreshable Braille – £6,603 (ex VAT).
All three are available at RNIB.
Braille Sense U2 portable notetaker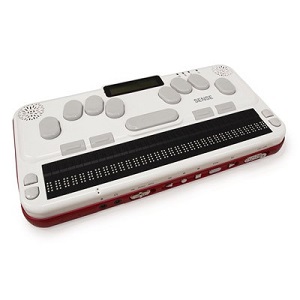 Braille Sense is a powerful notetaker. It is the perfect machine for anyone in work or education, who need to take those all-important notes from meetings and classes and prefer reading in a braille format.
It includes 32 braille cells and pre-installed software, including word, email and web browser. You can access several programmes, such as Excel and web browsing, at once and easily move between tasks.
It costs £3,403.29 (ex VAT) and can be found on RNIB.
AfterShokz Trekz Air headphones
The AfterShokz Trekz Air headphones are not specifically designed for blind people, but have qualities that can benefit those with sight loss. These specialist headphones attach to your face rather than your ears, where sound is conducted via Bluetooth through our cheekbones.
This means that your ears are free to listen out for other noises, so you can still hear traffic, people and transport announcements around you. The headphones are waterproof and compatible with all smartphone and tablet devices that are Bluetooth enabled. They can be purchased from Amazon for £149.95.
Amazon Echo smart hub
The Amazon Echo, also known as Alexa, can be controlled by your voice and is able to speak back to you. You can give it multiple commands to help you complete a whole host of tasks. For example, you can ask it to play music or the radio, read audiobooks, play news briefings, create alarms, reminders and lists, play games and much more.
This device is perfect for those of you who prefer to access things through voice commands, rather than touch, and allows you to enjoy games and activities that you couldn't view on a PC or smartphone.
There are different versions of Amazon Echo to choose from. The Amazon Echo, costing £150, was the first to be released and includes a speaker inside. The Echo Dot is its the younger sibling and costs £50. The only difference between them is that the Echo Dot is the top section of the Amazon Echo and requires a Bluetooth speaker for quality sound.
This year the all-new Amazon Echo (2nd generation), which costs £90, was released. It is smaller than the original, is said to have better quality sound and voice recognition technology, allowing Alexa to pick up instructions in the noisiest of rooms.
They are all available on Amazon. You will also need to download the Amazon Alexa app in order to connect your Amazon account with it.
These aren't the only 'smart hubs' – there are lots available from a range of manufacturers, including the Google Home hub.
By Emma Purcell
https://disabilityhorizonscom.onyx-sites.io/2017/10/assistive-technology-the-top-dictation-apps/
https://disabilityhorizonscom.onyx-sites.io/2017/09/canute-a-revolutionary-affordable-braille-e-reader/