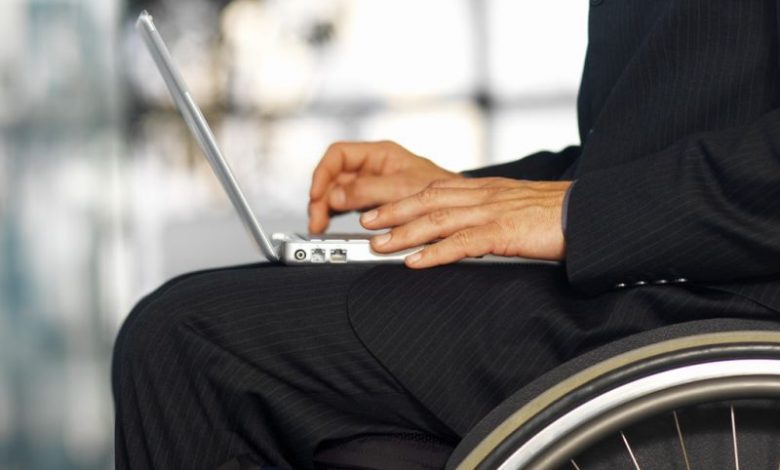 In our latest video interview, Disability Horizons Co-founder Martyn Sibley talks to Jane Hatton, who runs Evenbreak, a job site dedicated to disabled people. Watch our video to find out about Jane's struggles in getting a job, setting up her own business, and how you can have career success too.
Getting a job isn't easy for anyone. But when you have a disability, it's even harder. The statistics show that disabled people are more likely to be unemployed. I believe this is because of two key areas.
1. The first is the social barriers many disabled people face. With transport and buildings not always being accessible, it makes getting to work and actually working in the building difficult.
2. Second is the attitudes of some employers. Unfortunately, many people think that disabled people are not up to the job, or that it'll be extra hassle and expense to make employing them possible.
Some employers also discriminate by not giving a candidate the chance to flourish in the area they're most suited too. For example, for some people, writing lots may be difficult, but giving a presentation might give them the chance to shine. It's about making small tweaks to the interview process to make a big difference.
Whilst these barriers are a problem, things are getting better. The physical environment, people's attitudes to disability, and the organisational policies are definitely getting more inclusive over time.
Independence plays a big part in job hunting
The other key issue for disabled people being able to find work is their independence. In part, this means having the right funding, personal care assistance, and assistive technology available. This is definitely a constant battle. But independence is also down to your attitude. You need to have dreams, confidence, resilience, tenacity and the right support to get out there and do it.
In our latest video interview, we talk to Jane Hatton from Evenbreak. For those who haven't come across it before, the roles on Evenbreak are with employers proactively looking to employ disabled people. It shows that there is actually a lot of opportunities out there.
In this interview, Jane shares her personal story of job hunting and eventually starting her own company, and lots of tips on job hunting. From understanding your strengths, to applying for jobs, and giving good interviews, you'll certainly find great support just by watching this video.
Jane Hatton video interview
In addition, Jane kindly agreed to share her top 5 tips for job hunting with our DHorizons Tribe.
So sign up in the box below to join our tribe. We'll be sharing more news on Jane's master class in due course. It's really one not to be missed!
By Martyn Sibley
Get in touch by messaging us on Facebook, tweeting us @DHorizons, emailing us at editor@disabilityhorizons.com or leaving your comments below.