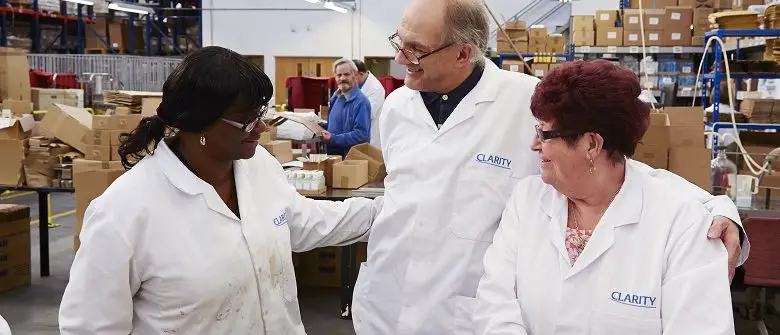 We all know that finding a job when you're disabled can be a hard slog, made harder by unaccepting attitudes and accessibility issues. But not every company is close-minded, and there are more and more accommodating employers out there. We hear from one such company, Clarity, which provides employment for blind and disabled people.
Working as both a company and charity, Clarity was established in 1854 as The Association for Promoting the General Welfare of the Blind (GWB) to provide employment for blind people. Our founder Elizabeth Gilbert, who lost her sight at the age of three due to scarlet fever, believed in enabling blind people to help themselves, and to earn their own living – a mission that the charity continues to this day.
We run a semi-automated production line in London with people at the centre of everything we do, employing  113 people across the UK. More than 70% of the people we employ are blind, or otherwise disabled or disadvantaged.
We believe that all disabled people should have an opportunity for employment and at Clarity, we champion this vision by designing, manufacturing and selling beautiful personal care and cleaning products under four different brands.
We create opportunities to build skills, confidence and independence through our business activities and our profits are all reinvested back into the organisation to strengthen our ability to create even more employment in the future.
To show you how diverse our workforce is, and the opportunities we can offer, here are the stories of four people who work at Clarity.
Michael O'Brien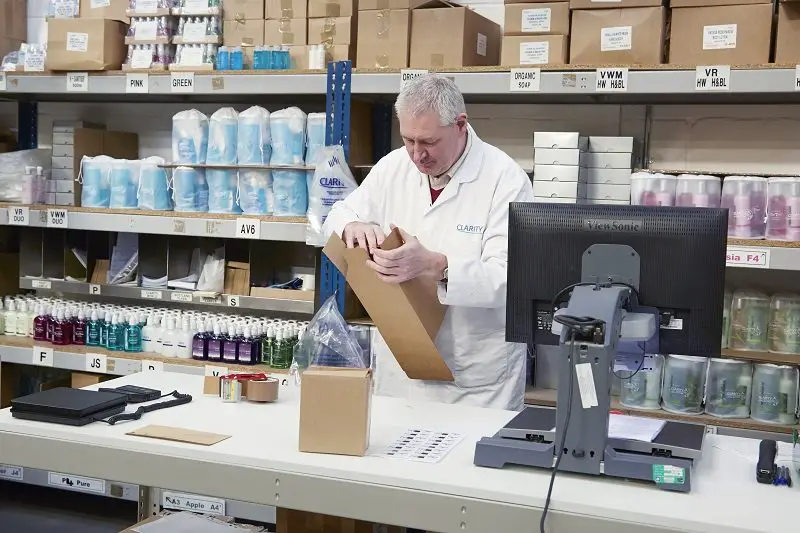 I started working at Clarity in May 2014. I was born six weeks prematurely and placed in an incubator to keep me alive. But there was an excessive amount of oxygen and this caused me to become partially sighted (Retinopathy of Prematurity disorder).  I was also diagnosed with Glaucoma and have to frequently apply eye drops and have regular check-ups at Moorfield Eye Hospital.
Although the vision in my right eye was very poor, my left eye was my "the good eye", so I used to be able to live independently. However, at the age of 17, the retina in my left eye detached. After two unsuccessful operations, I was sent to a rehabilitation centre for 18 months to learn to adjust to my new life with limited vision and to become independent again.
I used to work for a local authority making furniture, and during that time I went to college to study to become a supervisor. After completing the course I was supervising approximately 20 staff members where I worked. From there, my career progressed and I became a warehouse supervisor.
But I felt that it was time to move on, so I went into the procurement department, where I was buying raw materials for the furniture. I had a support worker for 25 hours a week – a person who was my eyes. I was also given some helpful software equipment, such as a magnifier and a screen reader.
Unfortunately, after 35 years, I was made redundant because the local authority could no longer afford to continue furniture production. At first, I was in shock, convinced that it would be extremely difficult to find a new job at that age.
Thankfully, my worries were unfounded, as just after a few months, I joined Clarity. I started my time there at the topping line on the factory floor (putting tops on bottles) and, helping with putting products onto pallets.
Later I moved to the Pick and Pack department, where I still work. There, I am responsible for the distribution and processing of Clarity orders, and am also involved in some administrative duties. I feel very comfortable in this environment because my colleagues are people I can relate to.
In addition to working at Clarity, I volunteer at the Thomas Pocklington Trust, offering support to patients who are newly diagnosed with eye conditions. I meet with people at one of the satellite clinics in Barking that is part of the Moorfield Eye Hospital, and talk them through the available support within their borough and across the country. Many of them say they're very lonely, so really appreciate a chat. Off the back of my work there, I was really pleased to win the Volunteer of The Year Award.
David Wright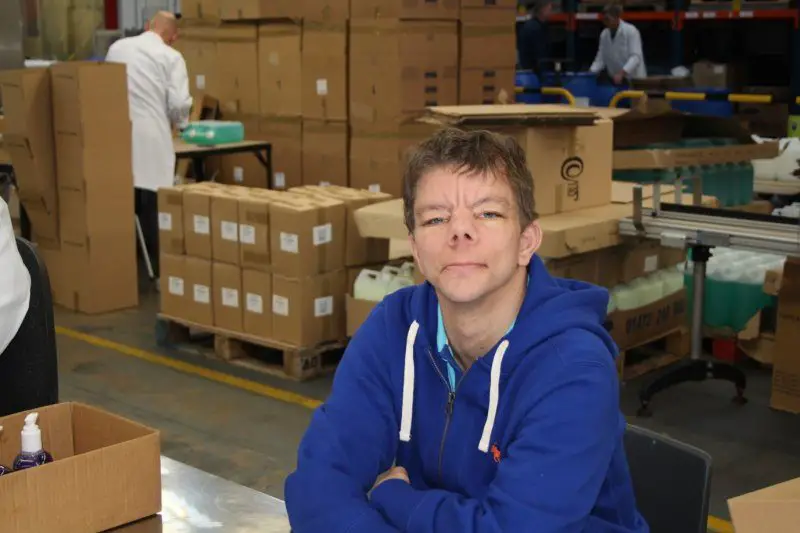 Throughout my life I have been a very positive person, despite being diagnosed with Andersen-Tawil syndrome when I was very young. It is a rare genetic disorder that causes episodes of muscle weakness (periodic paralysis), changes in heart rhythm (arrhythmia), and developmental abnormalities. But I have never let my disability stop me from doing anything.
Until two years ago I worked at a local car wash. But then my disease progressed and I could no longer fulfil my duties. So you can imagine how delighted I was to find out about Clarity through the Leonard Cheshire Disability charity.
Having met with people at Clarity in February 2016, I soon became part of the team. I was able to find a position that suited me and my needs, working on the production line where I am able to sit down and continue to be productive.
I am very grateful for places like Clarity, where everyone is treated equally and you feel welcomed by your co-workers and appreciated by the management.
Outside of work I am a keen boccia player – a game where players must throw or roll their coloured balls as close as possible to a white target ball, called the jack. The winner is the player or team to get the most balls near the jack.
This great game has been a competitive sport in the Paralympic Games since 1984. It's a game of strategy in which players demonstrate great skill and determination to overcome their impairments – a perfect way of describing my attitude towards life and work, and that of many others who work at Clarity.
Billy Bass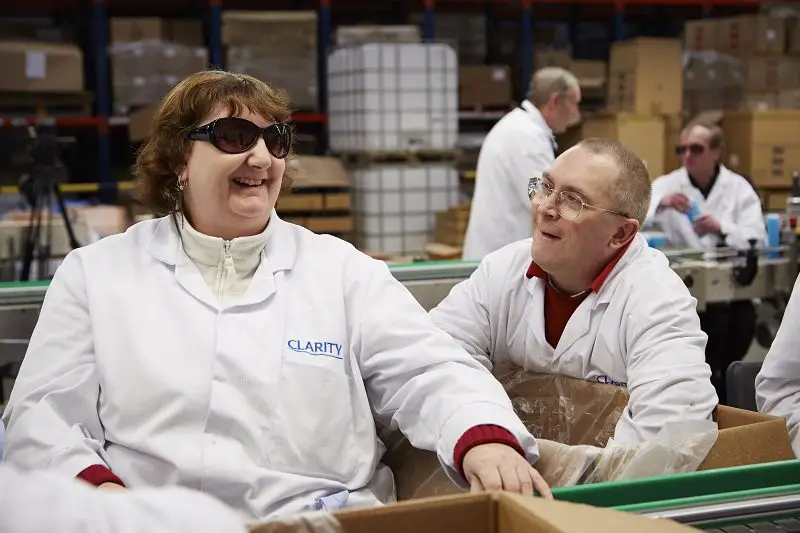 I am proud to say that I am one of the longest-serving employees at Clarity, having joined the company in 1981. I have a detached retina in my left eye and also arthritis in both of my knees, which means I need to use a walking stick to help with my mobility.
Before coming to Clarity, I attended a technical college, where I took part in a variety of work experiences to help prepare me for real work in the future. Even though I was assigned a supervisor, the idea behind the work experience was to help me learn to be independent.
I attended a total of four work experiences throughout my time at the college. The first involved working for a railway supplier as one of the team members fitting lightbulbs in railway carriages. The second placement was in an umbrella factory, where I helped to assemble the umbrellas.
My third placement was in an engineering factory, where I was responsible for counting the components – a job that taught me to be patient and thorough. It was a similar case in the fourth placement, working in a jewellery factory, where I again had to make sure that all the components were accounted for.
All four placements have been invaluable, and have given me a number of useful skills that later helped me in the work environment at Clarity. I, along with my colleague and good friend Jackie (pictured above with Billy), work on the production line making, labelling and packing Clarity's toiletries.
I really love working for Clarity and, as the charity moved locations over the years, I have moved with them.
Jackie Harris 
I have worked at Clarity for more than 40 years (I started in 1977) and I love it. I have sight and hearing impairments, and Clarity has been great in accommodating my needs.
Like my friend Billy, I attended the same technical college and completed a number of work experience placements to help me become independent.
One of my placements was in a factory making boxes for chocolates. Here I acquired many useful skills, such as time-keeping, teamwork and working on a production line, all making me an ideal employee for Clarity.
During my college years, I also attended a number of classes, such as crafts, switchboard training, braille and engineering, and went on to specialise in the last two.
After finishing college, I also did a 10-week course on mobility, which involved training on using a white cane with a skilled mobility worker, who was also a support worker. My vision and hearing were slightly better back then, so he was able to show me how to travel to and from work.
I was also able to use the well-lit timetable to guide me to the stairs at the station. All of these experiences laid strong foundations for the world of employment.
At that time, I also applied for a guide dog. It took a while, but I was very happy to be allocated one a few years after my application.
The guide dog really helped me to grow my independence and confidence. Over the years I have had three guide dogs in total, and they all became close friends and companions.
Unfortunately, as my hearing deteriorated, I wasn't able to have one anymore. So I instead applied for help to get to work. I now use taxis, which is a huge help and allows me to continue working, something I have always enjoyed and don't want to give it up.
By Clarity 
To find out more about Clarity and the products it sells, visit the Clarity website.
Check out…
Get in touch by messaging us on Facebook, tweeting us @DHorizons, emailing us at editor@disabilityhorizons.com or leaving your comments below.