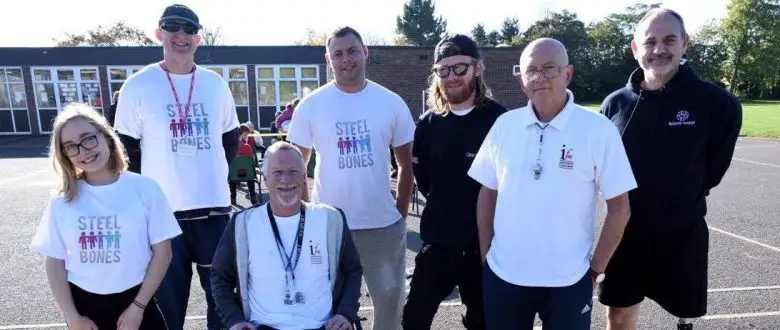 On 30th May, a determined group of 18 amputees from around the UK will set out on a truly inspirational challenge to become the first amputees to conquer Mount Snowdon. The team will be led by Paul Clark, who lost his leg as a result of a bone infection following surgery in 2014. 
Accompanying him will be Leigh Joy-Staines, Co-founder of the voluntary charity Steel Bones, which works to connect, support and inspire amputee families across the UK to overcome the trauma of amputation. Our writer, Carrie Aimes, caught up with Leigh and Paul to find out more.
Leigh, can you please tell Disability Horizons readers a little about yourself and your disability?
I was born with clubfoot (also called talipes) and, before the age of 5, had about 30 operations to try to rectify them. The doctors did the best they could at the time.
I managed to get through school having just a few more operations, and lived a relatively 'normal' life. I was always in quite a lot of pain, but that didn't stop me. I loved playing sports so much that I didn't care about the pain.
I was bullied a lot too, but luckily have fantastic grandparents, parents, cousins and friends who stuck by me and gave me the strength I needed to keep going. It impacted massively on my mental wellbeing, and I suffered terribly with anxiety. But I hung onto those people around me. Looking back, I was actually quite a popular kid. I just let the nasty name calling go over my head.
I left school early and started work immediately. Until I was about 23 I worked hard and partied hard at weekends. But, after having to do a long commute, which involved a lot of walking, I couldn't take the pain any longer. So, I went to see my GP, who referred me to an orthopaedic surgeon.
The surgeon seemed to think it would be a simple operation to put things right. Unfortunately, he hadn't completed the proper pre-operative checks and didn't have my notes in the operation. As a result, he severed my last remaining artery and the nurses didn't realise the foot's blood supply had been cut off until it was too late. 
I ended up spending five months in hospital whilst they tried to save the leg. I also needed time to learn to walk again. The team there were amazing and it became like my second home.
Since the amputation, I've had lots of problems with my stump (which I call JOYBOY), including neuromas (tumours made up of nerves), spurs (formation of bone) and infections. Because of taking a lot of pressure, my other leg is also disintegrating. I'm now working with some excellent surgeons and physiotherapists to hopefully rebuild it, otherwise I will have to lose that leg too.
You are one of the founders of Steel Bones. Why did you decide to start the charity?
At the time of my amputation there was no proactive support out there. My girlfriend (now wife) and I just tried to pretend everything was fine and 'normal'. We didn't take stock of what had actually happened.
I'm still dealing with the trauma now and am only just really accepting what happened – it was such a huge shock. When you still want to be the lad-about-town but your body fails, it's crushing. But, I've held on tightly to my family.
We phoned several amputee charities asking for support, but none came through. We felt so lonely and isolated, particularly once our children came along. Our son Teddy kept being asked lots of questions: "Why isn't your daddy strong?" "Why does he wear a boot?"
That hit us really hard. We didn't know how to deal with the outside world, only our little unit. So, we decided to start meeting other amputee families.
It all started with a Facebook group, and has gone from strength-to-strength. We have met so many amazing people. Knowing that we're not alone gives us great motivation.
Can you tell us more about the charity and exactly what is does?
The charity focuses on the entire family, and not solely the amputee – an amputation affects the everyone around them, family and friends.
We provide support packs and help to connect families together to ensure they have the tools and advice they need to achieve their goals. We also run a weekly fitness club and an amputee football club with Cambridge United Trust and Cambridge FA.
Furthermore, we are launching a series of children's books based on amputee family stories. We also run a school workshop programme with If Not Me Inclusion Coaching, which focuses on inclusive sports and raising awareness of amputees.
We also have an events programme that all amputee families are welcome to join. Our biggest event of the year takes place on 29th July 2018 in Cambridgeshire. To find out more join our Steel Bones Facebook group or sign up to our mailing list on our website – Steel Bones.
These projects are very close to our hearts as we know the impact they have. We hope to avoid what our son endured in his first couple years at school, and to ensure that no amputee family feels isolated. 
Can you tell us about the forthcoming challenge to climb Snowdon and what it involves?
Essentially, the challenge involves a group of amazing amputee families climbing Mount Snowdon. We have been training for the past six months and have endured falls, knocks, sores, blisters, aches and pains. Despite this, the hugely inspirational group has kept on going.
It is going to be incredibly exciting to see them achieve this incredible goal.
Steel Bones is entirely voluntary, so the funds raised by this will go directly to amputee families in the UK. It means we can put on more clubs and events, and proactively support the amputee community, giving them an invaluable lifeline.
Paul, you're heading up the challenge to climb Mount Snowdon in May. How and why did you first become involved with Steel Bones?
After my amputation on 30th May 2016, my family and I went through a very hard and lonely time. We didn't know who to turn to for help and support, or where to even start looking. We found that there was a total lack of understanding by the public and within government of what amputation actually means for an individual and their family.
We came across the Steel Bones Facebook group and realised Leigh and his family are local to us, and that they had been in a very similar situation to us when Leigh lost his leg. We could see that the charity was offering free help to amputees and their families, so we contacted them.
Their support from day one has been fantastic. Not only have they given us advice on who to contact regarding a number of practical matters, they have also helped us to fill in necessary forms, write letters and so on, until we were sorted.
Their guidance didn't stop after that – they continue to support myself and my family with information and advice. They have also introduced us to many new friends in the same situation. We have all become one big happy amputee family!
Where did the idea for the challenge come from?
My wife and I have always wanted to climb Mount Snowdon, so we just decided to do it and raise money for Steel Bones in the process, as a way to thank them for everything they've done. The money raised will allow the charity to continue supporting other amputees and their families throughout the UK.
What are you hoping to achieve as a result of the challenge you have set for yourselves?
Not only is this a personal goal of ours, and a massive challenge, we also hope to promote amputee awareness throughout the UK. We want people to be aware that just because I have lost a limb it doesn't make me any different. I can still overcome challenges, just like anyone else.
I have managed to pull together a fantastic team of amputees from across the UK to join me on this amazing adventure. Not only will this bond us as a group even more, it will challenge us all and show that amputees can do anything, whilst also raising a fantastic amount of money for Steel Bones charity.
Show your support for the team and make a donation on the Steel Bones Just Giving page. 
By Carrie Aimes
You can take a look at Carrie's blog at www.lifeontheslowlane.co.uk and follow her on Twitter @claimesuk or on Facebook. 
More on Disability Horizons…