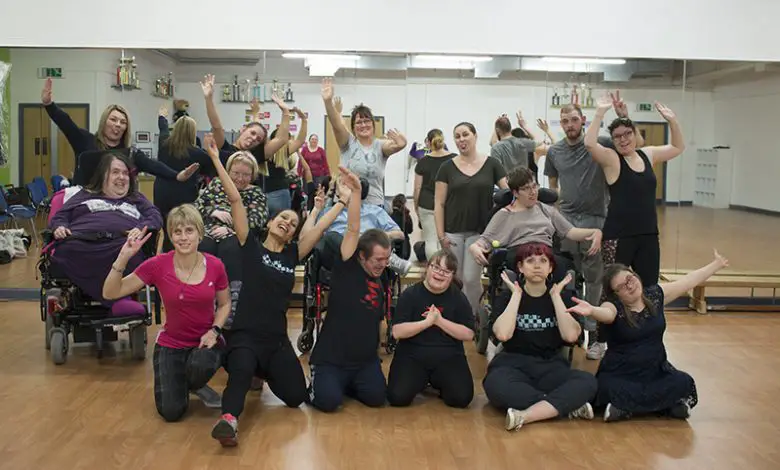 No matter what your disability, you should be able to take part in dance classes. It's a great way to keep fit, meet new people and socialise with old friends. Our writer Tom Housden talks to Rashmi Becker, who set up Step Change Studios, a dance company that does exactly that – helps people of all abilities dance.
Step Change Studios caters to different ages and abilities. Can you explain more about the people you support to dance and how they find the experience?
I established Step Change Studios in response to a lack of inclusive dance opportunities for disabled people. Having worked in social care, and being guardian to my older brother who has autism, I was acutely aware of the limited opportunities for disabled people to be active, especially in Latin and Ballroom dance.
Around 10.7 million people watch BBC's Strictly Come Dancing and there are 11.2 million people in the UK with a disability – 1 in 5 of us. So I wanted to enable more disabled people to dance.
In just over one year, Step Change Studios has helped almost 900 disabled people to dance, having delivered 220 hours of inclusive dance and created platforms for inclusive dance performances in front of more than 5,000 live audience members.
Participants have been as young as 4 years old, right up to people in their 90s. We have provided dance for people of all abilities. Participants have included those with learning disabilities, autism, Down's Syndrome, multiple sclerosis, cerebral palsy, paraplegia, sensory impairments, dementia, and life-limiting conditions.
Their disabilities might be different, but what they all have in common is a desire to dance. The feedback from participants highlights their enjoyment from dancing. It also shows the benefits, including making friends, building confidence, helping with balance, concentration and improving fitness. You can watch our video to learn more about what we do.
Dance can benefit health and wellbeing. In the case of people who are non-verbal, do you find that it serves as a form of communication?
Growing up with my brother, who is non-verbal and had challenging behaviour, music and movement was a way for us to play and connect. It also helped us to manage his anxiety and made him smile.
I have also seen the power of dance in my professional life through Step Change Studios. Feedback from participants, parents and carers has been resoundingly positive about the engagement and benefits being able to dance gives them. It is always personally rewarding when someone begins a class apprehensive and tentative, and then blossoms over time, sometimes over the period of the same session.
I have found that giving participants a focus and something to aim for, such as a performance, helps even more. This might be something informal, that they just do for themselves at the end of a programme. Or it might be something more ambitious, such as performing at a public arts festival.
We have been running inclusive dance for children with learning disabilities, autism, and sensory impairments in North London. This feedback from the school highlights the impact of dance on the students:
At frist, the students were reluctant to participate in the sessions. However, after the first few classes, they were engaged and happy to attend willingly. They saw the sessions as something different from their usual school routine, which can, at times, be very challenging for them.

The sessions have had a great impact on the students, many of whom have developed a love of dancing! The students also liked the fact that they could help towards creating the final routine. This gave them a goal to work towards.
Someone in a wheelchair, who maybe doesn't have any sensations in their legs, might think they can't dance. Do you think that people in wheelchairs find it harder to dance?
For me, dance is about interpreting music with your body and personality. It's about telling stories, being creative, and expressing something – anything you want and however you want. Dance is, therefore, not the preserve of a particular type of body. Most of our dance classes include wheelchair users.
We have run two specialist ballroom wheelchair dance programmes and are currently planning further ones. Our last wheelchair dance programme culminated in students performing at the UK Design Museum to mark the UN International Day of Persons with Disabilities. This was their first ever public performance and they were amazing.
Step Change Studios is an associate member of the English Federation of Disability Sport (EFDS). Can you explain more about the EFDS and Step Change Studios' connection to it?
Working with like-minded partners, who share our values and vision, is critical in our efforts to enable more people to take part in inclusive dance opportunities. Our success is built on working with amazing people and organisations.
The EFDS is a national charity that enables organisations to support disabled people to be active and stay active for life. It does excellent work to inform partners and understand the experiences of disabled people, in order to address the gap between disabled and non-disabled people's participation in sport and physical activity, including dance.
Its research shows that 7 in 10 disabled people want to be more active. By working with partners like EFDS to share knowledge and experience, and advocate for better practice, we hope to engage more organisations to provide inclusive opportunities.
Step Change Studios has put on a number of classes that have culminated in public performances. What projects are you proud of?
Step Change Studios is committed to developing dance opportunities at a community level for people new to dance. But it also provides a platform for professional disabled dancers, in order to support talent development and future leaders in dance.
There are two exciting major projects I recently finalised, which represent community dance, and professional dance.
The first was 'Strictly Wales' in partnership with the charity Leonard Cheshire Disability. This was Wales' first inclusive ballroom dance project and involved delivering dance workshops for almost 100 disabled people in 5 locations.
The project culminated in a national competition on 7th April in Cardiff, in which participants performed with professional dancers to a live audience. The aim of the project was to support disabled to be active through dance, to show what they can achieve, and that disability should not be a barrier to participation.
I am also really thrilled to have produced the UK's first ever inclusive ballroom showcase on 9th May, in partnership with Sadlers Wells, and supported by Arts Council England and the Dance Enterprise Ideas Fund.
The showcase, entitled Fusion, brought together talented disabled and non-disabled artists from a wide range of dance backgrounds to push the boundaries of ballroom dance with beautiful, powerful, performances.
During the day, a world-leading wheelchair dance champion led a free ballroom wheelchair dance masterclass, and there was a post-show audience discussion with the dancers. You can see snippets from the performace in the video below.
To find out more about Step Change Studios and how you can get involved in its dance classes, visit its website.
By Tom Housden
More on Disability Horizons…
Get in touch by messaging us on Facebook, tweeting us @DHorizons, emailing us at editor@disabilityhorizons.com or leaving your comments below.