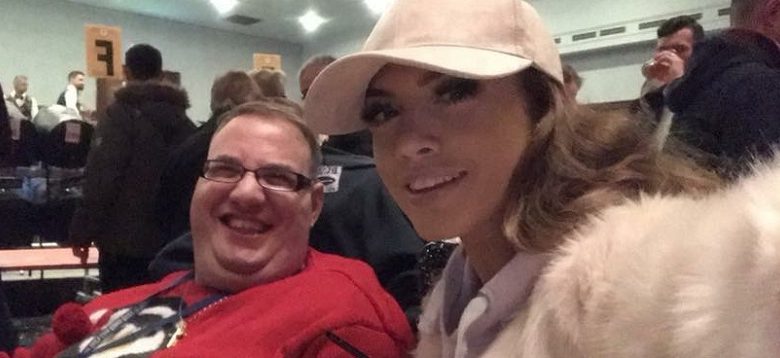 Lifestyle
Cerebral palsy and me: how a request for birthday wishes went viral
Model Sophie Newton and her brother Harry, who has cerebral palsy, were stunned when her Facebook post requesting birthday wishes for Harry went viral. He received numerous cards and gifts from everyday strangers and famous well-wishers. Here's how it happened…
My name is Harry Newton. I am 27 years old and live in a village to the west of Salisbury. Because of my disability, I can't walk and so use a wheelchair. But, I believe that my positive outlook on life means it hasn't hampered or stopped me from doing what I want – most of the time!
I went to boarding school and college, which stood me in good stead for life outside their four walls. I made lots of friends and, not to blow my own trumpet too much, but I believe I am a very gregarious and fun-loving person.
I am mainly supported in my day-to-day life by my wonderful and devoted parents. I also have a team of personal assistants that enable me to fulfil an active lifestyle. I enjoy going to my local gym and can be seen most days lifting weights.
I also do a lot of voluntary work as I am passionate about helping people in any way that I can. I know that I don't have it the easiest, but I am incredibly lucky in a lot of ways and have a strong support team around me. Some people, particularly those who are homeless, have no one.
I love to go out socially as I don't want people to feel sorry for me. I am a CAMRA member – Campaign for Real Ale – and like a pint or three at beer festivals! I have made lots of friends at these events, both young and old.
I am also a passionate sports lover, the top one being cricket. In 2010, I became the first wheelchair cricket umpire in the country, having passed my umpire exam with 91 marks out of 100 – one of the top scores. Unfortunately, I cannot actually umpire matches due to health and safety!
In addition, I attend as many home and away Salisbury football matches as is possible. However,  sometimes I have to miss important events due to lack of staff. I try to be positive in these moments, but it is hard when I know an exciting match is happening and I can't be there purely because of logistics.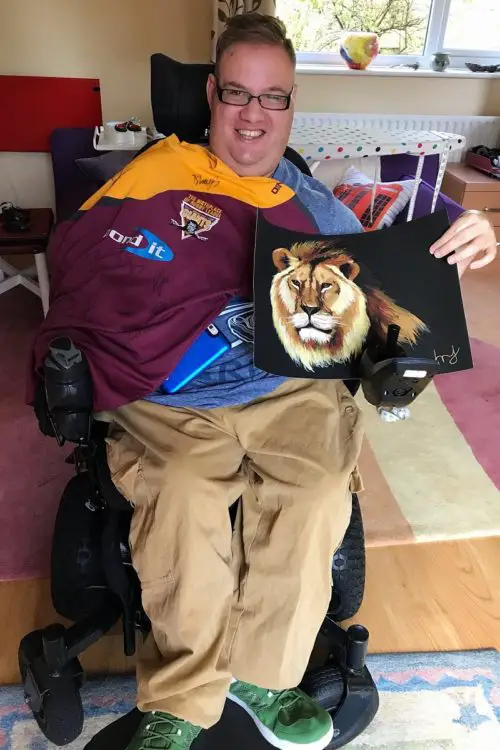 Of course, life can be challenging, especially for my immediate family. And it does like to throw a curve ball or two every so often, which means we have to be flexible and adapt. But, I have learned to take the rough with the smooth. As long as I can stay true to myself, that's good enough for me.
My family and support system
My family is very important to me, as is my faith. They are the rocks that stabilise me and bind my life together. Without them, I would be lost.
In total, I have three brothers and two sisters. They are scattered around the UK, so I don't get to see them very often, but we all keep in touch and meet up occasionally.
I am particularly close to my sister Sophie, who is very near to my age and actions a lot of stuff on my behalf. I refer to her as 'the voice in my head.' She steers me in the right direction (literally and metaphorically!) and always has my back.
She is also very supportive and protective of me, and likes to get people thinking about disability and how others can be judgemental of it.
So, before my last birthday, she decided to write on her Facebook page asking people to send me cards. The post went out and we thought nothing more of it. To both of our surprise, it went viral.
That viral Facebook post!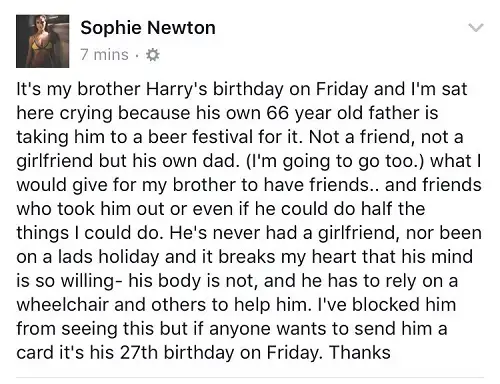 I was overwhelmed at receiving sacksful of cards, presents and well-wishes, including from famous and well-known people. We couldn't believe people's reaction and generosity.
I was thrilled to receive a signed picture, hat and signed mini cricket bat from cricketer Kevin Pietersen and signed England T20 shirt from Reece Topleym.
Liverpool football club manager, Jurgen Klopp sent me a signed squad photo, and I got a signed shirt from the Bath rugby union and Ireland rugby league squads.
Also, Henry Frazer – former Saracens rugby union player and now a famous mouth artist – sent me a signed painting. And, if that wasn't enough, I was treated to a slap-up meal at Byron Burgers in Salisbury by former and current rugby union stars.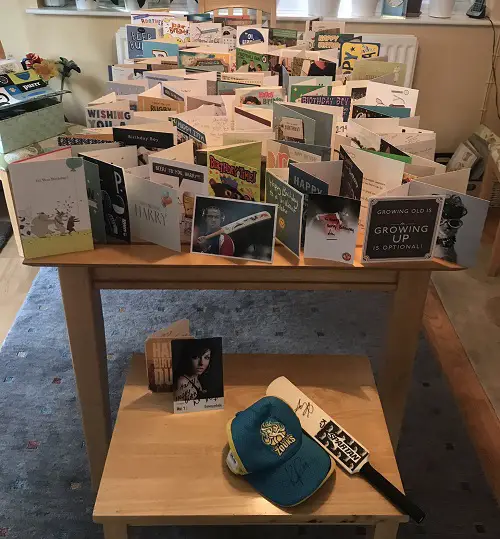 I was extremely humbled by and grateful for all the good wishes I received. People were amazing and very generous with their time. I know Sophie was amazed at the response I received. Little did she realise the extent to which it would go viral.
This year I have arranged a party for some family and friends at a craft bar in Salisbury. Nothing too extravagant, but nonetheless significant to me. I am blessed to have friends and family to celebrate with me another year of life.
By Harry Newton
Do you have a story to share with the Disability Horizons community? Get in touch by emailing editor@disabilityhorizons.com, leaving your comments below, messaging us on Facebook or tweeting us @DHorizons.
More on Disability Horizons…