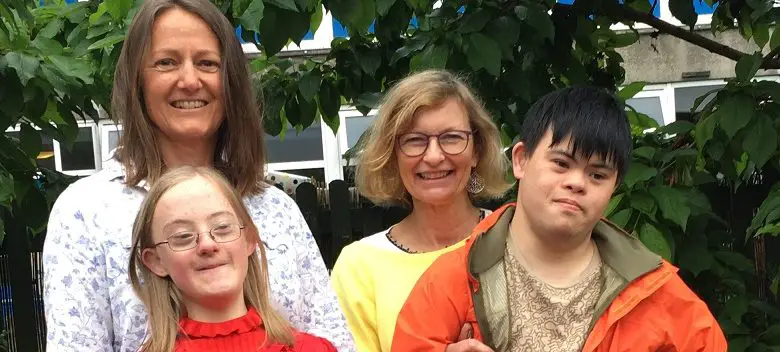 Work & Education
Step and Stone: a Bristol-based bakery training people with learning disabilities
Disabled people are twice as likely to be unemployed as non-disabled people, and only one in every 16 people with a learning disability is in paid employment in the UK. The statistics are stark, but the good news is that social entrepreneurs are tackling this challenge head-on.
Jane Chong and Jane Kippax, both parents of children with Down's syndrome, are among these social entrepreneurs already transforming access to employment. Together, they run the Bristol-based bakery Step and Stone, which provides employment and training opportunities for young people with learning disabilities. Their project was backed by UnLtd, an organisation that supports social entrepreneurs bring their ideas to life.
Our writer, Emma Purcell, interviewed members of the Step and Stone team to find out about their achievements and their ambitions for the future, as well as the support UnLtd provides.
Step and Stone
Step and Stone is a successful bakery that supplies products to some of the south west's finest cafes and delis, and continues to provide employment and training opportunities for people with learning disabilities aged between 18 – 25. Alongside training and jobs, the venture builds communities, confidence and tackles social isolation.
The founders – Jane Chong and Jane Kippax
How did you come up with the idea of a bakery business?
We decided to create Step and Stone to address the appalling employment prospects for young people with learning disabilities. Both of us are mothers of children with Down's syndrome, and we understand just how capable young people can be given the right support.
Nowadays, educational opportunities are so much better for children and young people with learning disabilities. But employment is a different story. Jane K had dreamed of opening a bakery to make lavosh, a delicious savoury cracker she came across while living in Australia. Jane C planned to open a café, so we decided to join forces and open a bakery. Step and Stone is stage one of our overall plan!
What kind of things do you bake?
We bake lavosh, a type of elegant slim savoury cracker, thin and crispy, and totally delicious! We make five flavours – classic, poppyseed, sesame seed, smoked paprika and cayenne – plus a rosemary and sea salt version, which recently won gold in the Taste of the West competition.
How many people are currently employed by Step and Stone?
We have part-time members of staff, around 11 volunteers. We also work with around 20 young trainees, all of whom have learning disabilities of some kind.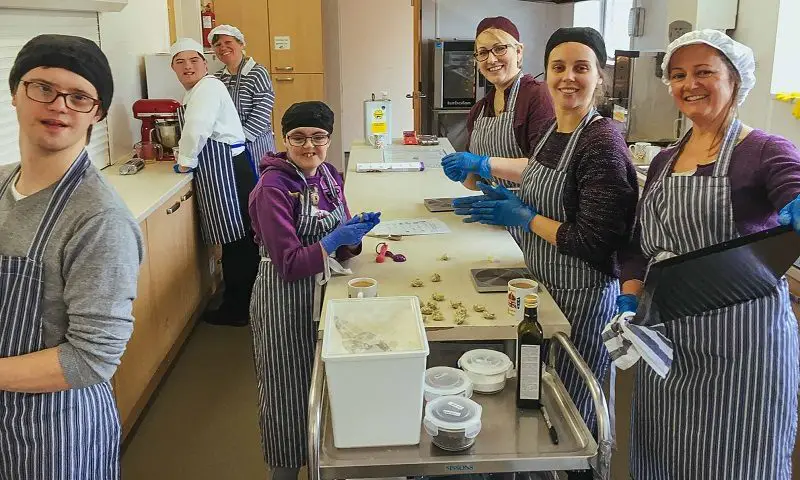 You're hoping to open your own café. When and where will that happen?
We have just moved the bakery into bigger premises and are intending to open our Step and Stone café within the next year, so we have exciting times ahead for us! The café will be in Bristol or possibly North Somerset, and will be somewhere buzzy and vibrant with a good footfall. We're looking at the moment and we'll know the right location when we see it!
How did you get involved with UnLtd and how did it support your business?
We first heard about UnLtd at a School of Social Entrepreneurs workshop. UnLtd has been a fabulous support to Step and Stone in many ways. Firstly, it gave us a generous grant, which helped to get things off the ground.
We've also had brilliant advice from its Award Manager, Louise, who has pointed us in the direction of various sales and marketing opportunities for our products. She has also put us in touch with professionals in relevant fields, as and when needed.
Lastly, we have been invited to attend a broad array of training days and courses, covering a range of aspects around running a social enterprise. It has been a very comprehensive support package.
How did you come up with the name Step and Stone?
It took ages to choose the name Step and Stone. Jane and I brainstormed for weeks. We came up with a huge list of possibilities, which we whittled down to eight or 10. But nothing was quite jumping off the page as the perfect name for our fledgeling idea! So we again roped in a whole range of lovely friends and asked them to vote on their favourite. They duly did… and then we went and very quickly chose something totally different!!
The name Step and Stone was actually suggested by Victoria of Bridges and Balloons, the brilliant creative agency that had been working with us on our concept planning and branding. We liked it straight away as it seemed bright and modern. It also reflected the essence of Step and Stone perfectly as being a stepping stone to the real world of employment for our young trainees!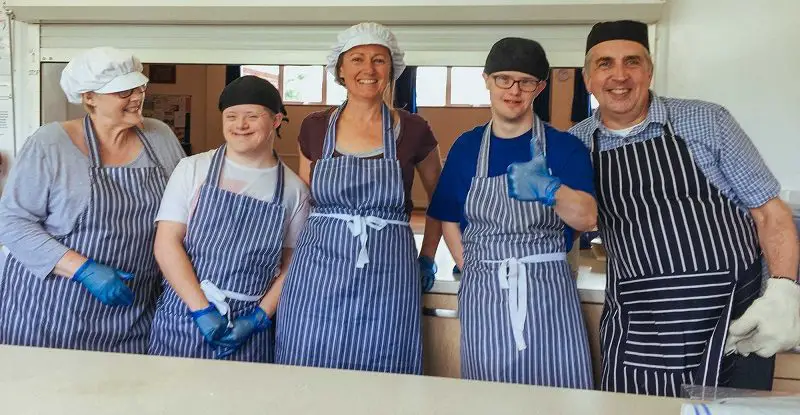 For people interested in working for your business, how can they get involved?
We aim to be a bridge between college or school and paid employment or meaningful volunteering for young people with learning disabilities. The bakery offers high-quality training in both baking and more general skills required for the workplace.
We also have volunteering opportunities for people to come and help out on a regular or occasional basis. If either of these appeal to anyone, please email us on welcome@stepandstone.co – we'd love to hear from you!
The trainees
Andrew is 23 years old and the son of Jane Chong. He is a trainee and attends Step and Stone twice a week. He says: "I like the markets, rolling the dough and oiling the lavosh before they are sprinkled with salt." His favourite recipe to bake is the rosemary and sea salt lavosh.
Chris, 24, and Josh, 19, who have learning disabilities, are also trainees at the bakery. Like Andrew, their favourite recipe to bake is the award-winning lavosh.
Josh says he enjoys; "using the machines, rolling the dough and washing up, of course!" In addition to baking, Josh also has a great sense of humour and says that in the future he "wants to be a comedian," so mixing with a range of people is great experience for the future.
Chris says: "it's good" when baking and that the tasks he gets involved in include making the dough. He also says he has formed a friendship with one of his colleagues, Sam.
Jane Kippax's daughter, Lottie, is 13 years old and is still currently at school. However, she has been to the bakery and enjoyed rolling out the dough. She also came to a market and loved that.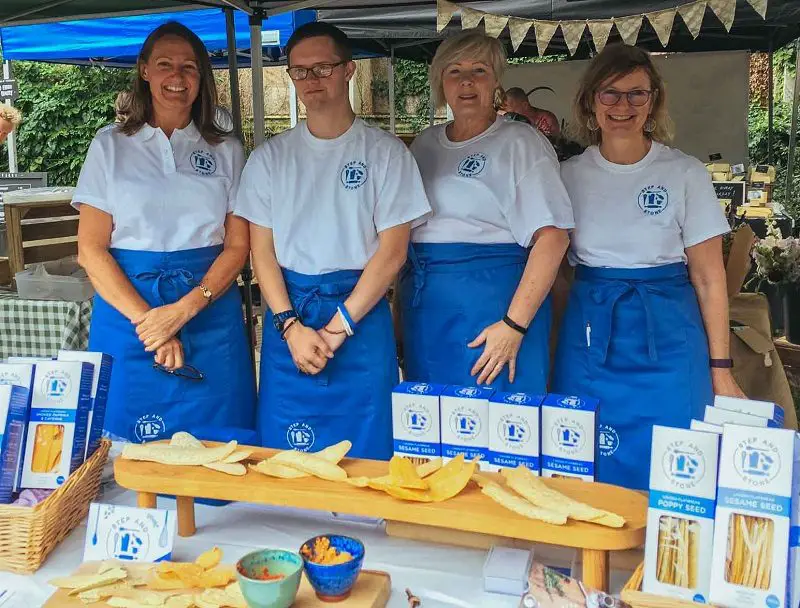 About UnLtd – creating social change for disabled people
UnLtd is an organisation that finds, funds and supports social entrepreneurs to build sustainable social ventures. It believes social entrepreneurs make a difference and need support to flourish.
Since 2002, working in partnerships, UnLtd has supported more than 16,500 social entrepreneurs. These have, in turn, helped more than 870,000 people to improve their lives.
With social and economic inequality growing in the UK, more people than ever are using innovative business solutions to help drive social change. Whether they are providing jobs, improving the lives of people in later life, or making a positive impact, these social entrepreneurs put social purpose at the heart of what they do, ahead of financial gain.
From starting up to scaling up, UnLtd's unique package of support and funding helps social entrepreneurs to realise their untapped potential and build a better society for all.
This summer, UnLtd partnered up with disability charity Scope to help change and transform employment for disabled people. The new partnership is offering two levels of support. The first was the Do It Awards, which offered beginners up to £5,000 of funding. The financial assistance was given alongside a tailored package of support to help their social venture.
The second level of support was the Grow It Awards, which offered up to £15,000 of funding to those who were ready to grow their social venture to the next level.
Visit Step and Stone and UnLtd to find out more about their work and opportunities.
By Emma Purcell
To find out more about Emma and her work, visit her blog Rock For Disability.
More on Disability Horizons…