Lifestyle
4 simple ways you can create positive change for disabled people
I'm all about being a World Changer at the moment. But it isn't as scary or exclusive as it might sound. We all change the world every day when we're thoughtful, compassionate and helpful.
Some are World Changing entrepreneurs, some are World Changing employees, and some are World Changing humans. It doesn't have to be a vocation.
For me, I'm an entrepreneur that values societal values. Through running social businesses, I've learned as much about the importance of health, play and relationships as marketing, team management and product development.
I like to write, share pictures and make videos about this. Sometimes depending on my mood and sometimes depending on the topic. All to create debate and spark new ideas.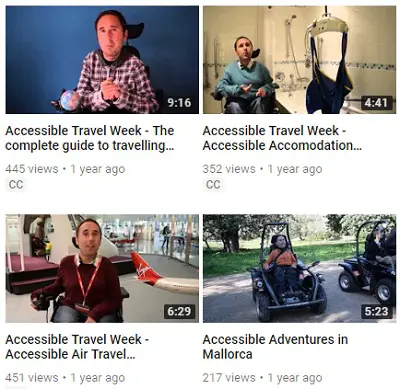 Making change doesn't have to involve monumental tasks – you can make a change every day. Here's how to make a start…
1. Develop creative ideas
Without ideas, what is there? We'd have a fraction of this world we experience. No buildings, no transport, no products, no services and no community. Nada.
Where does creativity come from then? Is it gifted? Is it waiting to be plucked from the atmosphere? Do we download it in our dreams?
Well, I don't have THE answer. However, I can share my experiences and the things that work for me.
Being a world changer means looking at the bigger picture, using your imagination, and ultimately being positively creative. So purposefully consume things you're passionate about, things that are truly relevant, things that help you join the dots and make the world better.
I love those moments when time disappears because you have so many ideas. When we're so absorbed by a task we lose our senses. Remember suddenly being aware of your hunger, thirst or need for the loo after creating something beautiful? Flow states are amazing experiences.
A few people worth checking out: Tim Ferriss, James Altucher, John Acuff and Vishen Lakhiani. It might just get your creative juices flowing…
2. Keep turning up
A few weeks ago I was in Valencia for my accessible tourism work. The photo below is from inside the beautiful San Nicolas church. Imagine the hours it took to painstakingly turn up and create this beauty. The people, the sweat, the politics and the fear.
In my life, the brushstrokes are the conversations, the idea generation, the collaboration, the action and the impact. All for a fair and inclusive world.
No matter what, to create your masterpiece and change the world you have to persist and make your voice heard.
3. Nourish yourself
When I hit 30 I started to feel the effects of my lifestyle. My diet has also never been great. Whilst I looked after myself ok, I definitely neglected downtime. Needless to say, I felt heavy and tired.
If we're going to have bold visions and extravagant plans, we really need to be on top form. As with exercise and sleep, we're the goose laying the golden eggs. Best look after the goose right?!
Tangible points from this video are on eating organic food and taking supplements.

You can see Martyn's video series on nourishing yourself by visiting Martyn Sibley's YouTube channel.
4. Get out there and live your life
I've recently been trying to arrange transport in Poland for early next year. It's so that we can see my fiancee Kasia's parents over near to Christmas. In the summer we usually drive and therefore have the adapted car. But in winter, flying to Poland is definitely preferable. Providing I can find a wheelchair-accessible vehicle from the airport to my final destination.
Why am I sharing this story? Well, the fact is we will find a way – we always do. It might be perfectly accessible, but a little pricey. Or it might be cheap, but I'll need to be lifted out my chair. It might be a friend's van where I bounce around in the back with random cargo.
It doesn't really matter. The point is, once we overcome these inconveniences, solutions will be provided for anyone else in my position looking to fly to Poznan in Western Poland.
So, when I talk about changing the world, what I really mean is something quite easy and simple. Just by living our lives, learning as we go, finding answers, we do two things:
find answers for others to benefit from;
highlight an unmet need and give people opportunities to create new products and services.
So, in many ways, you don't need to start changing the world – you're probably already doing it. Every single day, just by being you. Pretty awesome right?
By Martyn Sibley
Small or large – we all making a difference in our own way. How do you create change? Let us know by leaving your comments below, messaging us on Facebook or tweeting us @DHorizons.
More on Disability Horizons…