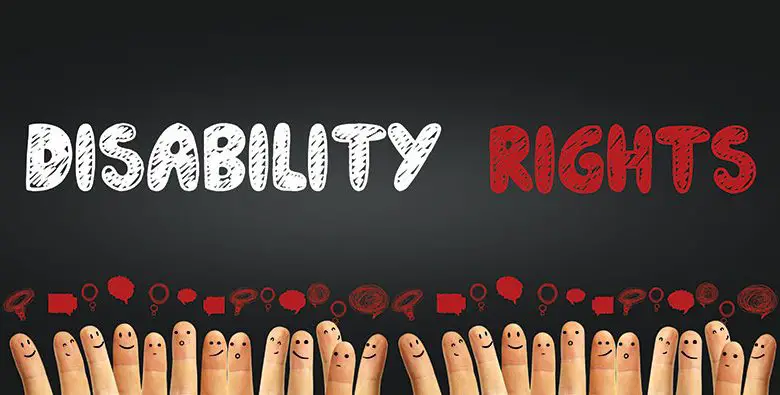 The rights that we as a disabled community have – and may even take for granted – have been fought for by disability rights activists, working tirelessly to help create change. Here, our writer Raya Aljadir takes a look at eight extraordinary people whose work has undoubtedly had an impact on disabled people's lives.
I am sure you would agree, we owe a lot to disability rights activists from across the world. I would love to highlight them all in this article, but it would be impossible. So, I have tried to be as diverse as possible, including people of mixed genders and various background, and representing a wide variety of disability rights.

Video created using Invideo.io.
If you know of any disability activists that should be celebrated – or if you are indeed one yourself – let us know by leaving your comments below, messaging us on Facebook or tweeting us @DHorizons.
Buy Disability Activist T- Shirts and Hoodies on the Disability Horizons Shop or click the image below to shop on our Etsy Store
Dr Victor Pineda
Wheelchair user Dr Victor Pineda was born in Caracas, Venezuela. He was diagnosed with spinal muscular atrophy Type II as a child and uses a ventilator 24 hours a day.
An expert on building accessible and inclusive cities,  he's a social development scholar – someone that looks at how the development of society affects people's lives – a consultant and international speaker. You can watch him above talking about how society should approach disability.
In 2003 he launched World Enabled (also called the Pineda Foundation). It combines the efforts of disabled persons' organizations and intergovernmental agencies from across the world, to help build inclusive societies and promote the rights of people with disabilities.
He has studied business, politics and urban development, and has a Batchelor of Art, Batchelor of Science, Masters and PhD. He has consulted with and advised more than 500 influential companies and organisations, as well as government, on developing disability-friendly policies and inclusive design.
He's an honorary president of the Global Alliance for Accessible Technologies and Environments, an international organisation aimed at encouraging accessibility in the built and virtual worlds. He was also the youngest person to participate in the drafting of the United Nations' Convention on the Rights of Persons with Disabilities.
Nabil Shaban
Nabil Shaban is an actor and writer who co-founded Graeae, a professional theatre company for disabled performers. Born in 1953 in Amman, Jordan, he arrived in England when he was just three years old for treatment for his osteogenesis imperfecta (also known as brittle bones). He spent the next six years in hospital and then seven in a children's home.
In 1997, Shaban was awarded an Honorary Doctorate by the University of Surrey for services in the promotion of Disability Arts. He has many film and television credits to his name, but is probably best known for his role as ruthless Sil in the Doctor Who stories Vengeance on Varos and The Trial of a Time Lord (BBC, 1985 and 1986). He has also written a number of books and plays, many of which centre around disability or have a disabled character as the lead. You can visit Amazon to take a look a Nabil Shaban's books.
Graeae theatre company has built up a strong reputation for high quality, challenging work that has played to mixed audiences across the country. It has allowed Shaban and fellow members to write, produce and act in a variety of roles that would otherwise be closed to them.
Alice Wong
Alice Wong, who has spinal muscular atrophy, is a research consultant and disability rights activist based in San Francisco. In 2014, on the 25th anniversary of the Americans with Disabilities Act of 1990, she founded the Disability Visibility Project. It works to 'create, share and amplify disability media and culture' by collecting historical recordings of interviews with disabled people in the United States.
Alice has a Masters of Science in medical sociology and worked as a researcher at a university for 10 years. During that time she was involved in a number of disability-related research projects and co-wrote numerous research papers.
She has been recognised for her work in activism with a number of awards, including a Beacon Award in 2010 for leadership on behalf of disabled people. In the same year, she received a Disability Service Award for her using her research to advance access and accommodation for disabled people.
From 2013, for two years, Alice served as a member of the National Council on Disability, to which she was appointed by President Barack Obama. She is also an advisory board member for Asians and Pacific Islanders with Disabilities of California, which aims to give a voice to Asian and Pacific Islanders with a disability.
In addition to the Disability Visibility Project, Alice is a co-partner on DisabledWriters.com, which helps editors find disabled writers and journalists; #CripLit, a way for disabled writers to connect on Twitter; and #CripTheVote, which encourages disabled people to take part in politics.
In 2015, Wong attended the reception at the White House for the 25th anniversary of the Americans With Disabilities Act via telepresence robot. She was the first person to visit the White House and the President by robot presence.
Emmanuel Ofosu Yeboah
A Paralympic athlete and activist from Ghana, West Africa, Emmanual was born in 1977 without a right shin bone, which resulted in a severely deformed leg.
Many disabled people in Africa are believed to be cursed, and so shunned from society. In fact, Emmanual's own father abandoned him. But his mother stood by him, pushing Emmanual to pursue his dreams. He attended school, which he had to hop more than two miles to get to, but left home at the age of 13 to provide for his family by shining shoes.
Spurred on by the death of his mother years later, Emmanual wanted to bring attention to the plight of disabled people. So, in 2001, he rode 400 miles across Ghana to show people that disability doesn't mean inability. Along the way, he spoke to disabled children and gave speeches to church-leaders and dignitaries.
After completing the cross-country trek, the Challenged Athletes Foundation (CAF), which gave him a grant for the bike ride, invited him to participate in the Triathlon Challenge in California. He completed the 56-mile event in seven hours.
While in the USA, Emmanual was told that he was eligible for a prosthetic leg, which he was offered for free. Following successful surgery and a six-week recovery, Yeboah entered the CAF Triathlon Challenge again, reducing his time by three hours.
Yeboah was subsequently awarded the CAF Most Inspirational Athlete of the Year Award and Nike's Casey Martin award for Paralympic sporting achievements, receiving approximately $50,000.
Upon returning to Ghana, he used the money to open the Emmanuel Education Foundation for promising students with disabilities. He is currently working on building schools for children in Ghana, with or without disabilities.
Jane Campbell, Baroness Campbell of Surbiton
Well-known British activist Baroness Jane Campbell has helped push for change for disabled people through her numerous high-profile roles. She has actively focused on the social care field and is a campaigner and adviser for disability reforms.
In 1996 Jane co-founded and directed the National Centre for Independent Living (NCIL), which aims to develop advancements in independent living and rights for disabled people. After six years there, she was appointed as chair of the Social Care Institute for Excellence, which aims to deliver accredited training and development for the social care sector.
She also chaired the British Council of Disabled People, the UK's national organisation of the Disability Rights Movement, and co-authored a book Disability Politics.
In 2001 she was appointed a Dame Commander of the Order of the British Empire in the Queen's Birthday Honours. In 2003, Jane was awarded an honorary doctorate in law from Bristol University and another in social sciences from Sheffield Hallam University.
From 2006 to 2008 she was commissioner of the government's Equality and Human Rights Commission, monitoring the UK's human rights and protecting equality. She also chaired the Disability Advisory Committee, where its members use their expertise to advise the commission on its work protect and promote disability rights.
In 2007, Jane was made a life peer (where members are given titles) and asked to sit as a crossbencher in the House of Lords.
Ola Abu Al Ghaib
Founder of the Stars of Hope Center, a disabled persons' organisation that focuses on the empowerment of women with disabilities in the middle east, Ola has spent her life advocating for the rights of people with disabilities. At just twelve years old, she had an incomplete tetraplegia spinal injury, caused by a tumour.
She has a Masters in Project Management and has worked as a consultant with a number of world-recognised organisations, including UNICEF, UNESCO and the World Health Organisation.
She's currently the vice-chair for the International Disability and Development Consortium, which promotes inclusive development, and Director of Global Influencing and Research at Leonard Cheshire Disability. She's also a board member for Global Disability Innovation Hub, which brings together research and innovation from around the world, and Disability Rights Fund, which gives money to organisations across the world to help change the lives of disabled people.
She's also previously worked for the German Organisation for the Disabled, CARE International, Handicap International, and the Swedish Organisation of Persons with Disabilities International (SHIA).
Simon Stevens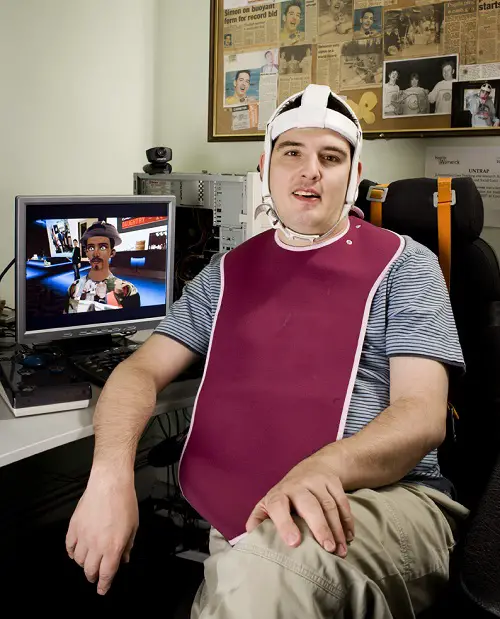 Coventry-based Simon Stevens, who has cerebral palsy, mild bipolar, asthma and acute neuropathy, has been an outspoken activist for a number of years. He set up his own business, Enable Enterprises, through which he works as a disability consultant, trainer and advocate.
He's worked with a variety of national and international organisations, including Scope, National Housing Federation and the Department of Health. He's also a trustee of Skills for Life, which aims to build a skilled social care workforce. He was given the Enterprising Young Brits award in 2004 for his work to date.
He's also starred in I'm Spazticus, Channel 4's disability prank show, and has blogged for the Huffington Post since 2013.
Simon is an active Second Life user, a virtual world where people can act out alternate lives. He was the first participant to use a wheelchair as part of his avatar character. He subsequently founded Wheelies, the world's first disability-themed virtual nightclub within the Second Life world.
He's a very open and honest campaigner, which means his views are not always popular.
Read Simon Steven's first-hand story to find out more about him why he's happy being outspoken.
Javed Abidi
Born with spina bifida, Javed was an Indian activist who studied journalism and communication in Ohio. He was instrumental in the drafting India's The Persons with Disabilities Act 1995, ensuring that sometimes forgotten disabilities, such as autism and dyslexia, were included.
From 1997 he worked as the director of the National Centre for Promotion of Employment for Disabled People (NCPEDP) in India. NCPEDP is a non-profit organisation that aims to bring government, industry, international agencies and the voluntary sector together to empower disabled people.
In 2001 he became the chair of the Disabled Peoples' International, a global organisation working to promote disabled people's rights across the world. In 2013 he moved to be vice-chair of the International Disability Alliance, which brings together eight global and six national disability organisations.
He also set up the disability wing of the Rajiv Gandhi Foundation in India, where people from underprivileged backgrounds can focus on solving issues, including health problems, and developing skills, such as literacy. He went on to found the Disability Rights Group. He sadly died this year at the age of 53.
If you know of any disability activists that should be celebrated – or if you are indeed one yourself – let us know by leaving your comments below, messaging us on Facebook or tweeting us @DHorizons.
By Raya Aljadir