Lifestyle
A survival guide to Naidex at NEC Birmingham if you're disabled
Next month sees the return of Naidex for 2020, and Disability Horizons will there at stand N114. For those coming to the event, we've asked blogger Karla Baker to share a post from her blog Adventure Wheels on how to get the most out of Naidex and the NEC.
---
Find out about Naidex 2022, the new focus on lifestyle and our NEW Disability Horizons Martketplace where you'll find innovative and affordable products to take home on the day.
---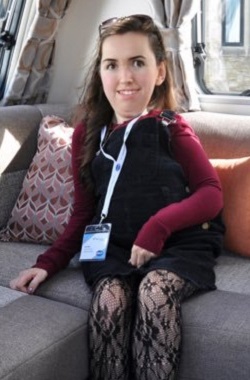 If you have ever attended a big event at the National Exhibition Centre (NEC) in Birmingham then you will understand that it pays to be organised. So, with Naidex 2020 starting soon, I thought I'd share some of the tips I've picked up from several years of visiting the NEC.
Plan your day/s at the NEC
When I was new to big exhibitions I naively just turned up, hoping to figure everything out as I went along. But I quickly realised that I could have saved a lot of time and hassle if I had been a bit more organised.
Firstly, you need to work out which day/s you want to go. A lot of this will be down to your own schedule, but there are other things you should factor in too. Are there any particular talks you want to see? Any friends you want to meet up with while you're there? I find it is always more relaxed and enjoyable to spread it out over more than one day.
Get the most out of your Naidex ticket
Although the shows are a fantastic opportunity to see all the shiny new accessibility gadgets under one roof, there is a lot more to it than that. So why not take full advantage of the many things on offer?
Being Europe's most established trade, professional and public event dedicated to people with disabilities, there really is so much to see and do. This includes 350 exhibitors showing a wide range of thing, including:
wheelchair manufacturers;

accessible travel companies;

mobility aids

care companies;

charities and more.
It's a fantastic opportunity to get personalised advice directly from the manufacturers themselves, so you know what would best suit you before spending your money.
Aside from all of the invaluable information on offer, there will also be plenty of opportunities to get stuck in. The Mobility Test Track (see image below) enables you to try out powerchairs across a variety of terrain and obstacles.

There is also the Moving and Handling Lab, where you can take part in interactive training sessions, and a Live Sports Arena where you can try your hand at numerous inclusive sports
You can also attend a number of inspirational seminars, ranging from advice on relationships and employment, to travel tips – all given by people who are experts in their field.
There really is so much to see and do, it's worth checking out the show guide and list of exhibitors at Naidex to help you plan your visit.
Lists for your Naidex visit
As a bit of an organisation freak, lists are my best friend. I find it really helpful to have one detailing:
who/what you want to see;

the stand number they are situated at;

any questions you might want to ask them.
If there are a number of seminars on that you are interested in seeing, it would be worth making a note of who is speaking, at what time, and the theatre number they are at. You can view a Naidex seminar timetable on the website, along with a floorplan for guidance. You'll also get a show guide when you arrive.
Food and rest breaks at NEC
Wandering around the bustling stalls all day means you are bound to get peckish. The NEC is certainly not short of places to eat. However, if you have certain food requirements or just don't want to pay a small fortune, it might be worth bringing a picnic.
There are plenty of seating areas throughout the halls and main atrium, but I always like to combine lunch with getting some fresh air and head to the benches outside for sandwiches and a breather.
If at some point you need to use the restroom, there are plenty of facilities scattered around. This includes a Changing Places toilet, both inside the Naidex event and in the main NEC atrium (hall 20).
Wear suitable clothing
With our unpredictable British weather, in March it may be tempting to dress up warm. But be prepared to peel back the layers as soon as you get inside as the halls are full of people and can get pretty warm.
If you want somewhere to keep these layers safe while you're looking at everything Naidex has to offer, there are cloakrooms that will take care of your belongings for a small fee.
Make sure what you wear is comfortable and practical, especially your shoes – it's a large space to get around! Oh, and charge up your wheelchair batteries, you will easily clock up a few miles just exploring the stalls.
Don't make big decisions under pressure
Under the sparkling lights of the NEC it's easy to get drawn to things. But don't be tempted to make an impulse buy! With small purchases, this is less important. But if you're considering buying a more expensive item, then make sure you are 100% sure it's the right one for you.
You can always step outside of the hustle and bustle for a while to mull it over and come back later. Or, another option is to sleep on it – your ticket is valid for both days, so if you're visiting on Tuesday, you can always return the next day.
Enjoy yourself!
My last but most important tip is to just to enjoy yourself! It's a fantastic opportunity to take a look at the latest gadgets and newest accessories, try them before you buy, get advice from the experts, meet like-minded people and more, so have fun!
By Karla Baker – read more of Karla's posts on her blog Adventure Wheels
Disability Horizons will be at stand N114 at Naidex on 17th and 18th March 2020. Please come and say hi and meet other members of the Disability Horizons community. And remember, Naidex is FREE! If you're still not convinced, here are three things Naidex has to offer…