Lifestyle
The Able Label: get 10% off practical and stylish adaptive clothing for disabled women
Daily dressing is something that can, for so many, be challenging. Fiddly buttons and zips, as well as the need to bend and stretch, mean that a lot of high street clothes are unwearable or require help to put on. That's why adaptive clothing brand, The Able Label, was created – to give disabled people functional fashion and their independence. Founder, Katie Ellis, rounds up 10 buys from the shop.
DON'T MISS our 10% discount on The Able Label for Disability Horizons readers – simply use the code DISHOZ10.
When my grandmother developed Parkinson's disease, I saw first-hand how much she struggled with dressing. Everyday fashion meant she relied on my grandfather to dress, stripping her of her independence.
Depending on your disability, lifting your arms above your shoulders to get clothes over your head, or bending down to pull up trousers or skirts, can be particularly difficult. And this can be even trickier if you are a wheelchair user.
With my eyes having been opened to the issues, I was inspired to create an adaptive clothing collection for disabled people. Combining the latest colours and trends with adapted designs that make dressing easier, the range is a perfect balance of fashion and function.
The desirable and dress-able clothes use quality fabrics, discreet adaptive designs and innovative fastenings to make dressing quicker, easier and safer. Yet, when they're worn, no one would ever know they are adaptive clothing.
All the clothes are beneficial to anyone who has reduced movement, limited hand dexterity and strength, poor balance or faces fatigue. And, because the adaptive clothing is specifically designed to make dressing easier for disabled people, they are eligible for VAT exemption.
There are also free returns on all orders to ensure you find the right item for you. Should you have any specific requirements, The Able Label has an alterations service as well.
Make sure you don't forget to use code 'DISHOZ10' to get 10% off.
Adaptive clothing – 10 picks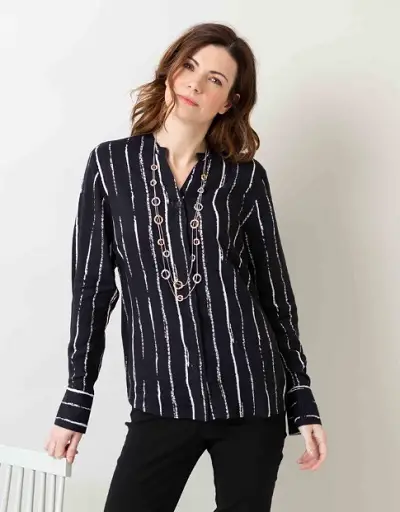 Buttons on this long-sleeve, collarless shirt are purely for display as the shirt securely closes with premium Velcro. With a relaxed fit, it is made from 100% breathable viscose, which makes it easy-care. If stripes aren't your style, it's also available in two other designs.
Debbie maxi Velcro wrap skirt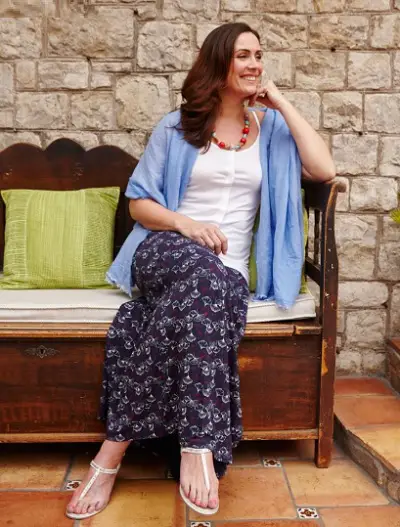 Like with all of The Able Label skirts, the Debbie maxi skirt fully opens, meaning minimal balance is required. Simply open the skirt, lay it flat onto the bed or your wheelchair, sit back into it, wrap and fasten.
It has convenient side pockets to make accessing essentials easier, and the back of the waistband is elasticated for comfort. Being 38 inches long, it offers good coverage and has a beautiful drape, making it very popular with wheelchair users. It is available in three different patterns (including the one above).
Palazzo jersey pull-on trousers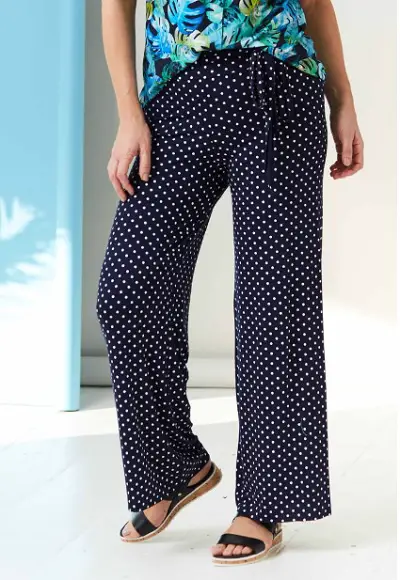 The stretchy viscose fabric and elasticated waistband with no fiddly fastenings make these trousers easier to get on and off. With a stylish and comfortable wide leg and high waist, they are perfect for keeping you cool and comfortable. They are also quick drying and easy-care.
Kerry super-stretch Velcro denim jeans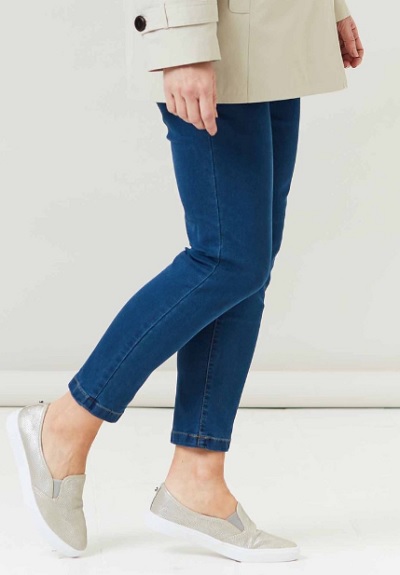 Perfect for everyday comfort, these five-pocket jeans have a Velcro fly, making them ideal if zips, buttons and popper fastenings prove a challenge. They're made from a super-stretch fabric for comfort and ease of dressing, and the belt loops are designed to make pulling the jeans up and down easier.
Maria jersey Velcro-front vest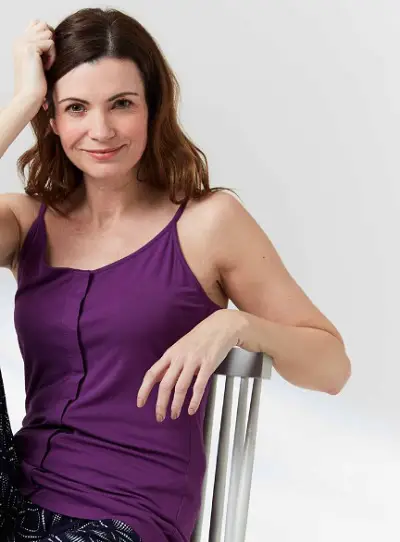 Whether you wear vests to layer for warmth or cool down on hot days, the Maria vest makes dressing a breeze. It fully opens at the front and Velcro securely closes it, so avoids overhead dressing. The longer length means the vest can be tucked in if desired, and the soft viscose fabric is lightweight and feels lovely against the skin. The vest comes in a variety of colours and pairs perfectly with The Able Label shirts.
Maisey Velcro mac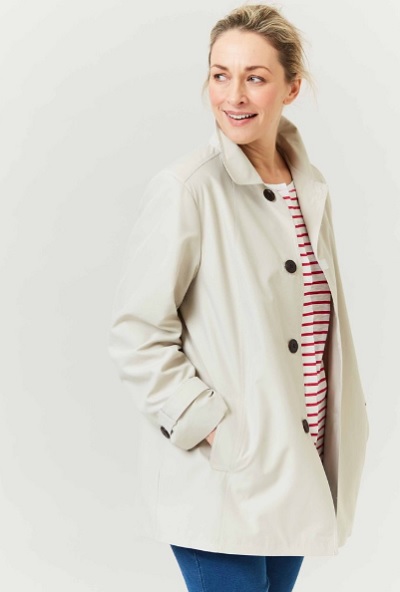 As well as adaptive clothing, we also offer adapted outerwear. This short-length, lightweight microfibre mac has a silky lining to make getting it on and off easier. It fastens with Velcro, but still has buttons for display. That means there are no fiddly zips, poppers or buttons to contend with.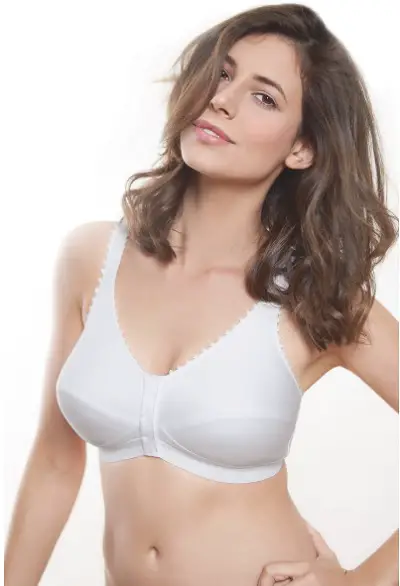 We also have a selection of underwear, including front-opening bras and incontinence knickers. Here, we have focused on the 1020 bra in white as it's a wardrobe staple.
The Velcro opening at the front, which closes securely, means it is easier to get on and off. The bra has no underwire and is made from a super-soft quality Prima cotton, so is very comfortable. Sizes range from B-DD and 32-44 and it also comes in black.
Pippa Jersey PJ set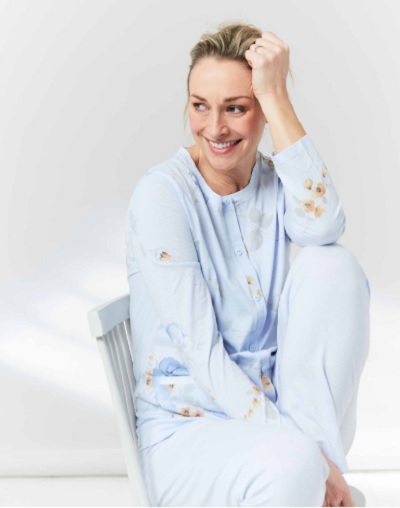 Our Pippa PJ set is not only stylish, with a pretty floral print and lace-trimmed pockets, but it is also practical. Velcro sits in place of buttons on the top and the trousers have an elasticated waistband, so can be easily pulled on. Made from pure cotton fabric, both are extremely comfortable too. It also comes in pink as well as blue.
Clemence Velcro-fastening nightdress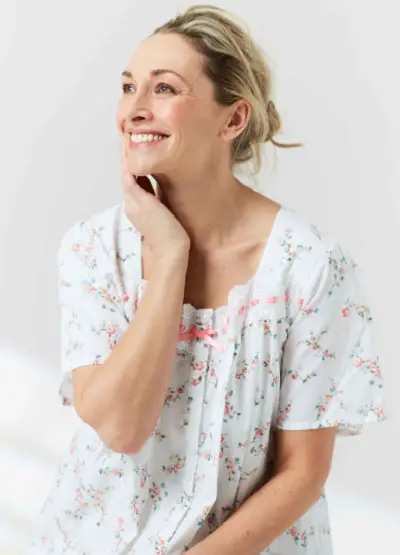 All nightdresses from The Able Label open at the front to aid independent dressing. Instead of having fiddly buttons, they all have Velcro fastenings, so there's no need to try and get it overhead. The pretty nightdress is a flattering relaxed shape, too, so suitable for at home or hospital stays.
To complete your look, we have a wide range of jewellery that is also easy to put on. It includes magnetic-fastening necklaces and bracelets, long necklaces that are easy over your head and clip-on earrings. 
Visit The Able Label and use the use code 'DISHOZ10' to get 10% off NOW.
By The Able Label
More on Disability Horizons…