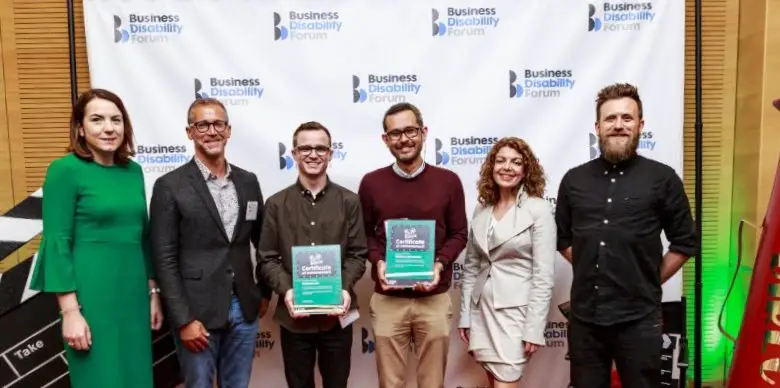 Winners of the Business Disability Forum's Film Festival Challenge 2019 were announced on 18 June at a prestigious event in London, hosted by KPMG. Entries from all five finalists were premiered at the festival. 
The film festival, now in its third year, recognises and celebrates the talent of fresh, young film makers. The challenge has opened doors for previous winners and finalists, with many achieving greater success within the industry.
This year, film makers were set a challenge to produce and submit a short film in just 10 days in answer to the question:
Identity through the lens of disability, what does this mean to you?
Entries were judged by a panel of leaders from the world of TV, film, and disability. Five finalists were chosen to have their work premiered at Business Disability Forum's Film Festival event, which was attended by leading names in business, including Shell, PwC, Barclays plc and Channel Four Television.
Winners were announced at the event and awarded prizes, including work placements with film production companies 1stAveMachine and Flare Studios, as well as cameras and equipment donated by Amazon, Shell and Enterprise Rent-a-car.
The winners
Winners and finalists of Business Disability Forum's 2019 Film Festival Challenge 2019 are as follows:
1st place – Same Difference, entered by team Wolfpack.
2nd place – IV (Four), entered by team JRZ.
3rd place – No Guesses Found, entered by team ELK Medium.
Highly commended – The Only Way, entered by Valentina Catenacci.
Highly commended – Unique, entered by team Don't Give Up!
Same Difference created by team Wolfpack
First place winning entry Same Difference was created by Samuel Ash and William Horsefield (also known as team Wolfpack). Same Difference is based on their experiences of deafness.
Samuel is a third-year student at the University of Wolverhampton. He will be graduating this September with a BA Hons in Film and Television Production. William graduated in 2018.
Speaking about their experiences of taking part in the film competition, Samuel said:
"The competition gave us the opportunity to share our experiences – who we are and our identity, using our best skills – video. When we reflected, we realised that we have achieved a lot in our lives.
We wanted to convey that and create a positive film showing that Deaf people can achieve anything they desire. Our biggest challenge was editing down the film. We had to cut it down a lot."
IV (Four) created by JRZ
JRZ are Zoe Norgrove, Ritesh Vara and John Ford. Their entry IV (Four) was awarded second place. The film explores the world from the perspective of someone with Obsessive Compulsive Disorder (OCD).
Zoe and Ritesh are final year students at Staffordshire University, studying animation and advertising film and music video production. John is a recent graduate in Digital Film Making from the SAE Institute Glasgow.
Speaking about the Film Challenge, Zoe said:
"We entered the competition last year and enjoyed it so much that we wanted to do it again! It's a great opportunity for us to stretch our creativity and convey our own personal messages in regards to disability.
In our experience, it becomes so easy to doubt yourself and become defined by your disability rather than your own personality traits and we wanted to explore and hopefully show that in our film."
No Guesses Found created by ELK Medium
Georgie Cubin and Jane Leggat's entry, No Guesses Found, was awarded third place. It explores how dyslexia affects people in different ways, showing that there is no universal experience of disability.
Georgie is a second year studying film production at University of Central Lancashire, and Jane is a third year studying film and sociology at Lancaster University. Speaking about No Guesses Found, Georgie said:
"In my experience, most people have preconceptions, but few people understand disability as a lived experience if they do not experience it themselves. We wanted to breakdown these preconceptions and show that there is no 'type' of person with a disability.
People of all ages and social backgrounds can be affected. We also wanted to make an experimental documentary, which explored this issue in both its content and construction. Editing in this style was a big challenge."
Judging
This year's judging panel comprised of:
Oliver Kent, a former BBC producer.

Neil Shanlin, Creative Director/Creative at AMV BBDO.

Noeleen Cowley, Partner, Banking Operations and Customers at KPMG.

Diane Lightfoot, CEO, Business Disability Fo. 
Noeleen Cowley said:
"The stories that are told through the videos serve as a powerful way to educate society and business on the realities of having a disability. "
To watch all of this year's winning films, go to the Business Disability Forum winners' page.
By Business Disability Forum
More on Disability Horizons…