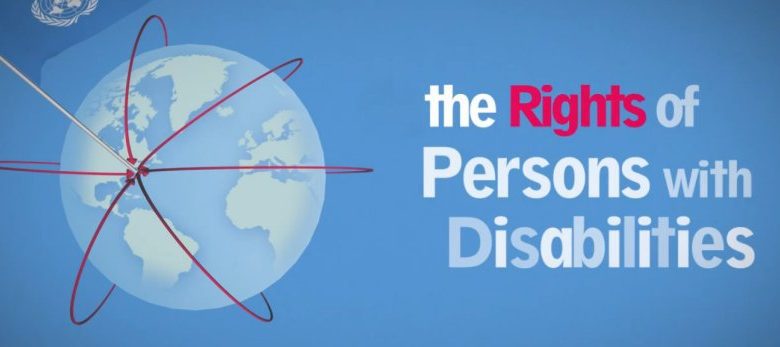 News
United Nations' Conference highlights importance of collaboration and innovation for disabled people
Philip Hanks, Leonard Cheshire's International Partnerships Manager, reflects on the charity's participation at this year's United Nation's Conference of State Parties on the Convention of the Rights of Persons with Disabilities (CRPD).

When the CRPD was first adopted in 2006 it was encouraging to see organisations coming together with a common goal to ensure disabled people are given the same opportunities.
While progress has been made since then, globally there is still a lot of work to be done. That's why it was important for Leonard Cheshire to attend the United Nation's Conference of State Parties (COSP) of the CRPD, not only to hear about the progress being made, but to report on the gaps that still exist. It was also an opportunity to engage in discussions around how we can work together to accelerate progress.
We had a busy and productive week at the 12th annual session in New York, which took place on 11th to 13th of June, both hosting and participating in a number of side-events synonymous with the themes of this year's conference.
Innovation and technology for disabled people
One of the central themes of the conference was around how technology and digitalisation can help empower and include disabled people. With this in mind, we hosted a side-event to showcase the pioneering Department for International Development-funded Aid Connect 'innovation to inclusion' (i2i) project.
At the event, we led a consortium of speakers to talk about the programme, which is based in Kenya and Bangladesh. The project explores how technology can be utilised to help improve access to and retention of jobs for people with all different types of disabilities.
The disability employment gap remains wide across the globe, including in the United Kingdom. It is, therefore, essential that new tactics and programmes are explored in order to address this issue This is particularly important if we are to achieve goal eight of the Sustainable Development Goals (SDG) by 2030, which aims to give everyone, including marginalised groups, access to decent work.
As the use of internet-enabled devices continues to increase around the world, the i2i programme is demonstrating how technology can be used to engage with disabled people in the workforce.
Collaboration and innovation are powerful tools, and this project utilises assistive technology to improve inclusive recruitment, incorporating it into skills assessments and development, job matching and support once in the workplace.
Youth advocacy of disabled people
While the i2i event was a great way to demonstrate the collaborative projects that are being implemented to help progress the CRPD, perhaps one of our most powerful forces at COSP were the youth advocates we had invited along with us.
Regina Mwangi, one of the lead citizen reporters from Kenya on our 2030 and counting project, as well as Markus Mathew, a disability rights advocate from the Philippines who was also involved in the project. They demonstrate the power of youth advocacy in helping to influence key policy makers and government representatives.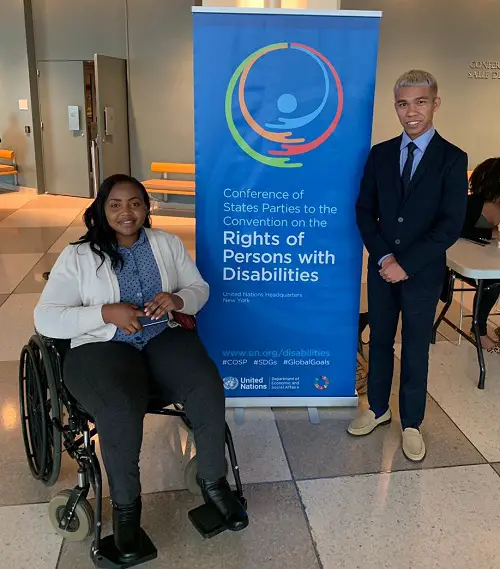 Regina and Markus attended a number of events to talk about their own experiences and discuss the influence technology has had in helping them raise awareness about the issues disabled people face in their own countries.
They were able to share insight on how technology was utilised in the '2030 and counting' initiative to gather evidence and demonstrate to government the challenges and gaps disabled people are facing. This is particularly in relation to health, education and employment.
COSP was the perfect platform to discuss the impact of the project. At the end of the year-long pilot, 61% of participants, an increase from 20%, strongly agreed that they had the necessary skills to advocate for the rights of people with disabilities.
The project's Disabled People Organisation (DPO) partners have also identified a range of opportunities to continue engagement with policymakers, keeping the momentum of the project and demonstrating its effectiveness.
In the lead up to COSP we also launched our 'Missing Voices' mini-documentary web series, which depicts just some of the powerful tales the citizen reporters uncovered as part of the unique collaboration.
Regina and Markus attendance at COSP helped solidify the importance of youth empowerment. Youth with disabilities are currently one of the most marginalised groups in the world, so it's essential they have a seat at the table when it comes to influencing the policies that affect them.
The conference provided a great platform to open up intergenerational dialogue and gave Markus and Regina an opportunity to engage in discussions on how we can effectively work together to affect change and inspire future generations.
Inclusive education
When it comes to nurturing youth with disabilities, one of the key areas where globally, we still appear to be falling down is inclusive education.
This was a key discussion point at COSP and one we felt passionate about being involved in. As such, it was an appropriate time to launch our 'Every learner matters: Unpacking the learning crisis for children with disabilities' report.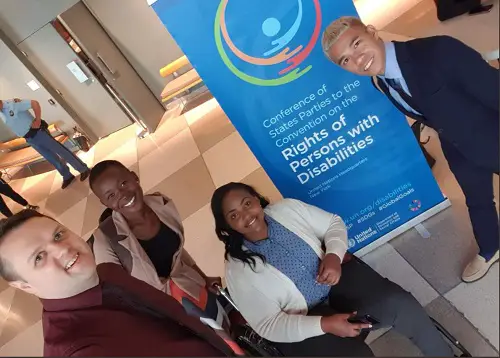 Produced in collaboration with The World Bank and funded with support from Inclusion International, the report highlights that, despite rapid improvements in the quality of education around the world in recent years, the experiences of children with disabilities still remain unchanged.
Under the United Nation's SDG four, it states that children with disabilities should not be left behind and must have equal opportunities in education participation, learning and achievement. At the moment, it doesn't seem as if we are on the right track to realise this goal.
Discussing this report at COSP we were able to drive home the realities of where we stand at the moment. While the quality of the material children learn at school is important, it seems as if this has taken precedence over ensuring children with disabilities are enrolled in school in the first place.
Continuous assessment and evaluation is needed to make sure that this focus is not lost as education continues to make improvements. In fact, it is important to continue to gather and improve disability data collection in all aspects of inclusion in order to monitor progress and make recommendations for change.
While it is encouraging that progress has been made in 75% of the 1,000 commitments made in the CRPD, we must not be complacent.
Disabled people deserve more inclusive societies in which to live and work and we need governments around the globe to fully implement the CRPD as part of the overall work on the SDGs.
By Leonard Cheshire
More on Disability Horizons…