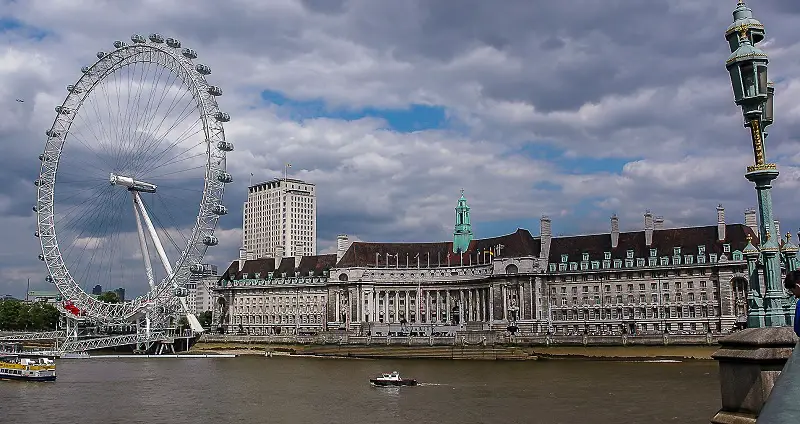 Do you need a getaway after the hustle and bustle of the holidays? You should consider heading to one of the most-visited cities in the world – London! After spending the day visiting popular tourist destinations, including Buckingham Palace, Tower Bridge and the London Eye, you'll be ready for a rest. Here, disability equipment rental company, Strive Mobility, lists 10 accessible hotels in London to make the most of your visit.
From personal experience, we at Strive Mobility know that even a simple weekend away can become stressful if you don't have an accessible room or the right equipment.
We also know that trying to travel to your chosen destination with a load of disability aids can be just as frustrating – not the great start to a break away. So that you don't have to cart everything you need with you, we can deliver your wheelchair, scooter, hoist, ramp or even an electric bed right to your hotel room, making your journey to London easier.
Now you know that's sorted, it's time to book your hotel…
Copthorne Tara Hotel London Kensington
By staying at the Copthorne Tara Hotel London Kensington, you'll be nearby to Kensington Palace and Gardens. From your base at the hotel, you can take a tour of the palace-  which has been a residence of the British Royal Family since the 17th century – and then walk through more than 100 hectares of nature in the gardens.
The hotel has 10 accessible rooms, all with adjoining rooms for PAs/carers, if needed. The rooms are spacious, have power-assisted doors and include an accessible bathroom.
Eight of the rooms have roll-in showers and two come with a bath. The rooms with baths also have a hoist between the bed, toilet and bath.
In all accessible rooms, there are also bedside control panels that enable you to operate the radio, television and room lights from the comfort of your bed.
The Tower Hotel
As its name suggests, The Tower Hotel is in close proximity to the London Tower Bridge and the Tower of London, as well as monuments, a cathedral and museum. It has an in-house bar and restaurant called The Brasserie, and is near a collection of cafes and restaurants at St. Katherine Docks.
It is also near the Tower Hill tube station, which is wheelchair accessible and connects you with other parts of the city. Rare for London, this hotel has parking too, including two disabled spaces near the hotel entrance. If you'd rather grab a cab, taxis can pull up right outside the hotel.
Its accessible guest room includes a bathroom with a roll-in shower, pull-cord alarm, shower seat and handrails. It also has automated doors. There isn't an option for an adjoining room, but the accessible room is a double.
The building itself has ramps throughout and lifts. As well as reading the accessibility information on the hotel's website, you can also read this review of The Tower Hotel from a blind traveller.
Premier Inn London County Hall
If you're looking for a more affordable option, the Premier Inn London County Hall hotel is a good choice. It is located near the London Eye, Big Ben, and the Houses of Parliament.
This hotel has lifts and its 17 accessible rooms are spacious. As most wheelchair seats are 48cm high, its beds and baths have been designed with that in mind, although you can request the bed to be raised. Its spy holes are also at a lowered height too.
Because it's a listed building, it can't install 'standard Universally Accessible' bathrooms. However, its bathrooms still have wide entrances, assistance cords and non-slip surfaces. You can either choose a room with a lowered bathtub with handrails or – subject to availability – opt for a wetroom (see below).
You can read these two reviews of the Premier Inn County Hall for first-hand views of the experience.
Aloft London Excel
Located near the London City Airport, this a good option for anyone planning to go to an event or conference at The O2 or ExCeL London. It's a short distance from Greenwich, a borough on the banks of the River Thames, which makes a great excuse to go and explore for a day.
Aloft London Excel has nearly 20 accessible rooms, each with wide doorways and a lowered peephole, wardrobe, bedside tables and safe. 13 of the rooms have a king-sized bed and another six have twin beds, all of which are also lowered.
The bathrooms have a raised toilet with grab rails, emergency cord, low-height sink and a roll-in shower or bathtub with handrails.
It has lifts in the main part of the hotel, plus the business centre, fitness centre, pool and restaurant are all accessible from the main, public entrance. Service animals are also welcome.
Speaking of Greenwich, the Novotel London Greenwich is an even closer option if you want to explore the area and the National Maritime Museum and the Royal Observatory.
It has eight accessible rooms, with the option to book an adjoining room for a PA/carer with one of the rooms. The doors are 88cm wide, the bed is 53cm high and light switches are lower to the ground than the average.
The bathrooms have a sliding door, raised toilet with grab rails and lowered sink. The bathtub is also lower and has handrails, and there is a removable showerhead.
The reception is accessible and the desk has a lowered section for wheelchair users. There is a lift, which measures 90cm x 130cm and a mirror to aid reversing out of the lift. There is also plenty of room to manoeuvre a wheelchair in the restaurant.
The hotel also has its own parking and, even better, three parking spots are for Blue Badge holders. Registered assistance dogs are allowed in the hotel.
You can find out more in the access guide for Novotel London Greenwich on the AccessAble website.
Hilton Lakeside Way Wembley
If you're interested in events at Wembley Stadium, either sporting or music, consider staying at the closeby Hilton Lakeside Way Wembley.
It has 17 spacious accessible rooms, all with queen-sized beds. There are lowered peepholes on the doors and lowered thermostatic controls.
Each also has an accessible bathroom with a roll-in shower, portable shower chair, raised toilet and grab rails.
It also has a swimming pool equipped with a hoist and accessible changing facility. Plus, pets are welcome, including assistive animals.
Ibis London Stratford
Looking to catch a sporting event at Queen Elizabeth Olympic Park or go shopping in Westfield Stratford? The Ibis London Stratford is just a short distance away from both. It's also close to Stratford station, which is accessible throughout.
This stylish hotel contains six accessible rooms, with three that have adjoining rooms for PAs/carers. The doors are 85cm wide and there is an emergency alarm in the rooms.
The accessible bathroom, which you access through a sliding door, has a drop-down grab rail and fixed one by the toilet. The showers have a flip-down seat at 47cm high and handrails.
The main hotel is accessible and there is a lift with a doorway of 80cm and mirror for easy exiting. Motorised scooters can be used in the public parts as well. There is ample room for wheelchair users in the bar/restaurant and a lowered section at the bar.
The hotel has an open-air car park, which is free for Blue Badge holders. It's also a pet-friendly hotel, so assistant animals won't be a problem.
You can find out more about the Ibis London Stratford's accessibility on the AccessAble website.
Holiday Inn London – Kensington Forum
Interested in visiting London's top museums? If the answer is yes, then the Holiday Inn London – Kensington Forum would be a good pick for you. Not only is it budget-friendly, but it is also located near the Science Museum, Natural History Museum and Victoria & Albert Museum.
It's eight accessible rooms are equipped with lowered bathtub (but no wheel-in shower) and in-room ceiling hoists (on request) – take a look at these reviews of the Holiday Inn to find out more.
There are visual alarms in the guest rooms and public areas, lifts, ramps and the entrance is accessible too. It also has free disabled parking too.
Hyatt Regency London – The Churchill
If you are looking to stay somewhere more extravagant, Hyatt Regency London – The Churchill will not disappoint. You'll be able to walk through the beautiful Hyde Park in the morning and end your day shopping Oxford Street.
Access is good with adapted transfers available from the airport. The hotel's entrance has level access, as does the reception area, bar and restaurant and lifts are located throughout the building
There are two accessible rooms available. Both have 90cm-wide automatic doors, with buttons either side, into the room and to the bathroom.
The accessible bathrooms have a wheel-in shower and shower chair – one of the two has a bathtub as well – a raised commode and lowered vanity unit.
One Aldwych
Another high-end hotel to treat yourself to is One Aldwych. Located in Covent Garden, an exciting shopping and entertainment hub, this hotel is sure to impress visitors.
It has three accessible rooms – which are all superior – are fitted with wider-than-average doorways, and the bathrooms have roll-in rainforest showers with grab rails, a low basin and raised toilet.
The rest of the hotel is also accessible, including the two restaurants, which you can access via a lift. The public bathrooms in the hotel are also accessible, and it has an induction loop at the reception desk.
There is also Braille printing on the control panels in its lifts and an accessible public bathroom.
Please note that this information for this article was gathered by online research only, including the hotel's websites and reviews, but no physical visits have been conducted.
Should you need mobility equipment to make your trip to London more feasible, consider renting through Strive Mobility. Whether you need a wheelchair, scooter, hoist or ramp, we have what you need to make your holiday in London as enjoyable as possible.
We hope that offering people the option to easily rent mobility aids will enable more disabled people and their families to travel and get out and about.
For more information about Strive Mobility and to rent equipment visit the Strive Mobility website.
By Strive Mobility
More on Disability Horizons…