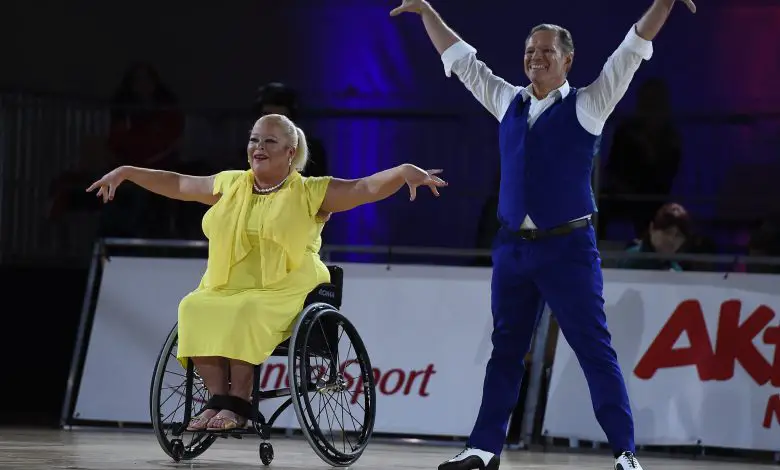 Wellbeing & Fitness
Strictly Wheels on World Championships and inspiring disabled people to dance
Strictly Wheels is a para-dance couple from Manchester. Wheelchair user, Paula Moulton and her able-bodied dance partner Gary Lyness, represented Team GB at the Para Dance Sport World Championships in Bonn, Germany in November 2019. Our writer, Emma Purcell, got the chance to speak to them about their experience at the championships plus their other achievements and upcoming events in 2020.
Strictly Wheels' Paula Moulton and Gary Lyness began dancing together in 2010. Their first competition was at the Dutch Open Championship in April 2011, where they won gold in the Amateur Latin Category.
They retained this title in 2012 and 2013, before stepping up to the top-level and becoming the UK's first International Paralympic Committee (IPC) registered couple.
They compete regularly for Team GB in international competitions and are currently ranked 9th in Europe in Latin Combi 2. Paula is also 8th in Ladies Singles.
Paula became a wheelchair user 20 years ago after contracting MRSA, which caused damage to her pelvis and shoulder.
On 29th November to 1st December 2019, Paula and Gary competed at the Para Dance Sport World Championships. They reached 21st in the Combi Latin and 17th in the Combi Freestyle, which they say is an improvement on previous years.
Para Dance Sport World Championships 2019
You competed in the Combi Freestyle and the Combi Latin at the World Championships. Can you tell us what style of dance these are and how they differ?
Freestyle is a dance where you choose your own music and style of dance, then choreograph a specific routine for that music. It can be any style or genre of dance. You have to be on the floor on your own doing your own routine.
Latin is made up of five traditional dances – Samba, ChaChaCha, Rumba, Paso Doble and Jive – like the ones you would see on Strictly Come Dancing.
But you don't know which song you will get – they will just pick a typical Samba piece that all the competitors have to dance to against each other too.
Which style of dance, the Combi Freestyle or the Combi Latin, do you prefer to perform?
We like both. We love the freedom of Freestyle – our current routine is a Broadway-style number to a piece of music from LaLaLand. But we still have our favourites in the Latin dances, particularly rumba.
Were you proud of your achievements at the World Champions?
Yes, because we have improved. We are far from the podium, and we know that. Many competitors are half our age and compete full time.
But we look back to the previous World Campions two years ago and we have since come up several places in Latin. Our scores for Freestyle were also higher than at the European championships last year and a previous competition this year.
How are the dances judged at the World Championships?
Freestyle is judged on a points system – much like gymnastics or ice skating where points are awarded for technical ability and choreography/presentation. There is also a difficulty multiplier.
With Latin and Ballroom, however, the judges just mark a certain number of couples in each round. This is then translated to the final where you are ranked 1 to 6.
How much training goes into the World Championships?
We aim to train twice a week, as well as conduction our teaching class. That's about an hour – going through our routines, building stamina and working on technique.
Once a month we also have a two-hour session with our coach, Accursio Romeo from Romeo Dance Academy in Milton Keynes, so we travel down to there from Manchester for that.
What was the atmosphere like at the World Championships and was there much Team GB support at the event?
There is always a good atmosphere at competitions, from both athletes and a small collection of the public who come along to watch. We are a small team of just us two, so we don't have supporters with us.
We got a lot of backing from the audience and the other athletes, who are there for each other off the floor and cheer each other on when we're dancing.
Paula's impairment classification is L&F2 and you compete at Class 2 level. What does this mean?
As with any Para sport, there is a medical classification based on your disability and any eligibility. In Para Dance, there are two basic levels – Class 1 and Class 2.
Class 1 is a higher level of disability. This might include less pelvic movement and rotation in the upper body or arm strength and movement. Class 2 is lesser, so includes people who can move their upper body.
There has to be a medical condition (from a list of eligible ones) to substantiate any restriction in movement. For example, there are some nerve conditions that might be present but discounted in classification as they're not classed as permanent.
Strictly Wheels' achievements and upcoming events
Since 2016, what other dancing achievements have you accomplished?
We've come up the ranks, sitting the in European top 10 for most years and often in the World top 10.  We achieved a Bronze medal in October 2019 in Freestyle in Poland, which was a great achievement.
How has Strictly Wheels Foundation, which promotes dance for disabled people, grown over the past few years?
Strictly Wheels Foundation now has its own club and we teach beginners. It's a great way of passing on our knowledge and ability, and you get such a buzz watching those you have taught competing.
Our free classes run in Manchester each Wednesday evening. We strive to keep funding going so that our classes can be free. You can visit the Strictly Wheels funding page if you're able to help.
What dance events have you got lined-up in 2020?
We're going to be doing some of our same dances – LaLaLand Freestyle along with Latin 5 at the Dutch Open Championships in April 2020.
Other than that, we are still deciding. Most of our decisions are based on financial restrictions. As we are pretty much self-funded, with some help from the national body PDUK, we have to select competitions that are easy to get to and won't break the bank.
It's very difficult to raise funds or find funding for competition costs, particularly when they aren't in the UK.
You can follow Strictly Wheels' marvellous achievements by finding them on Facebook, Twitter and Instagram.
 By Emma Purcell – follow her blog Rock For Disability.
Image at top: World Para Dance Sport Championships by Eva Pavía/BizziTeam
 More on Disability Horizons…