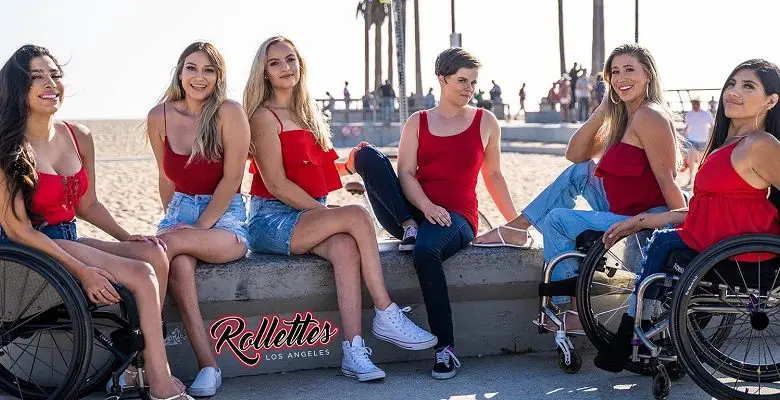 Lifestyle
The Rollettes: an all-female disabled dance troop empowering women
The Rollettes is a wheelchair dance team from Los Angeles, created to empower women with disabilities to live boundlessly, as well as shift perspectives on disability through dance. It was founded in 2012 when leader Chelsie Hill sustained a spinal cord injury in a drink driving accident. She wanted to connect with other women she could relate to and help others to do the same.
Our writer Raya spoke to Chelsie to find out more about her background, how the group started, what it hopes to do, and how you can be part of it, including joining its virtual event on 21st May 2020.
The Rollettes consists of eight trailblazers in the disability community, who continue to make a difference each day.
Every summer, it hosts the Rolletts Experience, bringing together women from all over the globe for a week of dance classes and socialising. Open to all ages and abilities, it welcomes everyone to take part, regardless of experience.
The aim of the event is to enable women to step out of their comfort zone, be empowered by other women, allow them to feel 'normal' and create long-lasting connections.
It also hosts regular dance classes throughout the year in LA. Although these aren't currently running, founder Chelsie is airing online classes.
On May 21st, Global Accessibility Awareness Day, the Rollettes will hold a "Boundless LIVE" series via Instagram Live. It will consist of virtual classes to educate and empower those with disabilities, celebrating the advancements made in the disability community.
How did the Rollettes form? 
When I was first injured, I reached out to girls I found on social media and invited them to my hometown of Monterey, CA for a week of dancing and hanging out. I just wanted to find other girls, like me, so that I could have a feeling of normalcy back.
You acquired disability at a fairly young age. How did becoming disabled affect you and change your life?
Everything changed for me. I went from being an outgoing, adventurous girl to someone who was confined to a wheelchair. I had to fall in love with so many different things again, especially my passion for dance.
I had to relearn how to do everything – getting dressed, showering, doing daily chores, transferring on and off my chair… These simple things I used to do so easily and quickly became a chore.
I had to find my new normal. But what helped me was finding women who were like me and learning from them. I watched how they did simple things, and quickly saw how normal my life could be if I just tried.
Did your ambitions and perceptions of life change because of your disability?
Both my ambitions and perceptions of life changed. I definitely don't take things for granted anymore. I am beyond grateful for the things I do have.
Seeing others who don't have the support I do motivates me more and more each day to connect women around the world. I don't want anyone to feel like they are alone in this situation, no matter what their diagnosis.
 

View this post on Instagram

 

What inspired you to form the Rollettes and how did you go about getting it started?
Initially, I reached out to girls on social media purely because I wanted friends. I wanted to feel like I wasn't the only one dealing with this loss and grief.
I was right, I wasn't alone and I quickly saw how powerful we all were together. It started small, but has now spread to more than 350 women in 17 countries. It's an amazing feeling.
From all the work you have done, what has been your favourite project or the closest to your heart and why?
This is definitely a hard question to answer! I can't pick one, but a few of my favourites include:
Representing the USA at the International Cheer Union world championship for wheelchair dancing.
Getting to share my story and perform on Ellen.
Travelling to Italy to showcase wheelchair dancing in four different cities.
Hosting the Rollettes Experience, the worlds largest all women's wheelchair empowerment event for women and children who use wheelchairs.
To be honest I could keep going! The opportunities keep coming and just getting better and better.
 

View this post on Instagram

 

Covid19 and the lockdown – how has it affected you and the Rollettes?
We have stopped doing all in-person events until further notice. It makes me really sad to not be able to continue such a special part of what the Rollettes does.
But on a positive note, it has shifted our direction to a bigger and brighter way of working. We are able to connect with so many more women and children all around the world thanks to technology.
As we can not do in-person events, we are taking the time to connect more via social media. Personally, I am excited to see all the amazing things that will come from this.
What will differ for disabled people after the current crisis?
I have seen such a beautiful response from the community during this unprecedented time. I have been doing live dance classes every Tuesday and the response has been incredible. I feel more connected to the people on social media now more than ever.
Before, many people wanted to attend our Rollettes Experience, or come take a dance class in person. Now that we have shifted our vision to be more on social media, the response has been amazing.
I believe companies will start taking social media more seriously and start seeing the power of it.
Can you tell us more about Boundless live, why it has been created and what can people expect from it?
In these trying times of 'social distancing' amid the Covid-19 outbreak, the Rollettes is urging others to use social media and technology to stay connected. We aren't social distancing, we are just physical distancing. And we are more social now at Rollettes than ever!
We wanted to do something to celebrate Global Accessibility Awareness Day on May 21st, and to showcase the power of technology and inclusion.
Our Boundless Live event will include movement-based classes, demonstrating how integral technology is in our lives, and signifying the influence they can have with the right mindset.
At the end of the day, we will hold a digital happy hour, connecting women with disabilities worldwide. It will bring greater awareness to the capabilities of people with disabilities, and help shift assumptions made of people with disabilities.
Being a part of this day is so important for me and for us as a team. It will bring dance, connection and empowerment to people all over the world is our mission, and this is an amazing way to bring awareness.
What is next for the Rolettes and you personally?
Well, I recently got engaged, so with everything going on and still working on the Rollettes, I am now starting to plan a wedding. I had no idea the details that go into wedding planning but a big part of me loves planning events so I know I am gonna have so much fun with this one!
 

View this post on Instagram

 

As far as Rollettes we are getting ready for our Rollettes Experience in October which is our big event every year where women and children come to Los Angeles for seminars, dance classes, workshops, PJ party, a pool parties! To be honest there is never a dull moment with myself and the Rollettes we are consistently innovating and staying busy.
Head to the Rollettes Instagram to join the Boundless Live day and Chelsie Hill's Instagram for regular virtual classes.
You can also find out about and follow all of the other Rollettes members on Instagram or the Rollettes website: Edna Serrano, Samantha Lopez, Steph Aiello, Conner Lundius, and Maria Rabaino.
By Raya AlJadir