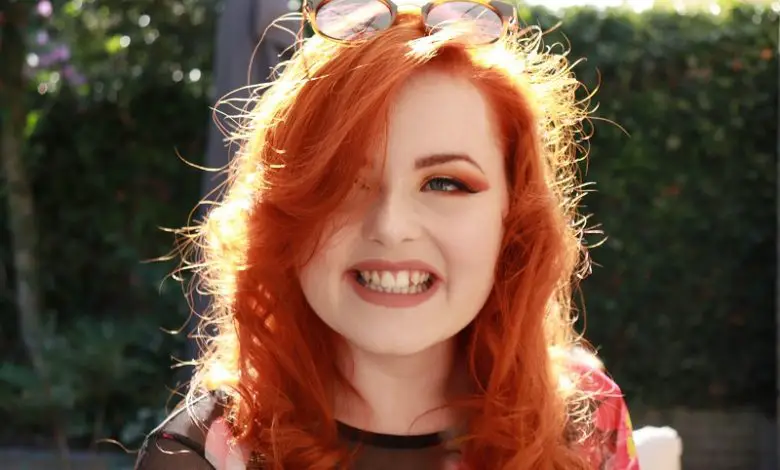 Lucy Edwards is a 24-year-old vlogger, presenter and journalist from Birmingham. A genetic eye condition means she has no vision except some light perception, although this is diminishing.
For the last seven years, Lucy has been documenting her life on her YouTube channel, which has more than 35,000 subscribers, posting about everyday challenges, answering questions and giving lifestyle and beauty tips. She has also worked to establish her career as a respected disabled broadcast journalist.
Find out more about Lucy in her own words, as well as reading her advice on how you can boost your confidence, sharing your experiences and making a difference.
Can you tell Disability Horizons a bit about who you are, your background and your disability?
My name is Lucy Edwards. I am a presenter, YouTuber, journalist and speaker. I am a 'chatty Cathy' who loves to share my experiences and get the most out of life.
I am usually accompanied by my adorable guide dog Olga who, by the way, has just turned 8 years old. I don't know where the time goes!
View this post on Instagram

I have a rare genetic condition passed down the female line of my genes named Incontinentia Pigmenti. It ultimately caused my loss of vision at age 17. None of the other women in my family are severely affected by the recessive X chromosome, but for some reason, it was really aggressive in my eyes.
Seven years on, I am losing my light perception more and more by the day. I am just thankful for the little light I have while I have it.
I am also thankful that every day I have all of my other senses to experience the world in a completely different way.
How and why did you start vlogging and sharing your life so openly with others?
I think back to that day seven years ago and a little part of me is still shocked at what happened. I had just had life-changing surgery that ultimately didn't save my vision. Instead, it meant I was able to see everything for several hours, but after that – nothing. That trauma is what drove me forward. It still does to this day.
I told myself that, if I could get through that day, every day after that would get better. I was a young teenager in an eye hospital bed. Not a young teenager with all of her friends on an aeroplane travelling to Poland for an A-level class trip. This changes you.
At that moment, it was either going to change me for the better or the worse. My auntie turned to me and said. "This is not the end of Lucy Edwards." I didn't believe her at the time, but she was right.
I wanted to find people that understood what I was feeling. As a young girl, searching through YouTube, I didn't see anyone like me. So I thought, "Let's give it a go."
I thought I should be open about my feelings because this brings about change. If I didn't share my life online, I don't think others would be as knowledgeable about blindness. It is important to show that anyone can do anything if they want to.
You work with the BBC as a freelancer on Ouch and both Radio 1 and 4. Wha is it like?
The next step for me in truly owning my disability and who I have become was to report on issues that affect disabled people like me. So journalism was a natural choice.
I moved from Birmingham to London to work at the BBC, and every time I walk in that building I feel I can be myself. There are some brilliant minds that work in there and I have some of the best friends.
I love radio because I can truly enjoy every aspect of the art; both as a presenter/reporter and as a casual listener.
View this post on Instagram

At Radio 4, the whole In Touch program is produced, reported and presented by blind journalists for blind people, and I love the atmosphere.
At Radio 1, I was the first-ever blind presenter, so it was crazy different for me. I am in the process of chatting to BBC engineers so that we can make the BBC London studios more accessible in the future as none currently are.
I know there will be a workaround very soon. But, in the meantime, I am working on things from the home studio I have almost finished setting up, so watch this space!
Right now, as a freelancer, I have been affected by Covid-19, as many others have. But I am really looking forward to the future as I know disability representation on and off-screen is really on the 2020 agenda.
What challenges have you had as a visually impaired vlogger and broadcast journalist, both good and bad?
YouTube can be so visual. I have to be super organised so that I can make sure my fiancé Ollie has time to check if my camera is in focus. There have been many times when I have recorded a whole video with no one in the house and it focused or looked right.
But these challenges have just made me more determined to do a good job. I always tell myself that things you love don't come easy.
As a blind journalist, it's about learning the tech. Editing software was a big one for me. My current challenge is mastering working a broadcast desk! But I love learning new skills that will ultimately make me a better presenter.
I don't ever want access to be the reason that I don't pursue something. I want to do everything in my power to improve myself every day.
---
Watch Lucy Edwards' interview with our Co-founder, Martyn Sibley, for more about her career as a blind journalist and the representation of disability in the media.
---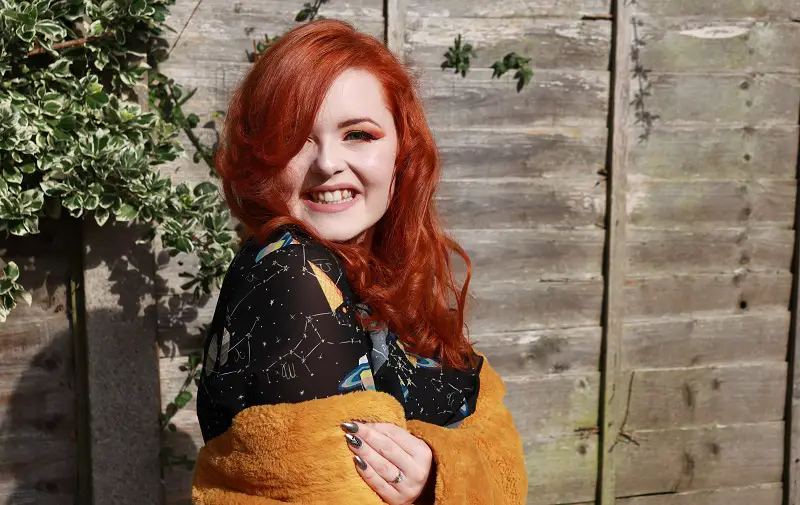 You vlog a lot about lifestyle, beauty and fashion, and have written a beauty book. Can you tell us more about why you decided to vlog about those areas in particular?
Just to be blunt – I don't really think that blind or disabled people are ever seen as being part of the beauty community in a massive way. I think it is definitely getting better, but we have a long way to go.
Representation matters, and how you feel about the way you look matters. Just because I can't look in a mirror doesn't mean I suddenly don't want to apply makeup.
I started vlogging about makeup because I love the way it makes me feel. It is a very tactile art, not just a visual one, and I found that other blind makeup addicts felt the same.
As well as your beauty book, you've done a series of makeup tutorials for blind people. What prompted you to do this and what have people's reactions to it been?
When I first lost my sight, I would always walk into my sister's room having done my makeup and I always had an orange foundation line. I would get really upset. I honestly started to say to myself that I would never be able to do it. But with lots of practice and the right help, I found my confidence.
I am so lucky to have my sister Alice, but others out there don't have an Alice, so I wanted to do something about that. This is what prompted me to start talking about how I found my confidence. How I organise everything in my makeup bag etc.
The reaction has been overwhelming. I know that people find a lot of value in easy step-by-step tutorials. But I think there is still a need for more. I am constantly trying to think of new and inventive ways to make the information accessible.
If you are reading this and have any suggestions I am all ears, so please email me! Simply go to my website's contact page: www.lucyedwardsofficial.com/contact
My book, The Blind Beauty Guide is text-based, so people feel like they are able to work at their own pace. I know that my sighted friends who have bought my book have loved how basic it truly is.
If you really know nothing about makeup, my beauty book is your best friend. You don't have to listen to hours of tutorials anymore!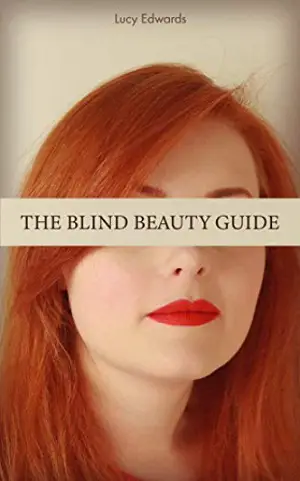 You've done a series on 'blind life hacks'. Can you tell us 3 of the most important life hacks as a blind person?
1. Be organised!
I cannot tell you how many times I have put something down and needed help to find it again. The more drawers, compartments and shelves I have the better and the more independent I am!
2. Apps are your friend
I use apps every day to check labels in the kitchen and it really is my sanity! You should download Be my Eyes and Seeing AI right now if you haven't already! Microsoft Soundscape is also great. Get an iPhone too. It will change your blind life in an instant.
3. Find a few meals that you feel confident cooking
When you first lose your vision it is really easy to get overwhelmed and panic. I know I did! Learning to live your life all over again in a completely different way takes some getting used to.
But trust me, take things slowly and figure out a few things at a time. Learning how to cook basic meals really did help me distress.
---
Check out our article on top assistive technology and apps for people with sight loss.
---
After getting engaged to your fiance Ollie, you appeared on Say Yes to the Dress with Gok Wan. How was the experience?
Gok is a shining ray of light and positivity. When he helped me pick my wedding dress there was not a dry eye in that bridal boutique.
It was one of the best moments of my life. I never thought that a description of a dress would be enough, but it truly was.

Have you always been confident and happy to share your experiences, or is that something that you have had to work on?
I have always been an extravert. I love to socialise, and from my earliest memories, I have always wanted to present.
I think for me, it is about being honest with myself and having those bad blind days. Not every day is the greatest, but then the great days wouldn't feel as fabulous if I didn't have rubbish ones.
I still go to counselling to deal with my mental health. Sometimes living in a sighted world isn't easy, but I am a much happier person when I chat about my feelings regularly. I am a better version of Lucy.
I think going blind has made me a lot more anxious at times, and that is still something I face. I know that a lot of blind people are open about the mental health challenges associated with vision loss, and that is why I am working to promote The Vision Foundation's campaign Lockdown Life.
By sharing my own Blind Lockdown Life story I hope to encourage other blind and partially sighted people to do the same. I know they're not alone at this time, more than ever.
The Vision Foundation is also working alongside other sight loss organisations in London and at a national level to represent the visually impaired community and raise awareness of what needs to change for people like me during this crisis.
So if you want to get involved please do by visiting The Vision Foundation's website, or sharing your story with the hashtag #BlindLockdownLife story.
What would you say to other disabled people who don't feel they have found their voice?
You have to find yourself before you find your voice. I can honestly tell you. As soon as I accepted that sighted Lucy was here to stay and stopped beating myself up, my outlook changed.
You have to love yourself before you can see clearly.
To get you started, I would recommend sitting down and having a whole day to think about your 'vision board'. What do you want out of life? Where do you want to be in several weeks, months and years? Think about it and write it down. You'll then be able to see very clearly what is important to you and go from there.
View this post on Instagram

What 5 tips would you give other disabled people keen to get into lifestyle vlogging or broadcast journalism?
Just do it. Don't think about uploading a video, just grab your iPhone and put something online.
You learn your mistakes the more you create. Keep going even if you feel like you are running into hurdles. I promise – you don't define yourself by the failures, but by how you handle them.
Plan your content and really love what you make.
Find ways you can learn outside of work – there is always something online that you can listen to e.g. a great podcast, such as BBC Ouch or the Daily Sib! Find people you can connect with and learn from.
Be unapologetically you. There have been times when I have questioned whether I should change throughout my life. Never change… ever!
Look after yourself and never lose sight of who you are and why you want to do what you do. You are unique and there is no one else out there like you.
How has having a guide dog impacted on your life?
I would not be confident Lucy without my Olga. She is my light in my dark world. When I feel anxious about walking out the front door, she is always with me. She is my guiding angel, always ready to help me find the way. We are a team and I wouldn't change our partnership for the world.
The work that the organisation Guide Gogs does every day is nothing short of fantastic. I would not have my independence without their help and support.
Within a few weeks of lockdown starting, I received a call from my guide dog mobility instructor asking if I was ok. She emailed me helpful resources and gave me really valuable advice.
Honestly, through every step of my sight loss journey, Guide Dogs has been the charity I can turn to. It is always launching new campaigns to help people like me to thrive.
It has just launched a Covid-19 Sight Loss Information Line, offering practical support in response to an influx of concerned calls from people with sight loss and their families. If you are affected please do call. The number is 0800 781 1444 and it's open Monday to Friday, 9am to 5pm.
I know Guide Dog's services for children and young people are also putting out some great resources to help keep younger generations active and healthy during this time. It includes school resources, audiobooks, accessible workouts and story themes for parents.
I had Olga at age 18 and I don't know what I would have done without their help to safely navigate to sixth form and back.
Find out more about Lucy and follow her:
Interview by Liz Ransome-Croker
Photographs by Oliver Cave.
If you're worried about people coming too close when you're out and about, particularly if you are less about to socially distance, try our social distancing lanyard and sash to help remind others about the importance of giving you space.
More on Disability Horizons…