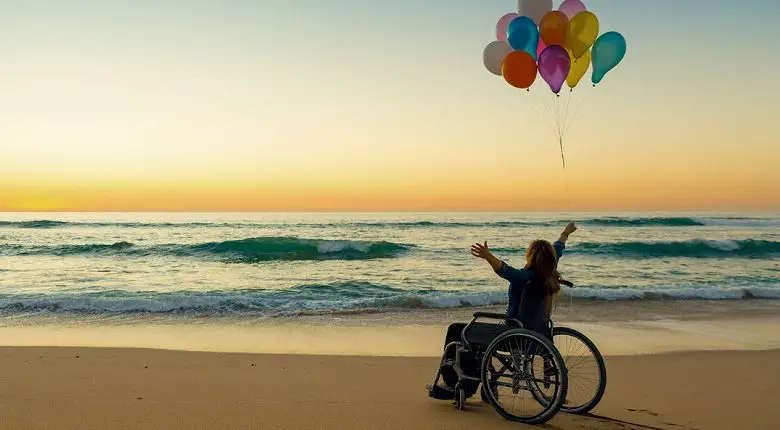 Independence is incredibly valuable to everyone, but that is particularly the case if you're disabled. It can give you confidence, self-belief and a sense of achievement. It can make you feel more included and part of a community. But many disabled people fear this isn't possible for them. Disability charity Leonard Cheshire wants to show that it is by celebrating the accomplishments of disabled people in securing independence with its new campaign Actually I Can.
Read on to find out more about the campaign, see how other disabled people have got to where they want to be, and what support and services Leonard Cheshire can provide to help you get there too.    
Independence can mean different things to so many disabled people. For some, it's getting a job, starting up a business, or achieving educational qualifications. For others, it is moving into an accessible home or finding the right personal assistants. It might even be travelling around the world or taking part in adrenaline-filled adventures.
You might look at this list and think that they're unattainable as a disabled person, after all, we all know that there are often barriers to achieving independence and dreams for us. However, with the right support, almost anything can be achieved – no matter what your disability or circumstances.
Actually I Can
The Actually I Can campaign aims to highlight positive and uplifting stories from real disabled people about their own journey to independence.
It's here to prove that attaining your goal of independence IS possible, despite any obstacles that are put in your way. This could be from the attitudes you face, the physical environment or your finances. Whatever they may be, through Actually I Can, other disabled people are showing that there are ways around almost anything.
No matter what your circumstance, independence means being able to live the life you choose – an ethos the Disability Horizons was built on too.
Read on to hear disabled people's stories, and get involved yourself in the Actually I Can campaign by writing on your blog, creating a video, or posting on social media highlighting your journey to independence.
Be sure to include the hashtags #ActuallyICan, #LeonardCheshire and #Disability to help others like you.
Plus, follow, like and share your stories on Leonard Cheshire's Facebook, Instagram, Twitter and TikTok.
Disabled people's journeys to independence
Here at Disability Horizons, we are a voice for disabled people, built on our community. So, to support the Actually I Can campaign, we wanted to share some stories from our community of how they successfully achieved independence.
Having crazy adventures
Our co-founder Martyn Sibley is passionate about leisure, travel and adventures. He has had the opportunity to visit many countries, including Australia, USA, Mexico and Catalonia. He also has been able to experience things other people would consider impossible for someone disabled.
"I was able to do lots of crazy adventures, such as flying a plane, scuba diving and driving an adapted 4×4 in Mallorca."
Being a wheelchair user with spinal muscular atrophy type 2, Martyn has had to overcome obstacles to gain this level of independence.
I've come up against many barriers – physical limitations, fear, environmental barriers and some attitudes. But I have learnt that most things are possible with certain adaptions.
 I also discovered that you shouldn't listen to fearful people and getting out of your comfort zone is important."
When I began my adventures, I wish people had advised me to dream big. To simply plan for solutions and risks, keep going and never give up – you'll get there."
When things became difficult, Martyn told us his motivations were disabled role models, such as Tanni Grey Thomson, Baroness Jane Campbell, Jonny Peacock.
That's why the Actually I Can campaign is so important – it shows other disabled people and the world what is possible.
Becoming a multi-award-winning entrepreneur
Mark Esho is a disabled entrepreneur from Leicester with several successful businesses; Easy Internet Services Ltd, Easy Internet Solutions Ltd and Dreme Ltd and Access Rating:
"My businesses have been my biggest blessing and the complete road to independence. I had polio as a kid and later in life developed post-polio syndrome. As a result, I now suffer from chronic fatigue and muscle ache on top of having to deal with the after-effects of polio.
Having my own businesses means that I can manage my chronic fatigue a lot better. I can work my own hours – which could be any time in the day – and, most importantly, work remotely from my home office. It has also meant that I can buy better mobility aids, such as custom cosmetic callipers, wheelchairs, scooters etc.
My biggest challenges have been people's attitudes. Some people think that because you're disabled, your business is disabled as well and have a tendency to underestimate you.
The key lessons I have learnt is to be yourself and accept yourself. Always play to your strengths and I don't try to be like everyone else. I learnt to do what makes me feel comfortable even if it means going against the norm.
On bad days, Mark said: "I have used all the discrimination and negative experiences as rocket fuel and that is what has always motivated me to create a better life for myself and my family. Deep down, I wanted to prove people wrong. I did in the end by becoming a multi-award-winning entrepreneur."
Proving people wrong with independence
Jessica Hendriks is a mental health and disability advocate who lives in Ontario, Canada. She has a physical disability as a result of a virus she had when she was two years old, called viral encephalitis.
She uses a wheelchair, has limited use of her right hand, and a speech impairment. Jessica also has anxiety and mild depression. Despite all this, she has achieved a great deal of independence.
I've gained independence in pretty much every area I can. I went to and graduated from college independently. I can go shopping and to the gym myself. I've even been in intimate relationships without additional assistance or equipment. These are just a few things that people are sometimes shocked that I can do independently.
As her independence has developed, Jessica says: "I've learned that, realistically, there are some things I can't do. But that's okay."
Although Jessica is independent in many ways, she has faced obstacles in order to gain that freedom: "The main thing I've had to overcome or advocate for is other people's misconceptions of disability.
For example, people think I'm incompetent, that I can't be intimate, that I can't do something independently – and that it's a miracle if I do. I also sometimes feel like I have to prove myself more to others to be accepted or taken seriously."
Jessica wishes she knew that most of the time people don't mean to be rude: "When I was in high school, I used to get mad when people told me I couldn't do something, or they misunderstood me and who I was. Now, I use it as an opportunity to educate."
She has also had to manage her mental health to allow her to keep going and get to a place of independence: "When it comes to "bad days", I think it has more to do with my mental health issues than my physical disability.
What has motivated me is making goals and working towards them. Plus, I'm spurred on by my advocacy work, which has the ability to help others."
Breaking down barriers to find employment
Anna Brayshay, who has cerebral palsy and a hearing impairment, works as a peer support group worker for the mental health charity Mind in Somerset. Getting there wasn't an easy road though.
"I have now worked for a lovely mental health charity part-time for the last two and a bit years. But before that, during my job-hunting process, I came across a lot of prejudice. It is improving, though not quickly enough.
I had previously volunteered at Mind for five years, while job hunting, so volunteering and making connections is definitely valuable. Now, even though my job can be challenging at times, it keeps me out of mischief and I thoroughly enjoy working with the people involved."
Anna also hopes that the impact of Covid-19 will create positive change for disabled people in employment.
If one good thing is to come out of this horrendous Covid-19 situation, it is that it will hopefully provide more people with wider and easier access to jobs. As employers have had to make themselves more flexible, I should hope it will them even more inclusive and aware.
Anna says that throughout her career so far, she's discovered, "All the good things take time to happen" and that we should, "Keep calm and carry on."
"My biggest piece of advice is to go with what you're able to and can do at that time. But there's also no harm in speaking to employers and networking even before you apply for something, just to get your foot in the door. That way they are more likely to remember you when you do apply for a job."
Accepting myself and finding the right adaptions
George Baker lives with congenital muscular dystrophy. He is the director and founder of The Disabled Union, a freelance copywriter and previously ran his own marketing consultancy company. Plus, he was a Labour Party candidate to be MP for Winchester.
"I've been extremely lucky to achieve a high level of independence throughout my life. It's thanks to the support of friends and family and a really incredible care package from NHS Continuing Healthcare.
I manage my team of PAs independently. I have a very devoted core of around four PAs, with six additional that drop in and out.
During the Covid-19 pandemic, I have been so grateful to have people that are truly devoted. I have three carers that are living in and swapping over safely to keep me isolated, and when they're not at work, they're completely self-isolating".
But it hasn't all been easy and there have been a number of challenges with managing his health and wellbeing.
For me, the biggest obstacle is managing my health and looking after myself properly alongside working. I have to pace myself and tackle any health and disability-related issues, while still running my company. It took me a long time to work out how to make life work for me, but I have found key ways around things that have stood me in good stead.
For example, I now have a PEG tube so that I can be fed and watered through that rather than trying to chew for hours, taking up valuable time."
Also instrumental in getting to where he is now has been accepting himself and his disability.
"The most important thing I had to learn was that there is nothing wrong with me. I was born disabled and, as a result, my life has to be different from that of others. I may need adaptations or need to pace myself more but actually everybody has things like that in their lives."
Leonard Cheshire
Leonard Cheshire was founded back in 1948 and for the past 72 years, it has supported millions of people with disabilities and complex health conditions with care, life skills, education and employment.
In 2018/2019 alone, the charity helped nearly 70,000 disabled people in the UK and internationally.
Care and accommodation
Out of the 70,000 disabled people, 10,220 of them have been supported through social care and its community programmes.
By 2019, Leonard Cheshire had opened three new supported living schemes, making the total 45 throughout the UK. Places that provide these services include Worthing, Bedford, Cheltenham, Manchester, Newcastle, Edinburgh and Belfast. The services available include:
understanding tenancy agreements
paying rent and household bills
getting help with personal care.
The charity has also provided assistance with care to 3,236 disabled people. The 130 available services include 24/7 assistance, daycare centres, respite stays or just additional help. These services have also been rated as 'outstanding' or 'good' by the Care Quality Commission.
To find out more about care services and supported living, visit the care and accommodation page on the Leonard Cheshire website.
Working
 13,250 disabled people were supported into employment.
Leonard Cheshire has a variety of employment programmes that can support disabled people into work or to start their own businesses.
Change 100 programme
The Change 100 internship gives disabled students and graduates the chance to work with leading organisations, such as the BBC, Leicester City Council, construction company Skanska, law firm Arup and even Leonard Cheshire itself. In 2018/19 the charity placed 141 interns with 70 employers.
93% of Change 100 participants say their confidence in the workplace had improved.
Change 100 intern, Chloe, said: "Change 100 helped me realise that I can (and will) have a fulfilling career – and that my mental health problems don't have to dictate what I can and can't do with my life."
Applications are open for Change 100 2021. To be eligible for the programme, you must:
Consider yourself to have a disability or long-term health condition as defined in the Equality Act 2010.
Have the right to work in the UK for a summer.
Be in your penultimate or final year of university-level study, or have graduated in 2018 or 2019.
Be predicted or have achieved at least a 2:1 at university (or have mitigating circumstances for a lower grade).
Be able to attend an assessment centre in person in January or February.
Have not taken part in Change 100 before.
To find out more and apply for the Change 100 2021 programme, visit the Leonard Cheshire website.
Employment support services
Leonard Cheshire also provides employment services in various places around the UK, including London, Swansea, Bridgend, Suffolk, Northern Ireland, Tyne and Wear.
These involve one-to-one sessions that will give you the skills and confidence you need to find a job, and to provide training and accessible technology to support you at work.
Awards for disabled entrepreneurs
If you're a disabled entrepreneur with a clever business product or service and need some extra help to make it a success, then the Stelio Awards might be your answer.
Previous winners of the Stelio Awards have included:
Dinghies for Disabled – Mike Wood MBE, who competed for Great Britain in shot, javelin, discus, archery, and the triathlon, has pioneered a new kind of sailing dinghy designed to be safer, more comfortable and more affordable for disabled people. The dinghies are built in such a way that they cannot capsize or sink and will enable disabled sailors to take part in training and regattas.
Sophia Wyatt Aesthetics – Sophia uses her skills and experience from the world of make-up and beauty to help people affected by various conditions, including scarring and hair loss, to become happier with how they look. Founded in 2016, Sophia now runs her business from a custom studio at her home and fits her work around caring for her two young children.
RoomMate – Steve Holyer was driven by his frustration at the lack of options for blind and visually impaired people to use so-called 'accessible toilets' where he always needed assistance to use them. As a result, he set out to create RoomMate, a device that is installed on the wall just inside the toilet facility and provides a recorded description of the fixtures and fittings, where they are and how they operate including the emergency call system.
Due to the coronavirus pandemic, the Stelio Awards 2020 have been postponed and applications will re-open in 2021.
To get more advice and support with employment, go to the Working section on Leonard Cheshire website.
Lifestyle
An additional 46,676 people have directly reached out to Leonard Cheshire for other types of support services.
These include:
Skill development programmes – providing skills and activities for disabled people, such as music, arts and crafts, getting active and wellbeing.
Day time centres – venues where you can socialise, enjoy activities and get advice.
Learning digital technology – giving you assistive technology, digital training, support and advice.
Youth centres – centres in Cumbria to support young disabled people transition to adulthood.
Accessible holidays – giving you breaks in Sandringham and Scotland.
Direct payments – giving advice on how to apply and use direct payments
You can find more information about these services on Leonard Cheshire's learning and lifestyle pages.
In 2019, Leonard Cheshire also partnered with Bank Workers Charity to support 149 people with specialist advice in all areas of life, including finance, health and wellbeing, care and employment. 100% of participants said they now feel better informed about options for dealing with current and future problems.
One person who benefited from this service said: "My adviser was brilliant. When supporting a child through diagnosis, you don't know what you don't know – she helped me understand the right questions to ask.
We've now secured Disability Living Allowance and funding for my son's occupational therapy. This means we can properly support him and understand his world – thank you!"
If you'd like to get involved in the Actually I Can campaign, be sure to use the hashtags #ActuallyICan, #Disability and #LeonardCheshire.
Plus, follow, like and share your stories on Leonard Cheshire's Facebook, Instagram, Twitter and TikTok.
By Disability Horizons
More on Disability Horizons…