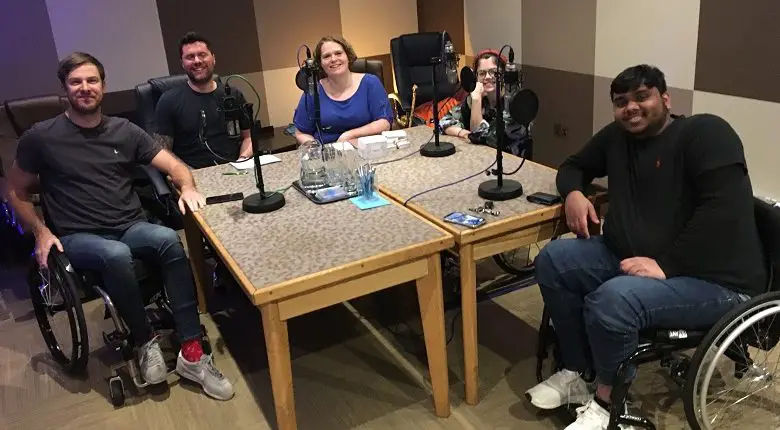 Two years ago, disabled blogger Ruth's world was turned upsidedown. She lost her home, her work and her mobility, all in a short space of time. Back then, she would never have believed that she would now be running a popular podcast and blog, Rambling Ruth. Her journey just goes to show how amazing experiences can come from a terrible situation.
In April 2018, I woke up on what had seemed an ordinary Monday morning to find I was experiencing severe pain and numbness in my lower body.
As you can imagine, panic then ensued. What came shortly after was ambulances, worried friends, hospitalisation, emergency surgery and, in the end, paralysis.
I had suffered an acute case of cauda equina syndrome, a rare type of spinal cord injury. My spinal cord had been compressed and all the nerves from T11 (beneath the ribs) were damaged.
I was told it was unlikely that I'd never walk again. However, thankfully, I beat the odds and am now able to walk short distances with a stick. But it wasn't easy. I spent four months in hospitals and rehabilitation, and chronicled my experience of it all in my blog, Rambling Ruth.
For those months, and beyond, I existed in a fog of worry – not just about my health and mobility (although that was obviously the main priority) but there were other worrying matters too.
Losing everything
On the day I sustained my injury, I received a notice from my landlord. The house in which I had been living with friends was being renovated – we were out.
I also worked as a freelancer, so had no idea where the next paycheque was coming from, or how I would proceed in my career with this illness.
In that one day, my entire life was upended. I couldn't see a way forward.
My career uncertain
I've worked in film and television for more than 12 years since studying for an undergraduate degree in media and a Master's degree in film production.
I have been fortunate to work for some of the most exciting productions in the UK. I relocated from Ireland in 2014 to work at Pinewood Studios and have worked on productions for Warner Bros and Universal Pictures.
It sounds more glamorous than it is. It's busy, it's fast, it's unforgiving and you're only as good as your last job. It keeps you – quite literally – on your toes.
So, as soon as my injury happened, the work calls that had once blown up my phone went deathly silent. I knew that my career as I knew it was over.
Shortly before my injury, I had taken six months off to volunteer around Europe in refugee camps and was blogging and writing content for charities as part of my project.
I came home when my funds ran dry so, at the time of my injury, I was out of savings and I felt like I was out of options. I struggled to see a way forward.
Miracles do happen
As my discharge date approached, I sent out a few feelers from my bed at the London Spinal Cord Injury Centre. Actually, I sent out one feeler.
I needed a job that would be flexible, a boss that would be understanding and a team that would be supportive.
I needed to work part-time and work from home in a low-stress role. I needed something that I could be eased into – ideally in film and television, but miles away from any studio or set.
I wasn't asking for much, was I?
I was incredibly lucky to hear back straight away. My now-boss came to interview me in the garden of the hospital. Five days after getting out, I started in a job that ticked all of my boxes – and more.
My whole life turned a corner
Slowly, as with my physical recovery, life suddenly felt possible again. Getting the job boosted me into a period of productivity with getting everything back on track.
I sorted out my life admin. I started to focus on the people who were blowing up my phone now with kindness. I never knew how many real friends I had.
Fast forward to nearly a year after my injury and I was asked to be part of the team that the spinal unit was sending to the Inter-Spinal Unit Games, which is organised by the Wheelpower charity. There were just six of us – a haphazard little team and unlikely friends, but somehow we gelled.
When the daily banter in our WhatsApp group continued to put smiles on our faces long after the games, we decided to channel this energy into something else.
I wanted to do something other than film or writing as a little personal project. And I wanted to do something with the title 'This is Spinal Crap'. It fitted our group and the conversations we had, so I posed the question: 'Who wants to start a podcast?'
Six people were obviously having the same thought and 'This is Spinal Crap' was born.
This is Spinal Crap podcast
In the podcast, we talk openly about our experiences of living with a spinal cord injury, focusing each episode on a different aspect of life.
We're now on the third series, which came about as a response to the current pandemic. We felt that our community of listeners would find some comfort in podcasts catering specifically for them during these difficult times.
We also wanted to create a space where they could interact with us, our guests and each other.
Thankfully, the Spinal Injuries Association was of the same mind, so we teamed up to create the current podcast series. We also opened the 'Spinal Crap Café', which was a virtual space where listeners came to continue that week's conversation with the team and with our special guests.
You can listen to This is Spinal Crap on any podcast platform or visit our website to find out more. We are also on Facebook, Twitter and Instagram where you will find links to listen to the shows on-demand.
So much for a 'little personal project'! I would never have predicted the success of the podcast or that we'd ever be working on a third series.
It's been a massive lifeline for me over the past year. I've made some really special friendships and learned some important life lessons. What can I say? I'm a sucker for a silver lining.
By Ruth Earley
More on Disability Horizons…