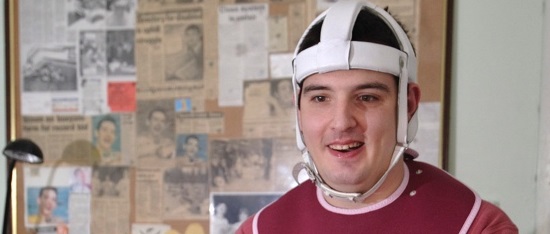 Lifestyle
Cerebral palsy and me: why I wear a helmet with pride
Simon Stevens, who has cerebral palsy and is a disability consultant and activist, happily wears a helmet. But it's taken him time to get to that point – and he's faced a lot of criticism and comments. Here, he tells us why he's made the decision to wear one, and claim it as a symbol of pride, not ridicule.
As someone with severe cerebral palsy, I have a worn a helmet for a number of years to protect me if I fall. Well, that's the reason on paper but, in reality, it is a much more complex story.
Helmets come in a few different designs and are used for different purposes. Some are criss-cross leather with a plastic inner core (like the ones I wear), while others cover the head more fully in soft foam.
People, mainly children, tend to wear a helmet to protect them if they have epilepsy, challenging behaviour (such as head banging), or if they're prone to falls, like me.
My first step to wearing a helmet was when I was 17 at a mainstream sixth form college. At the time, I walked everywhere, but with difficulty. On one particularly horrible occasion, I slipped on some ice in the main quadrant, fall backwards.
I don't remember hitting the ground, just darkness as I knocked myself out. I was immediately rushed to hospital. I spent the afternoon in the hospital with a sore head, but had thankfully not done any long-term damage. It was certainly not my first fall and not my last.
Growing up with a disability
As a disabled child with a speech impairment and walking difficulties, and going to a mainstream school in the 1980s, I had to act and behave 'normal'. It was about integration and conformity as opposed to real inclusion.
As a 'wobbly walker', looking back I certainly needed a helmet. But there was no way I would have worn one then – I wanted to be like everyone else.
I resisted other tools that really would have helped me too. I had slight incontinence, so nappies or plastic pants would have been useful, just in case, to avoid accidents that were automatically on show without protection.
Also, a plastic smock with long sleeves at lunchtimes would have been useful to protect my school uniform as I was, and still am, a messy eater.
You can imagine what happened to my school uniform after school pottery class. Now, I wear a boilersuit when doing any crafts, and that works perfectly. But I am a different person now, and comfortable in my own skin.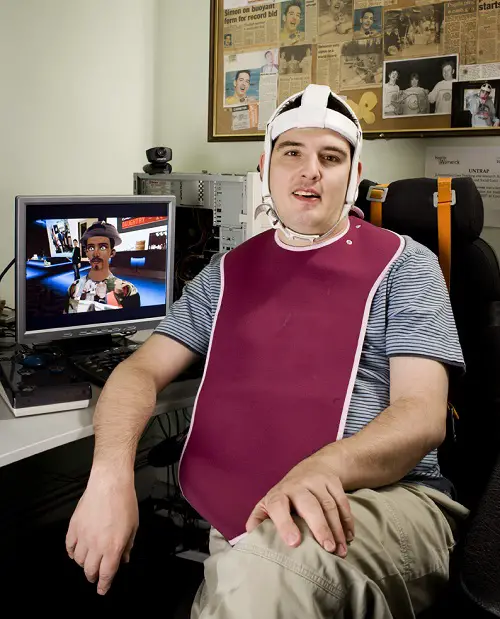 Starting university as a disabled student
When I started university, with more freedoms from my parents, I obtained a helmet from the NHS with a design I have referred to as a 'retard helmet'.
I should explain that for me the term 'retard' does not relate to people with learning difficulties, but how I have been seen and portrayed all my life – 'retarded'.
So I started the process of 'denormalising' – becoming my own person instead of trying to fit in with or please others – and I got used to wearing a helmet.
This took a while, so my first try was a watersports helmet at Alton Towers. This grew to other sports. I also had – and still have – helmets for different sporting activities, such as windsurfing and cycling.
To help me get accustomed to it, I actually used to pretend that I had lost my helmet so that I could get a new one in a different colour, to better reflect me and my personality.
It took a long time for me to feel fully comfortable wearing my helmet. I started wearing it full-time in 2000, when I went to a conference in Seattle. It took a lot of determination because it was a new setting, but I'm so pleased I did it.
Wearing my helmet with pride
Over the last 20 years, I have steadily worn my helmet all-day, most of the time. Now, is it part of who I am. When I filmed the comedy show I'm Spasticus, I wore it in every single episode. I also wear it to various events.
My helmet has moved to something I need as a core part of my identity as a leading disability activist. It moved from a symbol of retardedness and stigma to a symbol of pride.
I have tried to do the same with other often essential items that many disabled people use, such as nappies, plastic pants, drool bibs, feeding bibs, feeding smocks and so on.
One of the proudest moments in my life so far was when, in 2018, the Daily Mail and used a picture of me wearing my pink hand-painted helmet and a pink T-shirt saying 'gay proud spaz' in its Gay Pride piece.
I was in a gallery of 10 photos showing millions of visitors to Gay Pride – proud to be different and proud to be me.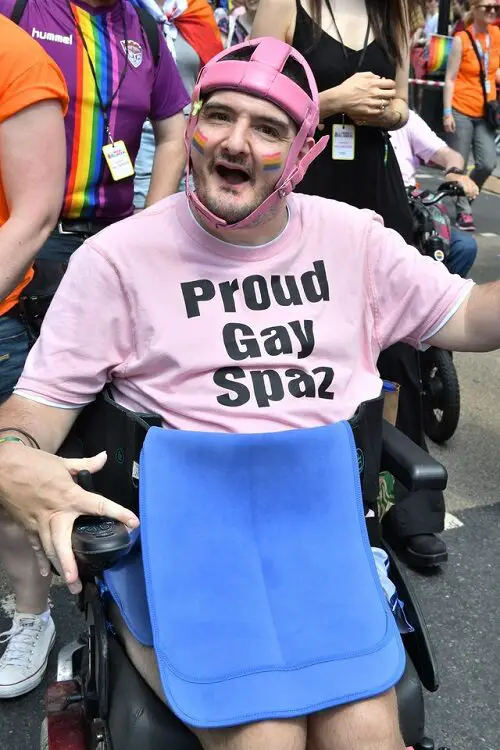 I now wear my pink helmet all the time, 24/7, and I am comfortable with anyone seeing me in it. My main personal assistant has painted a rainbow helmet, which I plan to use when we're out of the Coronavirus pandemic.
My helmet remains the most visible part of my identity, and I am proud of it.
I am not suggesting that everyone should wear a helmet, but rather that they should be comfortable using anything they like and need to.
By Simon Stevens
More on Disability Horizons…