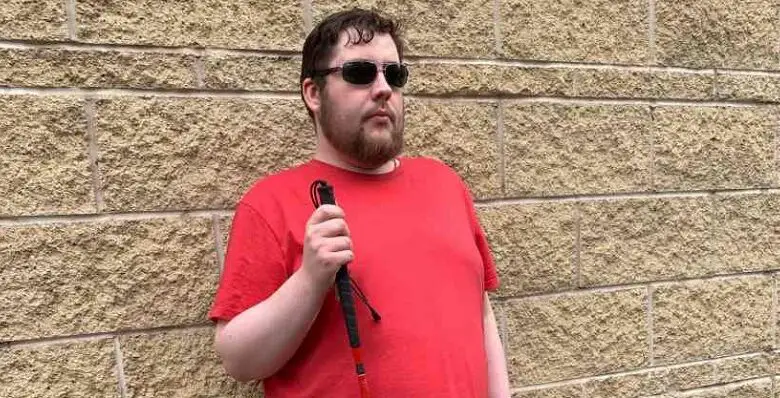 Lifestyle
Using social media to share my experiences of having a visual impairment
Luke is a visually impaired blogger who shares his experiences of living with his condition having been first diagnosed at the age of 10. Since then, he has not let his condition come in the way of doing what he loves  – blogging and doing product reviews from the perspective of someone who is visually impaired. 
Hi! I'm Luke Sam Sowden and I'm from Bradford. I'm a visually impaired blogger who rambles about what he can't see all over the internet. I have a hereditary eye condition called Retinitis Pigmentosa, which means I suffer from tunnel vision.
The best way to describe what I can see is that it's like looking through the small end of a funnel.
I also suffer from night blindness and 'floaters', which are little bits of tissue that float across my vision whenever the lighting situation changes.
Growing up, I wasn't really affected by being visually impaired as I wasn't actually diagnosed until I was about 10 years old. My school also didn't really notice anything until I was in year nine when my vision started to go downhill pretty quickly.
Once they started to notice it, they were really helpful. They gave me a laptop to do my work on, as well as enlarging books and worksheets so that I could see them properly.
Now, I am fully aware of my condition and have adapted to life as a visually impaired adult. So much so that I use a bright red cane instead of the traditional white one.
I was sick of the colour of my white cane and wanted a change. I thought, if I have to swish a massive stick around, it might as well as be a fun colour and something that I can match with my outfit.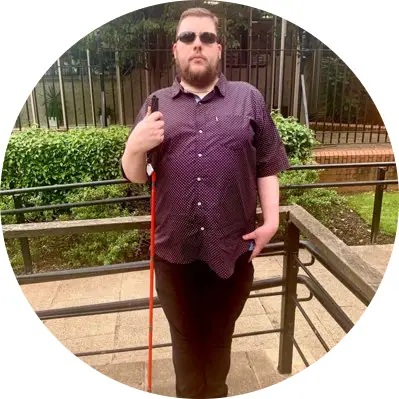 Blogging about being visually impaired
I have been blogging for more than six years now and mostly cover product reviews. This includes skincare and haircare products, food and drink, as well as technology with the odd Outfit Of The Day thrown in for good measure.
But my blog doesn't end there – I also talk about my experiences of being visually impaired, including a series that I call Accidental Adventures.
In the series, I share some of the embarrassing things I've done as a visually impaired person.
This includes walking into a lamppost, destroying a shop by bumping into a bookcase and how I managed to break my cane when a car ran over it.
I also write a series called Five Things, which, as you can guess, is about five things I want you to know, including what I love and hate about being visually impaired and my favourite smells of the season.
How I become a disability blogger
I originally started sharing my experiences through a YouTube Channel, inspired by Tommy Edison absolutely smashing it on YouTube. I also thought it looked really fun.
But I soon moved on to my blog. Even though YouTube was enjoyable, I prefer to write, in part because to film I need someone to make sure that I'm in the frame, film the actual video, and then edit it. Writing, on the other hand, I can do with no help.
My blog was originally going to just be a place where I shared my thoughts, but it quickly became a place where I share pretty much everything about my life.
I'm also quite a prolific Instagrammer – if I'm not writing a new post I can usually be found scrolling through Instagram. My pictures aren't always the best as I just point, shoot and hope for the best.
I've also very recently jumped on the TikTok craze. Even though I've only posted a handful of times, with most of the posts being about my embarrassing stories, I'm loving the growing community of disabled people on the platform.
Luckily, everyone has always been really positive about my visual impairment, and in all my years of blogging, I've only ever received a handful of bad comments (I guess you can't always please everyone).
I love having my own little place on the internet, where I can share my world. I hope that in the future I can work with even more fantastic brands and share even more things about being visually impaired.
By Luke Sam Sowden
You can find out more about Luke on his blog Luke Sam Sowden, and follow him on Facebook, Twitter, Instagram, YouTube and Pinterest.
More on Disability Horizons…