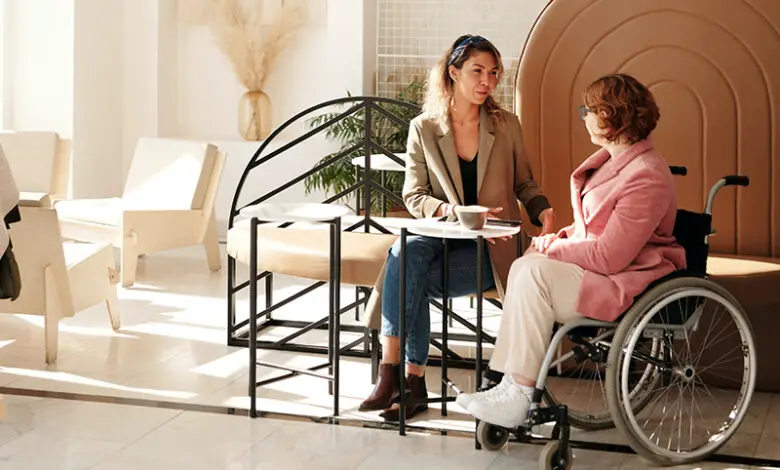 Work & Education
Top tips for ensuring your disability-confident employer supports your needs
The number of disability-confident employers is growing, with more jobs becoming available to disabled people. Having an employer that understands your health needs can take away the worries of working with a disability, build your confidence and help you to have a fulfilling career.
Debbie Cannon, who has cerebral palsy, has had a very successful career working for a disability-confident company that accommodated all of her needs. Debbie talks about what reasonable adjustments were made for her and also gives advice on how you can get the best out of your job as a disabled employee. 
My journey to finding a job began when I was studying at Queen Elizabeth College in Surrey. I studied typing and audio typing, which ran for three months. It was an incredibly useful course that set me up well for the future.
At the end of the course, I was supposed to be doing a work experience placement at the Police Headquarters in Guildford, but I could not access the building as the lift was too small.
Instead, the college arranged for me to go to ICI Plant Protection Division at Fernhurst, Chichester. The placement was fantastic and it worked well for me because it was close to where I lived.
Working for a disability-confident employer
After my two week placement, I went back to college and bumped into the man who got me into ICI. He was giving a talk at my college about how ICI is a disability-confident employer. After the talk, I told him that I was finishing my course soon and asked whether he had any job openings available.
Amazingly, he rang me a couple of days later and offered me a temporary position in the computer room. A month later, when my contract came to an end, the company said I could stay for another six months.
During my extended contract, the company wanted me to work on a book of tables and graphs of the different Agrochemicals – it was called the Blue Book and it included how much they were selling around the world amongst other things.
 All of the managers were nice and accomodating. Whenever we had team building events, they always made sure the room was accessible, as well as the restaurant and bar.
As my department was up-stairs, they got an evacuation chair, so if there was a fire they could get me out safely. Everyone who worked near me was taught how to use it, and they even tried it out so that they knew what it would feel like if an emergency happened.
Reasonable adjustments organised by the employer
I was extremely happy that after working there for 18 months, I was offered a permanent job in the company.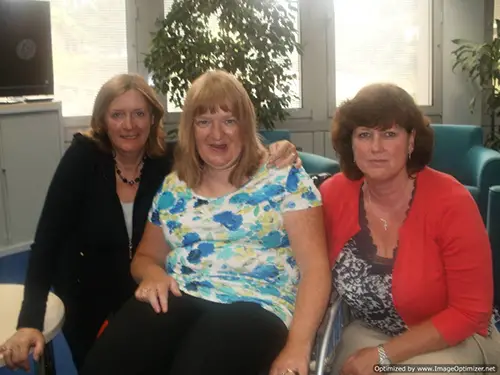 However, the new position required me to relocate upstairs, which made it difficult for me to move around the corridors. The company was proactive in problem-solving this issue by contacting Access to Work, who funded an electric wheelchair for me. This made moving around the building much easier.
I also had my own parking space and one of the security guards used to park my car for me. They also assisted me in and out of the building, which was really helpful.
Travelling abroad for work when you have a disability
After a few years, redundancies were becoming very common. I worried about losing my job, but the company always kept me on to manage the Blue Book every month, as well as other data work.
I think that my strong computer skills, developed at college, were one of the reasons they kept me on to manage the Blue Book, as it took a lot of computer knowledge with graphs, tables and using pivot tables etc.
ICI changed its name after a number of years and is now called Syngenta. The headquarters moved from Fernhurst to Guilford, but we also had offices in Basel in Switzerland.
When the office moved to Guilford, I was worried about driving on new and busier roads, so the company paid for a taxi for me. My manager also let me work from home on a Monday and Friday.
I attended meetings in Switzerland every 12 weeks to discuss the Blue Book. The travelling aspect was scary for the first few times as it was all new to me. However, once again, everyone was very accomodating and always put me in business class so I had more room.
I always stayed in one of two accessible hotels. One was particularly near the office, so I mostly stayed there. But if an accessible room wasn't available when I needed it, I stayed in the town at a Hilton. Staying there meant I had to get a taxi to the office, but I had a company credit card so could use that for all travel and food I needed.
At the hotel, there were always people from Syngenta who offered to push me around to the offices, which really helped me. The company even managed to get me an electric wheelchair for the offices in Switzerland, so I can honestly say the staff took all of my needs into account.
How I got my reasonable adjustments
It's fair to say, the company did a lot for me. I think a large part of that was down to having understanding colleagues who genuinely cared about others, and managers who saw that I was an asset.
It certainly helped that we had an occupational health team on site as well, so if I ever needed anything I could easily go and see them. But my manager also actively encouraged me to meet with them every now and then to make sure I was ok.
I was a lot more mobile at the beginning, so I could manage as long as the office was accessible and I had an accessible room if we had to stay overnight somewhere.
When I started getting fatigued, I spoke with my manager and, without hesitation, he sent me to occupational health, who told me to take some time off. When I was pregnant, the whole team definitely made sure I was coping and that I didn't do anything to endanger the baby. I could also go to see the nurse anytime I needed to.
I was very lucky to work with such great people, but I also believe that having proved myself early on as a diligent hard worker, they could see the value in helping me to stay with the company. If only more employers would give disabled people the chance to show just how talented we can be.
Retiring early because of my disability
When I was 45, I started getting extremely fatigued and I could not concentrate. I ended up having six months off, fully paid, and I got the same money when I went back to work part-time. They asked me if I could go back to work full-time, but I could not handle it.
They sent me to the company doctor and he said that he would sign me off with my company pension. This really helped as it was a final salary pension. My husband and I managed to pay our mortgage off and go to Disney Land in America with our 12-year-old daughter. I still have a good pension to live on every month.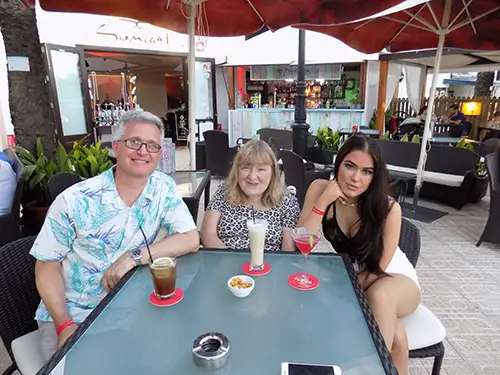 I was worried when I left work but I soon got used to it. I still have quite a lot of friends from work who come over for a coffee, Covid-19 restrictions permitting.
Top tips for disabled jobseekers
Never give up, especially in difficult times, as you never know what is going to happen.
I know that we shouldn't have to prove that we are capable, but always put in lots of effort and your colleagues will understand that you are no different from a non-disabled person.
Try and keep your body moving to prevent you from getting stiff.
Don't be scared of asking for help if you need it.
Access to Work is fantastic to contact if you need funding for equipment.
By Debbie Cannon
More on Disability Horizons…