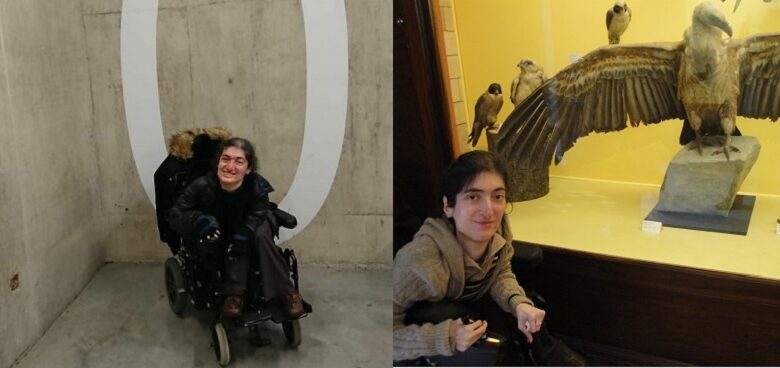 As part of our 10th birthday celebrations, some of our longest-serving team members are sharing their journey with Disability Horizons, from first discovering the publication to becoming invaluable to our organisation. 
Nine years ago I was going through some kind of life change. I prefer to use the word change rather than crisis because it had a positive impact; a sort of homecoming rather than self-destruction.
Throughout my early life, I had followed a path of 'defiance'. Anything that society told me I couldn't do, I would go on and do it. Any box they put me in, I ran away from. I effectively escaped everything that was part of my identity – and disability was the biggest.
The world of academia for a disabled person, which I am passionate about, was a big no from society. I mean, how can a disabled person study for a degree, let alone a Masters and PhD?
So what did I do? Go head-first into the world of studying. I wanted to prove to the doubters wrong, to show that I am not what they perceive. But, halfway through my PhD I began to question my path. I started to feel that I was missing something, I just didn't know what.
Changing my career and life path
During that time I had to go to different locations to conduct my PhD research, and I began my struggle with access. I was constantly faced by taxis that didn't have ramps, or that wouldn't stop for me because they regarded the wheelchair as an extra hassle.
So I decided to start a blog about taxis and driver's attitudes towards wheelchair users. I did it for myself as a way to vent my anger and document my experience. But I also attached it with every complaint email I sent to Transport of London!
It wasn't until a few months later that my blog was picked by Channel 4 News, which was running a series entitled No Go Britain, looking at lack of transport access for disabled people.
It was then that I realised I no longer wanted to be just an academic – I wanted to make a difference, to challenge the status quo and to embrace my disability.
Finding Disability Horizons
Every time I hear Gloria Gaynor's song 'I will survive', it always reminds me of how my journey began in journalism and with Disability Horizons.
At first, I was scared, I was petrified of how I was going to survive outside the academic field. Writing academically is vastly different to writing for a blog or for a magazine.
But I was excited by the change and with my friend pushing me to go out of my comfort zone, I began searching online for disability-related publications.
The first one I came across was Disability Horizons and, to my great excitement, it was looking for writers. I emailed to offer an article or two and nearly a decade later I am still writing for the magazine.
My first article was on the difficulties of shopping during the sale season. That set the tone and theme for what I wanted to carry on writing about – the struggles and difficulties that disabled people encounter on a daily basis. I also wanted to bring a different portrayal of disabled people at the same time.
You can read an open letter I wrote to my younger self about my childhood and how my perceptions have changed over the years.
How I have changed and grown with Disability Horizons
As my time with Disability Horizons grew, so did my confidence and writing style. I also became connected with more disabled people than ever, interviewed some incredible personalities and finally felt 'comfortable'. I found the home and sense of belonging that I had been searching for over the years.
I started writing regularly about myself and my passions, hopefully breaking down stigmas and challenging misconceptions at the same time. Over the years I have written countless top 10-style pieces, which I'm proud to say have really resonated with the community. Here are just a few examples:
It's weird, I used to feel embarrassed or like some kind of fraud when I told people I am studying for a PhD. Maybe this was because I was influenced by society who thought it is not my place. But I think it was really due to the fact that my passion was not at its peak like it is for Disability Horizons.
In the years that I have spent with Disability Horizons, not only have my confidence and self-belief grown, but also my working profile.
I began pitching to national and international publications, such as The Independent, Huffington Post and The National Newspaper.
I started to get invited to do radio talks and conferences – and that's all due to the work I have done with Disability Horizons. Last year I was awarded the Rosalynn Carter Centre Fellowship for Mental Health Journalism, something that I am incredibly proud and excited by.
It will open the opportunity for me to do more work on mental health within the disabled community, an issue that is not discussed or explored enough.
Disability Horizons in Arabic
After being part of Disability Horizons for some time, it made me want to replicate this and its impact on a wider scale, particularly when it comes to disabled people from ethnic minorities.
Through my own life, having spent my early childhood years in Iraq, I am aware that many people in ethnic minorities have a slightly different experience of disability to others and their struggles are of a different nature.
I want them to have more of a voice and influence within the disability field. I wanted the same thing for disabled Arab people in the Arab region.
I want to open a door that I was denied as a child. So I started an Arabic version of Disability Horizons, written and run by disabled Arabs, dealing with topics that matter to them. The site is under maintenance at the moment, but you can join our Arabic Disability Horizons community on Facebook until it's up and running again.
I also want to engage disabled people from ethnic minorities and enable their voices to be heard on our main site too, something I started doing recently. Here are a couple of articles I published in the last couple of years:
The future with Disability Horizons
I can't see myself ever leaving Disability Horizons. I love the team and I love everyone's passion and dedication.
I regard it as 'home' because it is the place where I found myself and made peace with an identity I was not comfortable with.
There are also so many things I still want to achieve with Disability Horizons. One is a book club is already being put into action. I want to create a community of readers that generate discussion and debates. If you're interested in joining in, please email me at raya@disabilityhorizons.com.
This will also feed into our books section on the shop where we have started selling books written by disabled people or that include disabled characters.
I want to write more about mental health struggles and get people to be open about their experience without the fear of stigma. It is an area that I know I can tackle through Disability Horizons as it too wants to publicise more about the subject.
I recently wrote a three-part series on the impact of shielding on disabled people, and highlighted celebrities open about their own mental health. You can read some of the articles I have already written on the subject in our wellbeing section.
Most of all, I want Disability Horizons to be the refuge or the home to everyone as it has been for me.
By Raya Al-Jadir
You can follow Raya on her blog, Accessless, Facebook, Twitter and Instagram.
More on Disability Horizons…