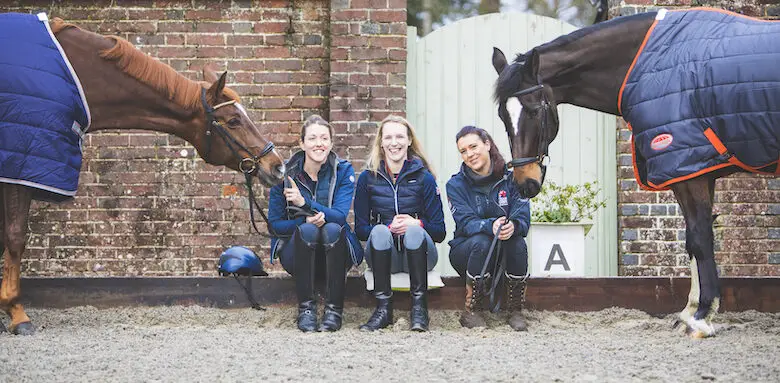 Wellbeing & Fitness
Tokyo 2020 Paralympics: Para equestrian Sophie Christiansen in the spotlight
Disability Horizons is doing a series of interviews with Paralympians who are set to compete in the Tokyo 2020 Paralympic Games. In these interviews we will be talking about career success, highlighting individuals achievements and what they are most looking forward to at the games.
Sophie Christiansen is World, European and Paralympic champion in Para dressage for Team GB. She is set to compete in her fifth Paralympic Games in Tokyo this summer.
Our writer, Emma Purcell, spoke to Sophie about her career in Para dressage, her preparations for Tokyo 2020, plus living with cerebral palsy, working as a software developer and being a disability activist.
Sophie Christiansen CBE is a 33-year-old Para equestrian from Woking, Surrey. She was born two months premature and later diagnosed with cerebral palsy, which affects her mobility, balance and speech.
At age six, Sophie began horse riding as part of her physiotherapy sessions at school. By 13, she joined a group that specialised in Para dressage and then in 2004 she competed at her first Paralympic Games in Athens, winning a bronze medal.
She has gone on to compete in three more Paralympic Games, winning two golds and a silver in Beijing 2008, and three golds at both London 2012 and Rio 2016.
Sophie has also won medals at European and World championships too including two golds and a silver at the 2014 World Equestrian Games and three gold medals at the 2015 Senior European Championships.
This summer, Sophie is aiming to increase her gold medal tally by competing at the Tokyo 2020 Paralympic Games, which were postponed due to Covid-19.
She will be riding the horse Innuendo III and will be joined alongside fellow equestrian team members Sir Lee Pearson, Natasha Baker and Sophie Wells.
Away from her sport, Sophie is very clever and academic, graduating with a first-class master's degree in mathematics in 2012. She now works as a software developer for the investment bank Goldman Sachs.
In addition, Sophie was awarded an MBE in the 2009 New Year Honours list for services to disabled sport, an OBE in the 2013 New Year Honours list and a CBE in the 2017 New Year Honours list.
UPDATE 16/08/2021: Sadly, it was reported by ParalympicsGB on the 12th August 2021 that Sophie Christiansen will no longer be competing at the Tokyo 2020 Paralympic Games due to a minor veterinary issue with her horse. She will be replaced by Georgia Wilson, who makes her Paralympic debut. 
Read on to find out more about Sophie Christiansen in her own words.
Sophie Christiansen living with cerebral palsy
What type of cerebral palsy do you have and how does it affect you on a daily basis?
I have quadriplegic cerebral palsy, which affects all four limbs. Your readers will kind of understand how much that affects me like my fine motor skills are difficult so I can't make meals or I need help getting dressed and other daily tasks.
Do you require a wheelchair, mobility aids and/or assistive technology to get around and carry out daily tasks?
I can walk for short distances but obviously for long distances I use an electric wheelchair. I've actually got a really cool lightweight wheelchair that you can fold down, and it fits in my car neatly – I'd recommend it.
Sophie Christiansen becoming an equestrian in Para dressage
For anyone who may not know, can you tell us what dressage is?
Dressage is like dancing on horses basically. It's great because most people know what it is after London 2012, because people watched it at the Olympics, so I have to do a lot less explaining what it is now because people watched it.
Classification can be different for every sport. In Para-sport, we're classified into five disability groups in dressage.
I am in grade one, which is the most disabled category because I am affected all over my body. That means I can only compete at walk, whereas with other grades and the Olympics, you'll see them walk, trot and canter.
But doing dressage at walk can be very challenging because keeping the horse's concentration for that long is really difficult. A lot of able-bodied riders come up to me and say, "I don't know how you do it".
What inspired you to get into horse riding then later para dressage?
Like a lot of disabled children, I started with the Riding for the Disabled Association (RDA). I went to a primary school with a special unit attached so the disabled pupils got the support that we needed and the physios that came just happened to believe in the benefits of horse riding for children with disabilities.
So, we went to the local RDA instead of doing P.E and I just loved it because, you know, aged five or six doing physio, as I'm sure you know, was boring. Riding a horse just made it feel normal.
So, that's how I kind of started at six years old and I think honestly without my disability and without the RDA, I would never have sat on a horse because my parents aren't really into horses. So, if I'd been able-bodied, I might not have found my calling.
When I was about 13, I was on the edge of getting a bit bored with RDA doing group sessions, there was no real progression I could see and several people suggested going to a special group, which specialised in para dressage.
I was quite sporty when I was at school. I used to play football and hockey but obviously I wasn't very good at it, so when I found Para dressage, I thought "yes I can do this". I just wanted to see how far I could take it.
I went to my first games when I was 16 years old. They saw my talent at an early age. Back then, the standard wasn't quite as high. It really changed my life getting into Paralympic sport as a teenager.
What adaptations/support do you need to ride horses?
I have my PA who comes with me to help me get on. I just need a regular mounting block to get on really. But I do have looped reins because I can't maintain grip for that long and that's all the adaptions I have.
What has been the highlight of your Para dressage career so far and why?
Well, every Paralympic medal was a little bit different. There's stories of the highs and lows of getting that medal.
My bronze at my first Paralympic Games in Athens 2004 was really special because I wasn't expecting it at 16.
Then obviously London 2012 was off the chart. Being able to win gold in front of 10,000 people was pretty amazing.
Have you ridden many horses and if so, do you have a particular favourite and why?
Yes, obviously all my horses have a different character, but I think my horse for London (Janeiro 6, stable name Rio) was pretty special.
I love my horses when they're a bit quirky. When able-bodied riders got on Rio, he would mess around a bit, but when I got on him, he was like, "ok, I'll look after you Sophie". It's amazing that horses just know they have to look after me.
Rio loved people, the attention and loved it in front of a crowd – he was my favourite.
Sophie Christiansen preparing for Tokyo 2020
How have you been preparing for Tokyo 2020 and do you still have concerns relating to the pandemic?
Undeniably, this has been a really tough cycle for all of the athletes with the postponement of the games and the uncertainty. It's definitely kind of made me chill out a bit.
I'm quite a perfectionist, so I have to organise everything and make sure everything is done at the right time.
But obviously with all the cancellations and postponements over the past year, I'm hoping to go with the flow a bit more, which I really think adds to my skill set as a human being. So, I'm quite proud about that.
Obviously, every Paralympic cycle has its ups and downs. This one has been particularly challenging, finding the right horse, and the world has caught up with me.
Now, I don't have this mega horse where I'll undoubtably beat everyone by five per cent. I know that I will provide to the absolute best of my ability to be able to medal in Tokyo.
It's going to be tough and with a lot of successful Para athletes, the assumption is you just walk in, get handed a gold medal and that's it. Hopefully, this time we'll show people that it's not easy and it's super competitive.
I'm no longer at the top, so I'm actually a bit of an underdog this time I think – so we'll see.
Do you know when you'll be travelling to Tokyo and what Covid-19 measures will be in place?
We've got vague dates. The Tokyo Organising Committee worked out what they call "playbooks", where they outline all the restrictions and what they're doing.
But, in all honesty, you can't get too bogged down in all that and you kind of just have to leave it to the experts and get on with training.
What are you looking forward to the most at the Tokyo 2020 Paralympic Games, as well as aiming to secure medals?
Well, unfortunately, one of the things I love about the Paralympics is the social side, meeting other athletes from Great Britain and other countries and the parties afterwards are normally pretty epic.
However, because of Covid, we're going to have to be super careful with no real socialising. I think it's amazing it's going ahead but it's such a shame, especially for first time Paralympians, they won't get the Paralympic experience really.
It's a shame – for someone who has gone to four games, I know how awesome they can be!
Sophie Christiansen working as a software developer
What made you choose mathematics as a master's degree?
Well, obviously, just because my body doesn't work properly doesn't mean my brain can't. I was quite academic as a child and I knew I'd chosen the most expensive sport I could possibly do. So, I knew I needed a job to help fund my sport. My expenses cost £3000 a month, just on my sport, so I needed the money.
I do think having a work life balance really helps when my sport gets too pressurised, I can go back to studying or working, that balance has really helped me.
I love maths. I think I've got quite a logical brain, so that's why I went into that. I was good at it at school. Obviously now I'm a software developer, so it's quite similar logical thinking.
As a software developer, what kind of software do you develop?
I don't know how technical I should go – I work for an investment bank kind of monitoring regulatory measurements. So, if something goes wrong or we have an incident, how can we work back and work out what happened or how can we prevent it.
Was your experience in securing employment straightforward or were there barriers due to your disability?
So, when I graduated, obviously I thought "wow, I'm well in here, my CV is awesome! I've got a first-class maths degree and two gold medals. How can that CV get any better?"
But I found it so difficult to get a job. I applied to so many graduate schemes and I did wonder, was it because I had a lack of work experience? I mean, how on earth anyone expected me to train for the Paralympic Games, get a master's degree and have work experience, I don't know.
Or was it my disability? Or was it the same for every graduate at that time? I'll never know.
What I've learnt now, it's not what you know but who you know. My first job I got was from a friend who worked at the company – I worked as a statistical analysist for a pharmaceutical company.
Then I joined Goldman Sachs through an agency that puts sports men and women into the financial industry.
So, yes, I think I was very lucky. It was demoralising at the time but you just got to keep on at it.
Sophie Christiansen supporting the next generation of Para dressage
You launched a membership Gold Club that helps fund your sport and in return give members exclusive news, advice and support for the next generation of para equestrians. How has this project been going and how much support have you received?
Yes, it's going ok. I've had global members from so many countries like America, Belgium, Germany – it's quite incredible.
I set it up because there's a massive gap still between able-bodied sport and Para sport in terms of prize money and sponsorship.
In 2014, I worked out I became World Champion and so did Charlotte Dujardin, one of our Olympic riders. As World Champion, I received one per cent of the prize money that she got.
There's literally no money in Para sport. So, I thought how can I create more interest? Because that's the key you know, that's why footballers get paid millions because they have so many supporters and fans.
So, I thought we need to create this community to prove to sponsors we've got this community.
It's obviously really difficult to fund even myself, so hopefully when I retire, I can put a bit more energy into making it a bit more of fundraising the sport in general and not just for me. At the moment, we have over 200 members, which is pretty good.
What advice would you give to other disabled people wanting to get into para dressage?
I guess most people think sport is about being fit and healthy. I do it to make myself more able-bodied. The more I worked on my disability, the fitter I am, the more I can do at work and my social life.
I think even if you don't want to be a Paralympian, it's so important to find way to keep fit. I know that's easier for some than others.
If you want to become a Paralympian, I'd just say you will hit barriers and have really difficult times, but you're used to it as a disabled person.
Why do you think the Paralympics inspire people? Everyday we have to overcome challenges and I think that's so important to get it out to the world.
Some disabled people hate inspiration porn, but I think it's a unique selling point. That's why I like to use my platform as a gold medallist to speak about what it's really like being disabled.
The fact I can't get off a train by myself on a commute to work. I can't get into my local corner shop because it's got a step to the front.
I think it's so important for us to tell our story because quite often, the world is inaccessible because of ignorance and people just don't think. So, the more we can get out to the UK about the challenges we face, I think the more understand people will be.
To find out more about Sophie Christiansen and support her by signing up to her Gold Club, visit her website. You can also follow her on Facebook, Twitter, Instagram and YouTube.
Be sure to tune in to watch the Team GB dressage squad at the Tokyo 2020 Paralympic Games from 24th August to 5th September 2021 on Channel 4.
Interview by Emma Purcell 
More on Disability Horizons…